Tuesday 3rd February 2009
Hay Hay Double Dish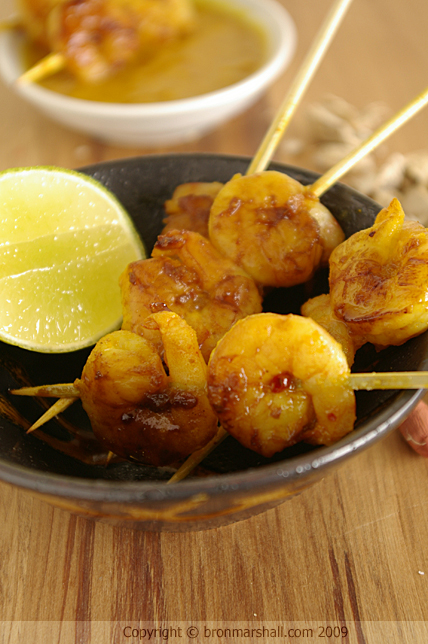 For the 25th round of Hay Hay it's Donna Day and to kick off the event in 2009 we had double the fun!!

Two hosts - Two recipes - Two languages!

The ever delightful and talented Meeta hosted with a scrumptious savoury Donna Hay recipe - Chicken Satay & Our Sweeter than 1000 Sweet Desserts Tartasacher hosted in Spanish with - Sugar Grilled Fruits!

I chose to make our personal favourite Satay recipe for my entry. I often make this with diced chicken or lamb, however to be a little more special today I have made it with some little prawns. Satay is a HUGE favourite with my darling J, the peanut butter jar doesn't last long in his hands either! ;-)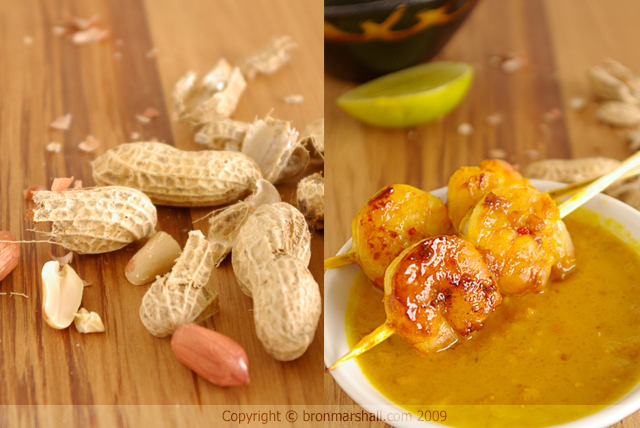 For the dessert part of my entry I grilled some super local plums that I had picked up at the Farmers market on Saturday. I made a twist on the cinnamon yoghurt by choosing a richer macarpone to pair and match with the tartness of the plums.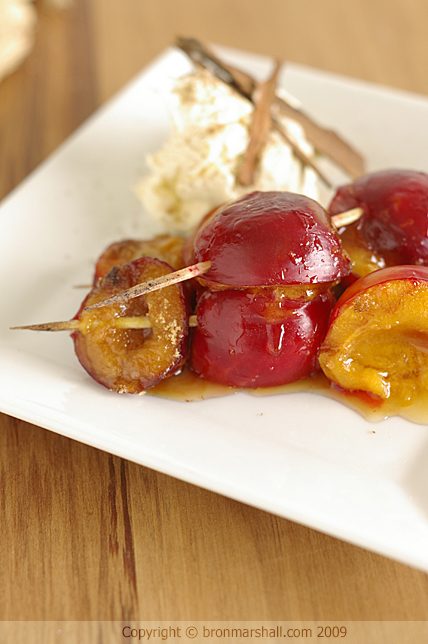 Thank you to both ladies, Meeta and Tartasacher for choosing such delectable Donna Hay themes and recipes, and for being truly admirable hosts!


Prawn Satays with Peanut Sauce
400 -500 grams / 1 lb of peeled and deveined prawns / shrimp
1 inch cube of fresh ginger, crushed
2 cloves of garlic, crushed
1 red chilli, finely diced with or without seeds depending on how spicy you prefer
½ a small onion, minced or grated
2 teaspoons of coriander seeds, freshly crushed and ground
1 teaspoon of ground turmeric
2 tablespoons of soft brown sugar
2 tablespoons of soy sauce
2 tablespoons of peanut oil
freshly squeezed juice of 1 lime or ½ a lemon
For the sauce and assembly:
3 tablespoons of peanut butter, preferably freshly roasted and ground
3 tablespoons of warm water, approximately
skewers, pre-soaked in water for 1 hour to prevent burning
Prepare and mix all the ingredients (except for the peanut butter, skewers and water!) together, cover and marinate for 30 minutes to 1 hour in the refrigerator.
Thread 2 to 3 prawns on the pre-soaked skewers, reserving the leftover marinade juices.
Grill for 2 minutes each side until just cooked through and golden.
With the reserved marinade, mix in 3 tablespoons of freshly roasted and ground peanut butter and enough warm water to form a runny paste.
Heat the peanut butter sauce thoroughly until it begins to bubble and serve with the satays and extra lime wedges if desired.
Makes around 20 skewers.
Sugar Grilled Plums with Cinnamon Mascarpone
6 to 8 fresh local plums, washed, halved and stoned
4 tablespoons of brown sugar
150 grams / 4½ oz of mascarpone
½ teaspoon of freshly ground cinnamon bark
1 tablespoon of caster sugar, or to taste
a little freshly squeezed lemon juice, to taste
skewers, pre-soaked in water for 1 hour
Thread the plum halves onto skewers, and sprinkle generously with soft brown sugar.
Place under an overhead / broiling or salamander type grill until the the sugar has all melted, caramelised and the plums are soft and juicy to squeeze.
Mix the mascarpone, cinnamon, caster sugar and a dash of lemon juice together and serve along side the Sugar Grilled Plums.
Serves 4
Enjoy!


Appetizer Recipes · Blog Recipes · Desserts Recipes · Fish Recipes · Food Blog Events Recipes · Fruit Recipes · Fruit & Veges Recipes · Hay Hay It's Donna Day Recipes · Summer Recipes · Summer 09 Recipes
Home · About Bron · Portfolio · Recipe Index · Unit Converter
RSS Feed · Atom Feed · Twitter · Facebook · Flickr · Bron's Amazon Store