Saturday 10th October 2009
Spring into Chicken Soup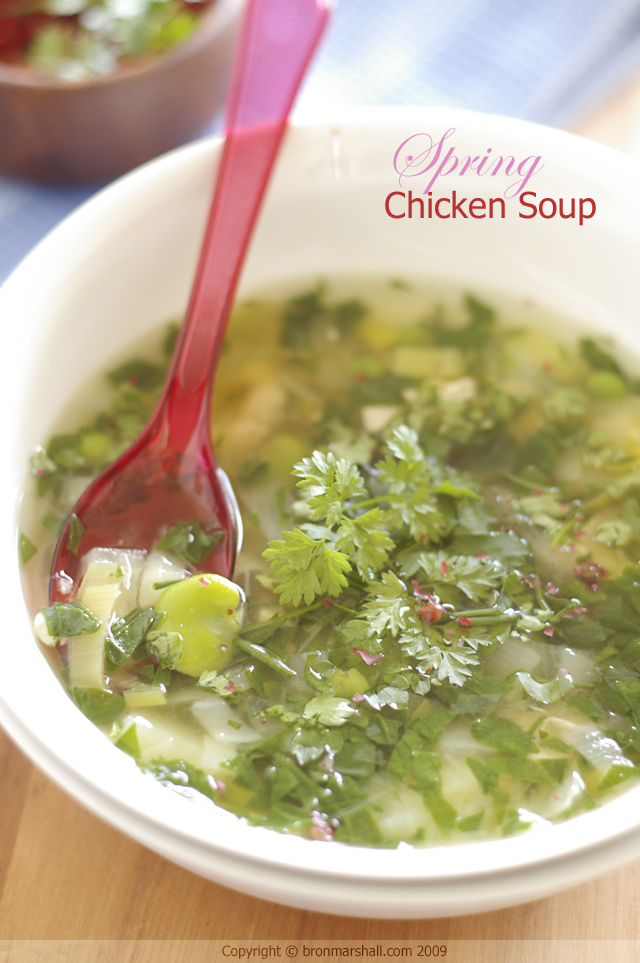 It's Springtime in New Zealand, although over the last couple of days with snow, sleet and plenty (and I mean plenty!) of rain I've been beginning to doubt that fact - we had warmer weather in August! Early Spring can be a little tricky for homesteaders trying to grow most of our own vegetables. The Winter yields are few, our vegetable storage bins look mostly bare and yet it's not quite warm enough for an abundance of the new season vegetables. To ensure quality, tasty ingredients make it to our table, I try to buy only what is in season and locally grown and this is encouraged these days as we fight the onset of climate change. Thankfully things are looking up down here and we may be beginning to harvest a few goodies like fresh baby peas and broad beans soon.

As with most meals, my Spring into Chicken Soup recipe really relies on starting with great quality ingredients. Of course by this I mean starting out with a fantastic homemade stock. This is definitely one dish you just can't make with powdered stock or cubes - besides they are mostly made up of sodium and MSG and I reckon no chicken has ever been seen anywhere near them. I don't know about you, but for me personally I prefer to get that burning sensation on my tongue from chillies, pepper and spice - not Monosodium Glutamate.

Sadly I haven't shared a recipe for my homemade vegetable or chicken stocks on the blog yet and my stocks often vary so widely with what I have on hand, however, there are plenty of great recipes on the blogs - here's a link to Elise's fantastic recipe at Simply Recipes.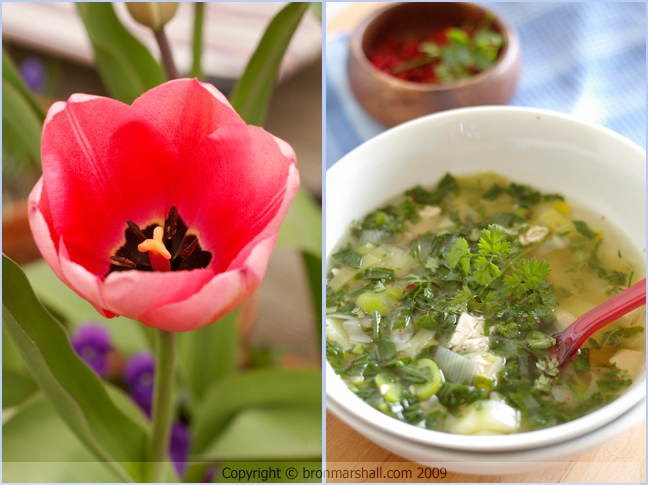 When sourcing chicken I also prefer to choose a whole free-range bird, corn-fed or organic; de-boning and portioning them myself, and naturally saving the carcass and trimmings for stock. But, of course, I also enjoy a roasted whole bird too. I like to know the meat I eat had a healthy and fairly happy life and likewise I prefer to feed my family hormone-free food to keep them healthy and happy. There are several good brands throughout New Zealand, locally in Canterbury I regularly choose Westwood's Organic Farm Chicken.

Gorgeous sweet baby peas and broad beans freshly shelled from the garden or even quality frozen ones give great bursts of flavour in this soup. Fresh new season spinach and the new growth from herbs that have popped up where you least expect them in the garden also make it really special. I don't like to cook the greens for very long, so I only pop them in for 4 to 5 minutes before I'm ready to serve the soup - this way they also retain their stunning green hues. In truth I think this soup is a perfect celebration of Spring.

Finally, I like to sprinkle a little the soup with a little crushed pink peppercorns at the table, it makes the soup visually more exciting and adds that little bit of pep to really make this warming bowl of goodness sing.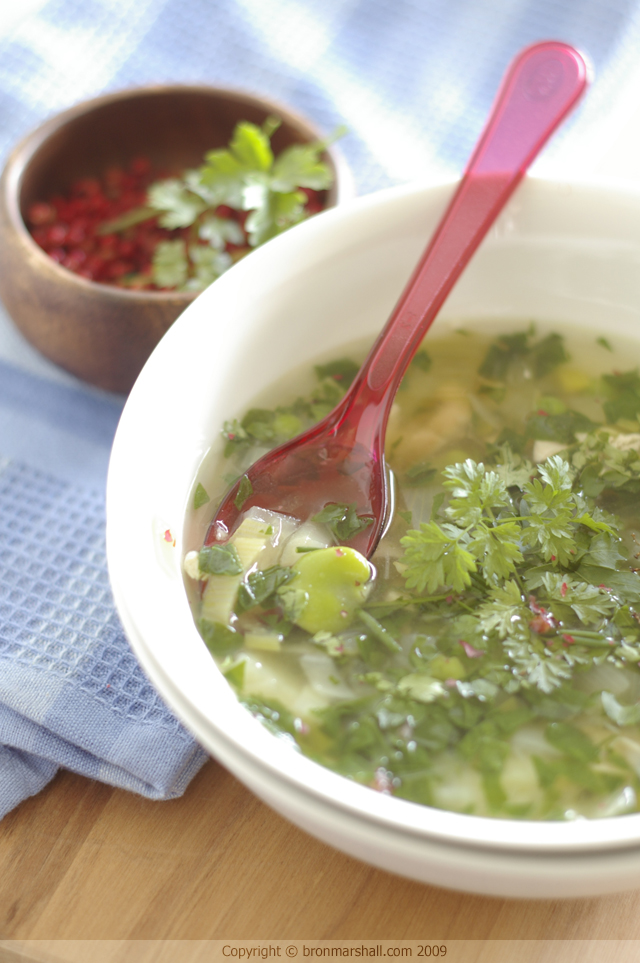 Spring Chicken Soup Recipe
1 to 2 tablespoons of olive oil
1 onion, finely diced
1 leek, the white part only, finely sliced
1 potato, diced
2 litres / 8 cups of quality chicken stock or vegetable broth, preferably homemade
½ cup of freshly shelled or frozen baby peas
½ cup of freshly shelled or frozen broad beans/fava beans, grey skins removed
125 grams / 4 oz of fresh spinach, chopped
1 cup of cooked chicken meat, finely shredded and chopped
1 to 2 garlic cloves, finely chopped
salt and pepper to taste
fresh picked Spring herbs such as chervil, parsley, chives to finish
crushed pink peppercorns, for added pep and colour (optional)
In a large saucepan heat the olive oil, chopped onion and leek until soft and translucent without colouring.
Add the chopped potato and chicken stock and bring to a simmer for 15 to 20 minutes until the potato is tender.
Gently smash the potato cubes a little to break them up.Mix in the baby peas, beans, spinach, chicken meat and garlic to heat through, about 5 minutes.
Taste and check for seasoning.
Ladle into warmed bowls and finish with plenty of Spring fresh herbs and crushed pink peppercorns for added pep and a sprinkling of colour against the greens.
Serves 4
Enjoy!


Blog Recipes · Fruit & Veges Recipes · Soups Recipes · Spring Recipes · Spring 2009 Recipes · Vegetables Recipes
Home · About Bron · Portfolio · Recipe Index · Unit Converter
RSS Feed · Atom Feed · Twitter · Facebook · Flickr · Bron's Amazon Store