Tuesday 13th October 2009
A Sunday Drive and Home Again for Strawberry Sponge


Sunday was such a gorgeous day and after several days at home with heavy rain and sleet, cabin fever was truly beginning to set in, we simply had to get out of the house. As we settled in the car and made our way down the drive, the question was posed, "where' we going?"

A decision for left or right was imminent, one look towards the mountains and right out the gate it was. A drive up into the Southern Alps to find some snow for the fairies to play in perhaps?
We have had plenty of snow threaten us this year, but nothing decent has really settled and on Friday yet again it only just teased us.

It was such a warm day with Northwest winds flowing over the divide. We could literally see the snow vaporise off the mountains as we drove up, winding our way closer and closer. We also kept a look out for ripples in the white walls, the changeable weather at this time of year is ideal conditions for watching potential avalanches high up the mountains.

By the afternoon, little if any snow was down near the road side, only the remains from the previous games and snowmen of others who had arrived earlier in the weekend.
We walked a little into the bush and skipped rocks into a rapidly running mountain creek, until the sandflies became too much of an annoyance to bare any longer and made our way back to the car, swatting and squashing the little buggers.

A little disappointed at the lack of snow, our thoughts returned to home and the first strawberries waiting on the kitchen bench, our happy hens abundant supply of eggs and the Strawberry Sponge that would result from them both and accompany our late Sunday afternoon dinner of high tea.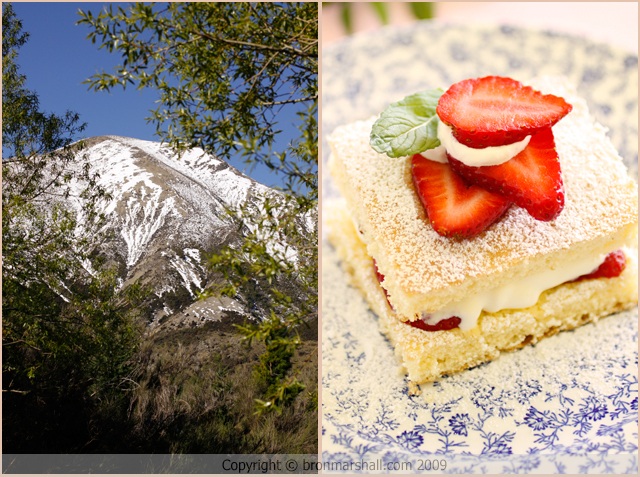 Not a bad day.


Home · About Bron · Portfolio · Recipe Index · Unit Converter
RSS Feed · Atom Feed · Twitter · Facebook · Flickr · Bron's Amazon Store