Wednesday 7th October 2009
Reveal Day
I've been meaning to put together a portfolio of photography for quite some time, finally on Monday I knuckled down to it and spent much of the day researching other portfolios online to find what kind of layouts and looks attracted me and that I really liked.

After showing J (a.k.a my personal programmer & html/java whiz!) the ones I preferred, he seemed to think it wouldn't take him too much to get started on something, and anything would be better than the freeparking domain registration advertisement I've been using for the last few years.

Quickly my portfolio project turned into somewhat of an obsession for us on Tuesday.
Me choosing and editing the images, him creating the code...

12 hours and a very late night later we had something live!
ahhh I couldn't believe it, I was so excited it took me quite a bit to get to sleep.

Having slept on it, if only a little! Tweaking a last few items in the java script, adding a copyright notice and an "about me" during the day...

I'm now ever so excited and pleased to reveal...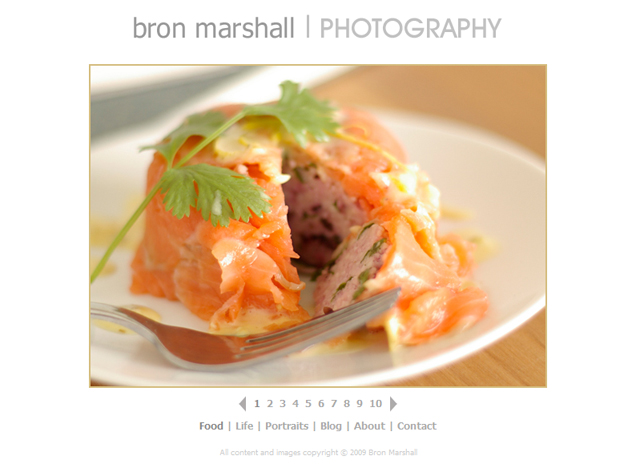 Bron Marshall Photography - bronmarshall.org.

Home · About Bron · Portfolio · Recipe Index · Unit Converter
RSS Feed · Atom Feed · Twitter · Facebook · Flickr · Bron's Amazon Store