Wednesday 20th May 2009
Paper Chef #40 - Roundup & A Winner of Creativity
As host for Paper Chef #40 it was my privilege (...um read nightmare!) to pick one winner from all the delightful dishes that you see below. To say this task was excruciating is an understatement, as I'm a total starchy carbohydrate fiend, the floury potatoes ingredient did me in. In all honesty I would love to devour each and every one of these dishes!

Although Magnus has already created a roundup on the Paper Chef blog, I could not help but share them with you again with some of my own personal notes and thoughts on each entry. The fairies; generous loving creatures that they are, have given an award to each entry.

Please read and follow each entry to find who I've chosen as the most creative therefore deemed deserving of the Paper Chef crown and overall winner for this round.

Tanna made moist and flavourful Marinated Portobello Mushroom stacked with Steamed potatoes, Caramelised Onions and Sautéed Prosciutto. I don't know what could be more comforting on a cold snowy night.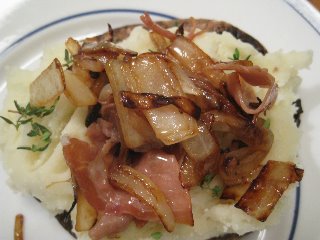 Tanna wins the fairies Comfort Award.

Katie entered this tasty hot salad of Potatoes with Prosciutto, Olives, Green Garlic and Thyme, my mouth is watering revisiting her entry of crispy golden and crunchy potatoes with prosciutto and I simply love the addition of black olives.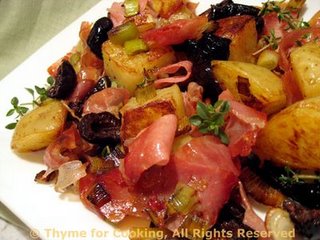 Katie wins the fairies Crispy Texture Award.

Murasaki made a very pretty dish of Heart Shaped Floury Potato Croquettes coated in Sesame Seeds & Thyme then served on a bed of Crispy Jamon Serrano so pretty it sure melted this mum's heart.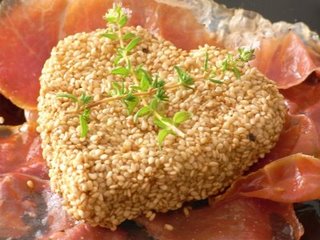 Murasaki wins the fairies Love & Prettiness Award.

Mikey entered a colourful Gnocchi dish with rosemary and thyme herb butter, truffle and rosemary flowers. I can only imagine how absolutely splendid the aromas wafting through his kitchen would have been.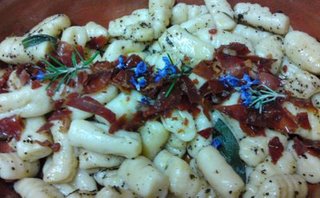 Mikey wins the fairies Award for Fragrance.

Allison presented another Gnocchi dish, cleverly sautéed in a thyme herb butter and paired with fava (broad) beans, prosciutto and a walnut pesto. Many of her ingredients came from supporting her local farmers market and that certainly gets my vote and I also admired her creativity with the extra interesting flavours she chose and added to the original 3 drawn from the bucket.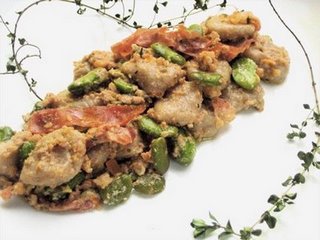 Allison wins the fairies Creativity Award and is Overall Winner! Congratulations Allison!

Ilva our amiable Queen of the Paper Chef event, created this blissfully Warm Salad of Roasted Potatoes and Mushrooms, Runner Beans, Prosciutto and Thyme there is such a rainbow of colour and goodness in this delightful dish.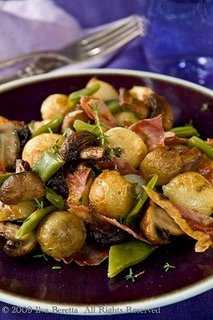 Ilva wins the fairies Rainbow Award.

Amanda went all out not only creating one dish from the list of ingredients but three different dishes! We were highly impressed with each of them and would be sure to be exceptionally happy and content with Potato and Prosciutto Galette, Mashed potatoes with Thyme butter and Prosciutto and Pommes Dauphines in our bellies.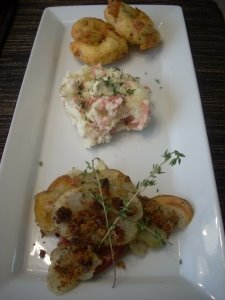 Amanda wins the fairies Award for Happiness and Content.

Sneh entered these what I firmly believe to be highly moresh Potato Prosciutto And Matzo Balls. As you will know, or can probably guess, fairies just adore little bites of yumminess to eat.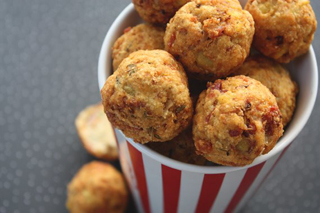 Sneh wins the Fairies Choice Award.

Kristina made brunch in the form of this elegant Frittata with Prosciutto, Potatoes & Thyme which looks completely luscious and decadent, simply perfect for a Mother's Day breakfast.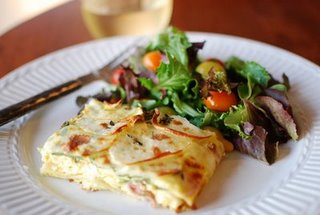 Kristina wins the fairies Style Award.

Jenny entered Thyme Scented Prosciutto-Potato Swirls with Chèvre I don't know anyone who couldn't resist these terrific little mounds of fluffy starchy goodness with goats cheese and then wrapped in tasty thin pork strips. Mmm!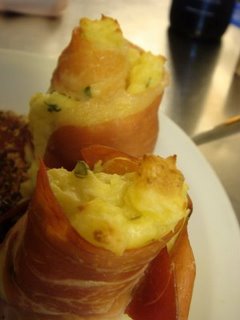 Jenny wins the fairies Mmm...Now That's Terrifically Tasty Award.

Two Minute Noodle Cook deconstructed Vichyssoise, a French styled Potato and Leek Cream soup with Prosciutto Chopsticks of which we believe would be an excellent addition to any fine dining establishment's menu.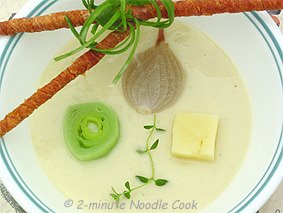 Two Minute Noodle Cook wins the fairies Award of Excellence.

Thank you to all who entered, just quietly I think I may need a month to recover from this potato feast, for it sure was no famine. I look forward to seeing what you all come up with in the coming Paper Chef challenges.


Home · About Bron · Portfolio · Recipe Index · Unit Converter
RSS Feed · Atom Feed · Twitter · Facebook · Flickr · Bron's Amazon Store