Tuesday 19th May 2009
Cupcake Saturday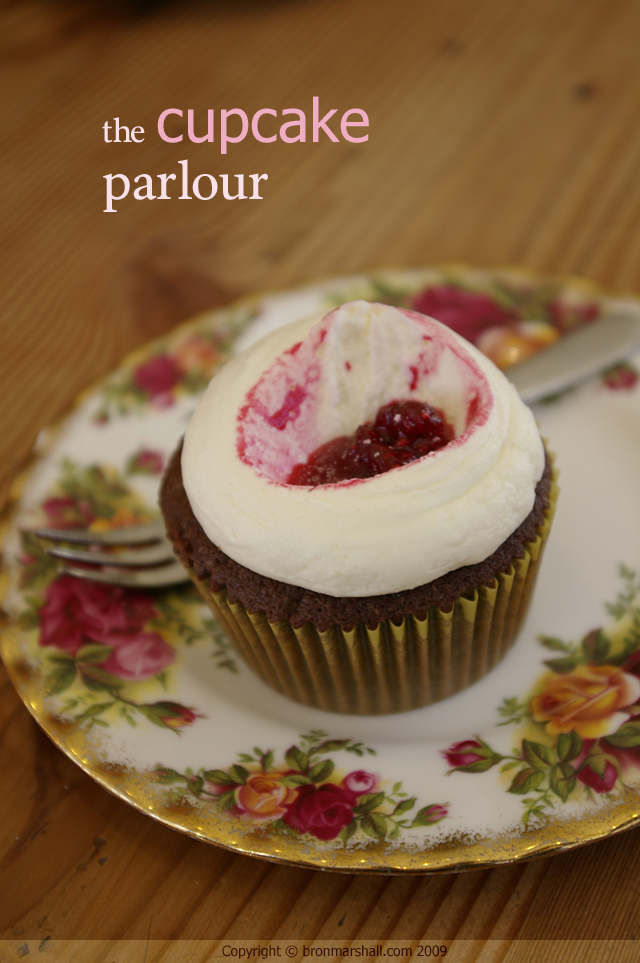 My fairies wanted to take me to The Cupcake Parlour for Mother's Day the weekend before last... Now we Marshalls are plenty crazy, yet not quite crazy enough to dine out or line up for cupcakes on a day when every other mother and her children in Canterbury (the world!) are.

We postponed our visit for this past weekend, our 2nd time visiting. The first time we simply bought our cupcakes to go! However on Saturday we stopped to take tea, cupcakes and enjoy the pink floral fairy-like surroundings.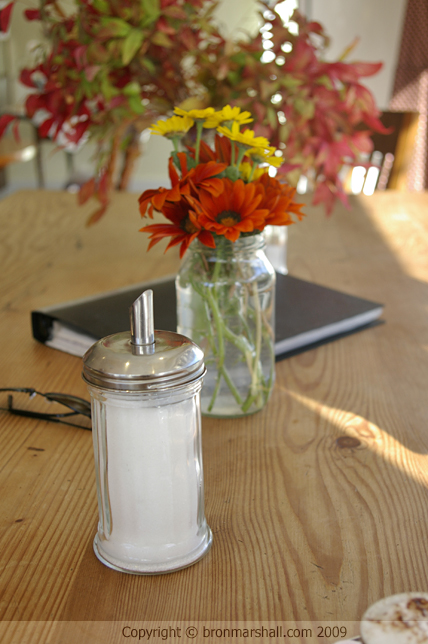 Cupcakes have only recently gained popularity and become "fashionable" in New Zealand, and as far as I know "The Cupcake Parlour" is the only dedicated outlet for, and that specialises in cupcakes in Christchurch city. Although there are several passionate cupcake bakers at our Farmers Markets.

The Parlour cupcakes are yummy, let it be said. Obviously made in small batches and each hand iced with care, yet if I'm to be completely honest the range and variety of cupcakes did disappoint me and has done on both occasions. My experience has been limited to a choice of 4 flavours and they were extremely conservative flavours. Chocolate, vanilla, chocolate berry and passionfruit. Nothing to make you "wow!"

There's an undaring approach to how the cupcakes are iced / frosted and decorated too. Nothing more than what you would expect for any novice home baker. All this makes me wonder why? Why the likes of marshmallow, ganache, matcha, seasonal fruit and spice variations are ignored. Why piped decorations and simply the more attractive cupcakes, we as keen bakers see online, in magazines and in pastry shops in other parts. Why too were these ideas never considered?

Sad to say but the ladies at Cupcake Parlour don't seem very inspired or original. Although their website suggests they may have found ideas from others and stock a much wider cupcake range to choose from than we have experienced.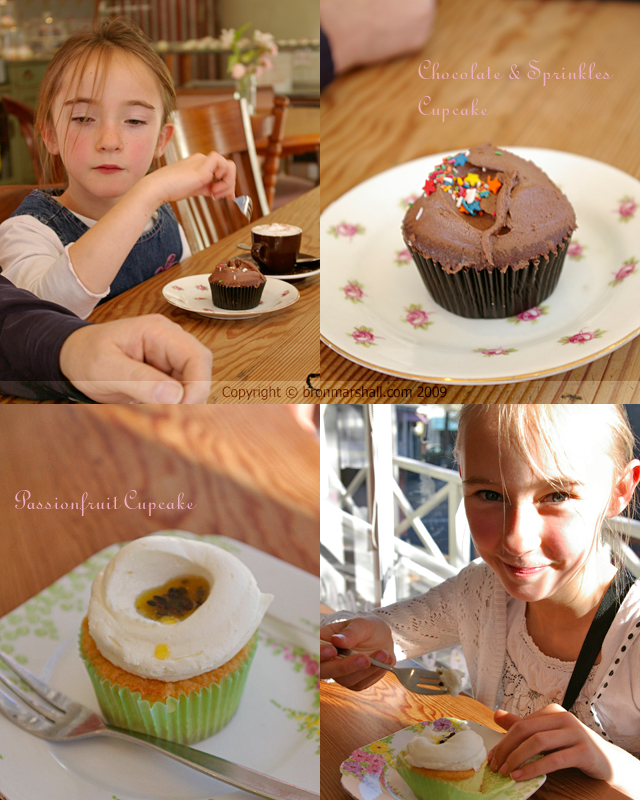 Having said all that, what limited cupcakes they offered on Saturday, they did do well. I had the Chocolate Berry cupcake, which was very pleasant. Samantha is seen here with her Chocolate Sprinkles, Hannah with the Passionfruit.

They did also offer 1 or 2 alternatives to cupcakes, again not a very enticing range it must be said. The fairy Dad chose to have a Caramel and White Chocolate slice, a decision which he now regrets being as it was so excessively sweet! Certainly the caramel needed to be taken a bit further to give it some bitterness or perhaps better an addition of some salt to balance it, instead it was like eating a slab of pure refined sugar. The thickness of the white chocolate being hard to break through also.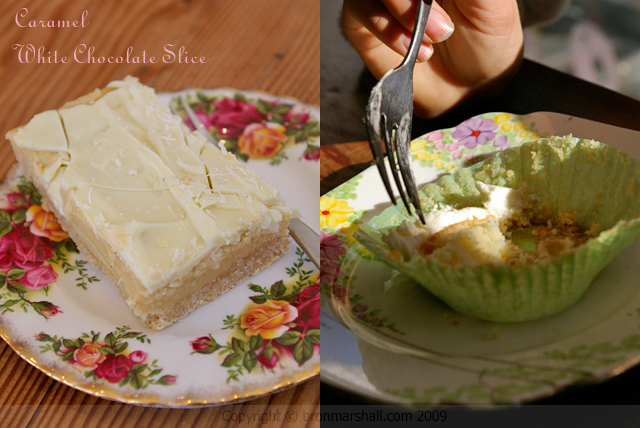 The cupcakes are served, as you can see on fine floral china. Which certainly befits the theme perfectly and sure does make you feel that little bit more feminine and girly, as with the tea cups. Although sadly the tea served still comes in the form of a stale old bag, but one can hardly complain when it's the poor habitual norm for most places in New Zealand.

To recap; The Cupcake Parlour cupcakes are fine. They taste good, but are rather ordinary looking if you are wanting something really special. We'll probably be back as it's a happy location and they keep more comfortable hours than the Farmers market for acquiring cupcakes.

The Cupcake Parlour
http://www.cupcakeparlour.co.nz
48 Salisbury street
Christchurch
New Zealand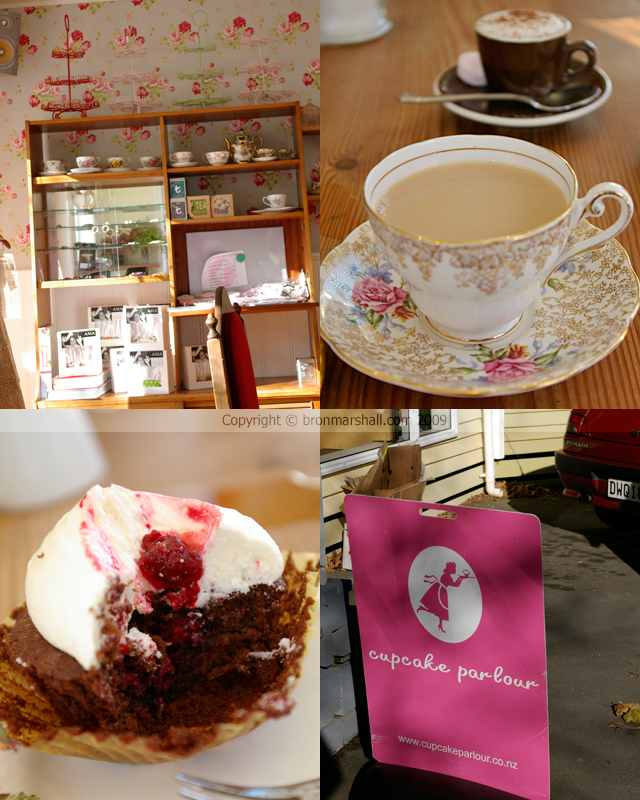 Our visit also inspired my fairies to set up shop, please come back soon to see their "Cupcake Parlour at Home"



Home · About Bron · Portfolio · Recipe Index · Unit Converter
RSS Feed · Atom Feed · Twitter · Facebook · Flickr · Bron's Amazon Store