Friday 6th February 2009
Play for Nutella Day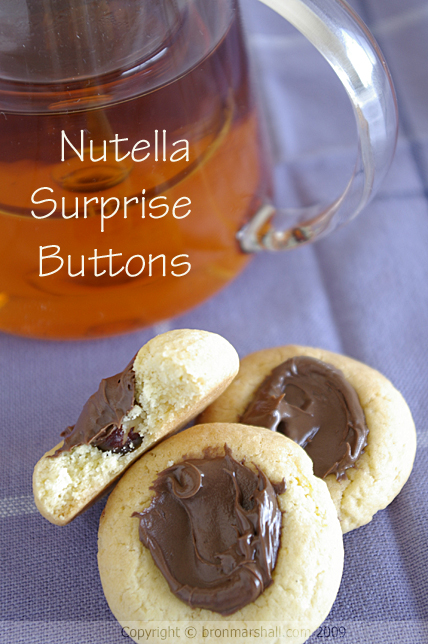 Today or yesterday, depending where and when in the world your February 5th is celebrated was the 3rd annual "World Nutella Day". A special holiday created by fellow Food Bloggers and extreme Nutella lovers Sara Rosso @ Ms. Adventures in Italy and Michelle Fabio @ Bleeding Espresso.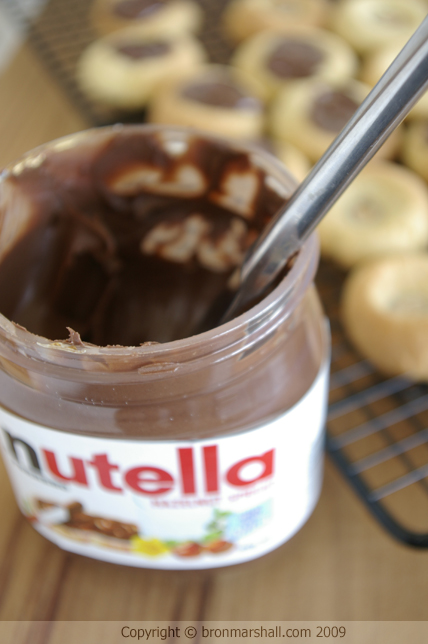 Mostly we just eat our Nutella on toast or by the spoonful, sometimes we save enough to have it with pancakes. It's dangerous stuff to have in the house though, it NEVER lasts a week! Even hiding in different cupboards, high on the top shelf, different rooms of the house it disappears quickly. See, as no matter where I hide it, I always seem to remember where I've put it! To stay on the safe side, I purchase it fairly rarely, although Santa has been known to gift us a jar each in our Christmas stockings.

In honour of this International holiday and Nutella festival, I managed with some help from my girls to quickly arrange some cookies. We knocked these sneaky little buttons up yesterday, icing them was definitely the best part.
"A little Nutella for the cookie, two spoons of Nutella for me!"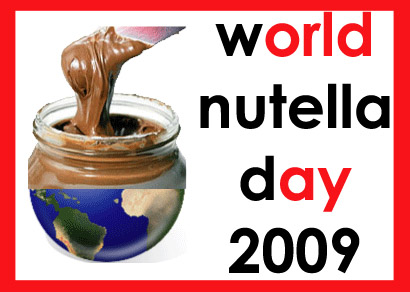 Please be sure to use baking powder that is free of nasty, or as I call it... "nah nah" or tinny tasting Aluminium in all your baking, including this recipe. It's labelled "541″ or "Sodium aluminium phosphate" on the packets and is sadly in most commercially available baking powder brands here in New Zealand, including good ol' Edmonds! It's super easy and far cheaper actually, to make your own baking powder and trust me you'll taste and enjoy the difference!


Homemade Baking Powder:
mix 2 parts cream of tartar
with 1 part baking soda
and 1 part cornflour / cornstarch
So for 1 teaspoon baking powder - you need ½ teaspoon cream of tartar with ¼ teaspoon of baking soda and ¼ teaspoon cornflour /cornstarch.
For more on this please see David's or Shauna's posts.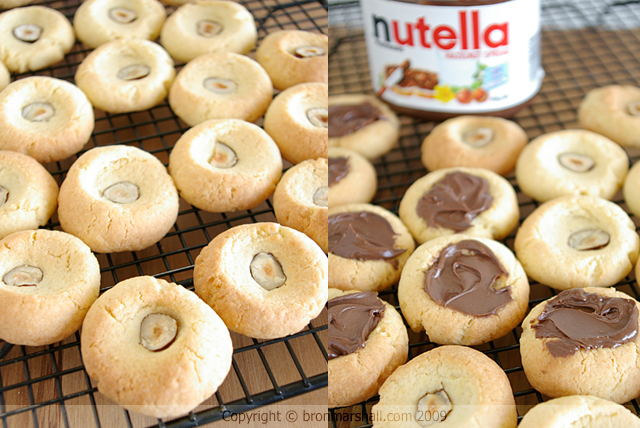 Nutella Surprise Buttons
120 grams / 4 oz of softened butter
120 grams / 4oz of caster, superfine sugar
1 large free range egg
1 teapsoon of vanilla extract / essence
2 cups of plain white flour, sifted
1 ½ teaspoons of baking powder, preferably homemade and or without Aluminium
pinch of salt
18 hazelnuts, toasted and halved
1 jar of Nutella, for icing / frosting, approximately ½ cup
Preheat your oven to 180°C (360°F)
In a large bowl or your stand mixer, cream the butter and sugar, add the egg and beat until smooth.
Mix in the vanilla, sifted flour, baking powder and salt to form a smooth ball of cookie dough.
Roll the mixture into small balls and place on a lined baking tray or sheet.
With your finger or the back of a Parisian scoop or melon baller works well too, gently press an indentation in each of the cookies.
Place a hazelnut half into each indentation and bake for 10 to 15 minutes, until golden.
Transfer to a cooling rack and leave for a few minutes.
Spread Nutella inside the indentations to fill and hide the hazelnuts.
Makes 34, approximately.
Enjoy!


Blog Recipes · Chocolate Recipes · Cookies Recipes · Food Blog Events Recipes · Summer Recipes · Summer 09 Recipes · Sunday Afternoon Teas Recipes · The Baking Tins Recipes
Home · About Bron · Portfolio · Recipe Index · Unit Converter
RSS Feed · Atom Feed · Twitter · Facebook · Flickr · Bron's Amazon Store