Thursday 28th February 2008
A Tiffin Full of Carrot and Charred Capsicum Salad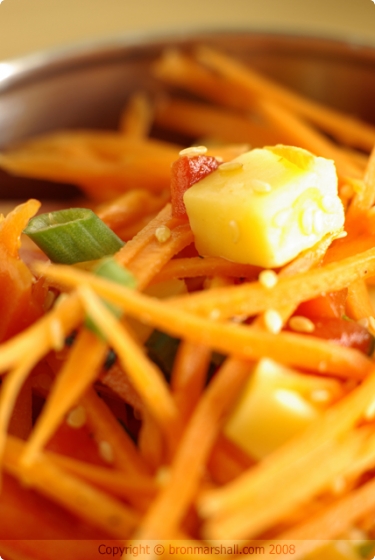 I make J's lunch almost every day. Not only does this save us money, being better on our wallets, it's also far better for him and as I want him to stick around for a fair while, I try hard to look after him.

He takes his lunch in a stainless steel tiffin, which has been a great investment and replacement for a plastic lunchbox. Unfortunately Tiffins are not common place in New Zealand, so while many of my overseas readers will be familiar with them, please excuse me while I describe them to those of you who aren't so familiar.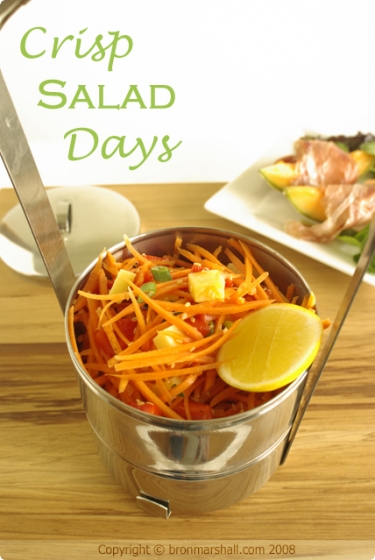 Tiffins are generally comprised of several - 2, 3, 4 and even 5 units which stack together on top of each other with a carry handle. They come in loads of different sizes and materials. Many Tiffin pots are stainless steel and therefore highly resilient. They're very easy to wash or pop through the dishwasher over and over again, whereas lunch boxes tend to melt, warp or discolour even when they labelled "dishwasher safe". Stainless steel also won't leach toxins into food like so many plastics can, making it safer for us. I also like the fact that tiffins are better for our environment - the different compartments reduce the need for costly plastic wraps and lunch bags and every little bit towards sustainability counts.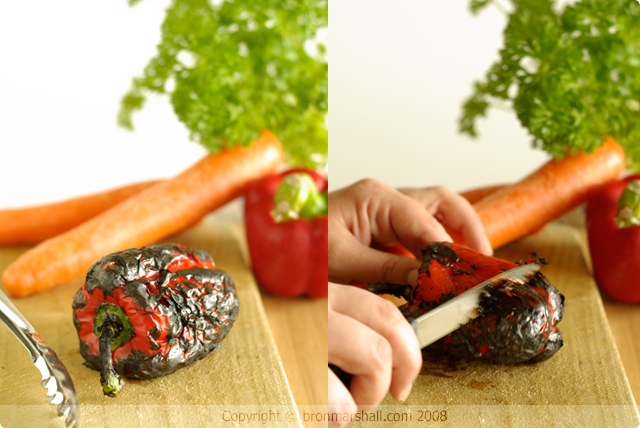 So what do I put into J's tiffin each day?

Well, lets see ... normally the top has some crunchy snack, like popcorn, scroggin - that's a dried fruit and nut mix, or perhaps natural salted corn chips.

The second layer almost always has a salad, which I try to vary with what is in season and will look fresh and inviting to him when he opens his lunch. Sometimes the salad may be Greek inspired with tomatoes, kalamata olives, cucumber and feta. Other times it may be more Asian inspired with leftover shredded chicken, julienne carrot, mung bean sprouts, chilli, coriander and Vietnamese mint.

Winter often dictates a type of Coleslaw or Waldorf salad. We especially like kiwifruit and walnuts in these Winter salads.

However J's particular favourites tend to be the carrot based salads I make. Again, these salads vary hugely depending on what is available or what is at its best. The recipe below is a current favourite with beautiful sweet new carrots and red capsicums being abundant at the moment.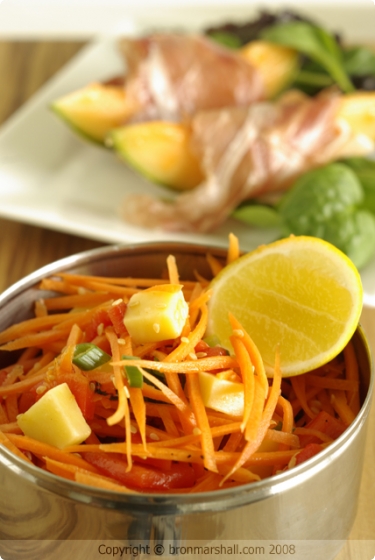 The third compartment of J's tiffin often includes some sort of protein or another carbohydrate, depending on whether there is a protein in his salad. This may be some cheese, yoghurt, cold meats or an egg. Or, if carbohydrates are the order of the day, it may be a homemade treat of a rhubarb or raspberry muffin, a small fruit teacake, a bread roll, sticky bun, or a couple of his favourite cookies if he is really lucky.

Finally the fourth layer has a couple of pieces of fresh fruit.

Now if only my lunches were as exciting ... something I need to work on!

This is my entry to this month's "Waiter there's something in my... salad" hosted by Andrew @ Spittoon Extra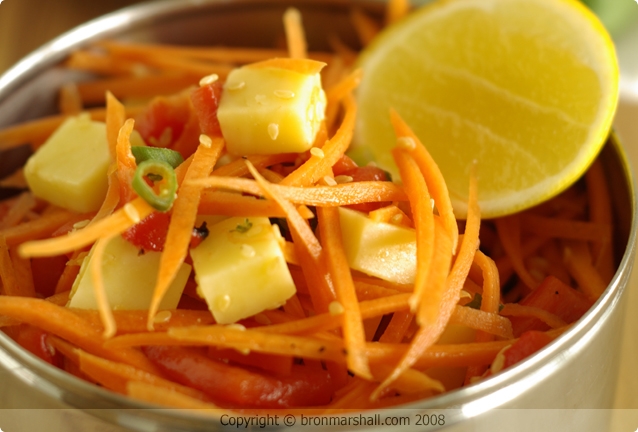 Carrot and Charred Capsicum Salad
1 red capsicum, charred over a flame until well blistered and blackened
2 to 3 medium sized carrots, peeled, rinsed and grated
1 to 2 spring onions, sliced
A small piece of Edam style cheese, diced
2 teaspoons of toasted sesame seeds
The freshly squeezed juice of 1 lemon
After grilling or charring the capsicum until it is very black, place it into a bowl and cover with a plate. This allows the pepper to continue to soften and the steam makes scraping the blackened skin off easier.
Meanwhile peel and grate the carrots.
Scrape the blackened skin off the capsicum, resisting the urge to rinse it under water as this will remove a lot of the delicious smokey flavour.
Deseed and dice the soft capsicum and add to the carrots.
Mix through the remaining ingredients and serve with extra lemon on the side if desired.
Serves 2

Enjoy!


Blog Recipes · Food Blog Events Recipes · Fruit & Veges Recipes · Ingredient Inspirations Recipes · Picnics Recipes · Salads Recipes · Summer Recipes · Vegetables Recipes
Home · About Bron · Portfolio · Recipe Index · Unit Converter
RSS Feed · Atom Feed · Twitter · Facebook · Flickr · Bron's Amazon Store