Monday 10th March 2008
Holding on to Summer with Barbecued Chilli, Lemongrass and Ginger Whole Snapper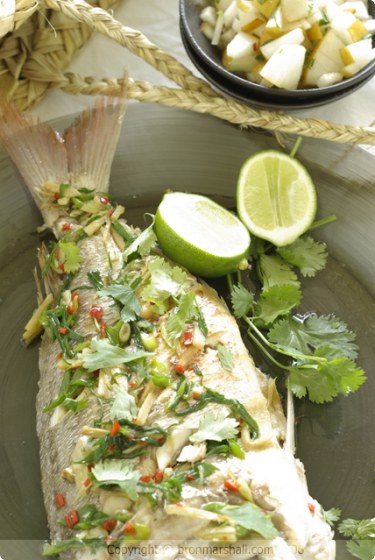 Barbecued Chilli, Lemongrass and Ginger Whole Snapper

It may officially be Autumn and it's true my shoes are getting a little soppy with the heavy dew in the grass on our morning walks now, but I'm holding onto Summer with all my might, and taking advantage of the last few days and week of daylight savings.

I have to be honest I've never really understood "daylight savings" I mean where's the saving? Who's saving? I guess young children are saved a little from earlier bedtimes as evening meals tend to be later... but honestly, does it really make that much of a difference? There's always going to be more hours of evening sunlight in the Summer, that's why they call it Summer and if people crave that much more light in the evenings, why isn't daylight saving on all year round? Wouldn't it make more sense to have some extra light in the Winter evenings as well?


I must say it's quite cool getting an extra hour in the Autumn though, even though the signs of winter approaching are depressing enough. I always enjoy an extra hours sleep.

So as the light in the evening is getting shorter and will be even shorter when we turn the clocks back next weekend, we've been making the most of what's left with our last few Summer weekend barbecues.

A couple of weekends ago now we barbecued this Chilli, Lemongrass and Ginger Whole Snapper serving it with a crisp Nashi and Lime Salsa.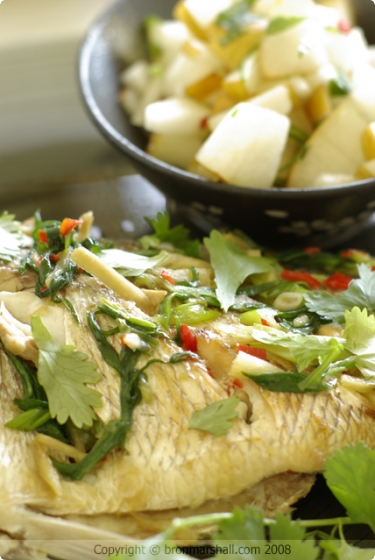 Buying whole fish has always seemed that little bit extra special to me. I'm not really sure why as it certainly isn't easier to prepare, it takes some patience to clean, gut and scale the fish for starters and if you decide to cook it whole it again is fairly labour intensive to ensure that most of the flesh is utilised and enjoyed without piercing your oesophagus with any of the nasty sharp little bones. Not to mention the freaky little eyes (or what were once eyes) on the table peering back at you.
(NB: I do have a photo including this fella's "freaky eye" - but I didn't want to scare you. Of course, if I get enough requests in the comments I'd be happy to post it up and share it with you)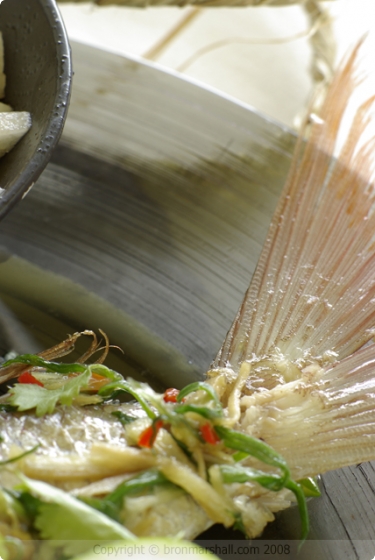 However, with all that said, buying whole fish is definitely the best way to know the fish you're eating is the freshest fish you can get. I really enjoy visiting and shopping for produce, so when I visit my new local fish market these are the things I look (and smell!) out for when buying fresh fish...


Eyes that are full, moist and bright, avoid fish that have dull, cloudy or sunken eyes
Gills should be clean and bright red, avoid if there are signs of greying, slime or slipperiness
The Body should be firm, quite stiff and smooth, avoid if it's all limp and floppy
The Skin should be shiny and damp to the touch, avoid if it's dry or at all dull in appearance
The Smell Marine fish from the sea should smell of the sea, avoid if it smells of anything else - Freshwater fish should also smell fresh and clean and not fishy or of ammonia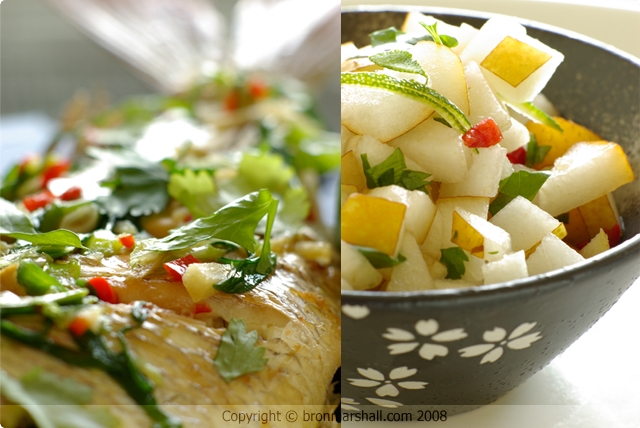 Simple Nashi and Lime Salsa
2 Nashi pears, cored and diced
2 limes, the zest of one, juice of two
1 to 2 red chillies, finely chopped, or as desired
A pinch of salt and sugar
Fresh coriander leaves, chopped
Combine all the ingredients together and serve along side barbecued fish or chicken.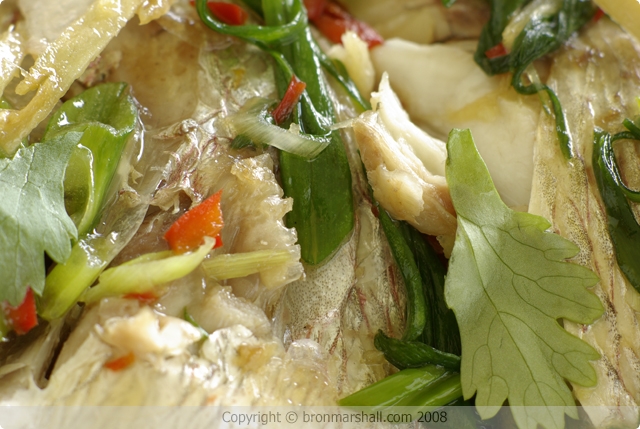 Barbecued Chilli, Lemongrass and Ginger Whole Snapper
1 medium sized (750 grams) fresh whole Snapper, cleaned, gutted and scaled etc!
2 red chilli, finely chopped
1 tablespoon of fish sauce
1 stem of lemon grass, the white part only, very thinly sliced
4 cm of fresh ginger, thinly julienne
2 cloves of garlic, finely chopped
2 tablespoons of peanut oil
3 spring onions, thinly julienne2 teaspoons of grated palm sugar
A small bunch of fresh coriander leaves, roughly chopped
1 small lime, halved
Take your cleaned and prepared whole snapper, rinse and pat it dry with paper towels, cut 3 deep slashes into the thickest part of the fish on both sides.
Combine the chopped chilli, fish sauce, lemongrass, ginger and garlic together in a small bowl.Spread the mixture over both sides of the snapper, pressing some into the slashes, cover and refrigerate for 30 minutes.
Meanwhile heat your barbecue or grill until fairly hot, brush the hot plate with 1 tablespoon of the peanut oil and place the fish to cook for around 5 minutes each side or until the flesh is just cooked through all the way to the back bone and flakes away easily.
Place the cooked fish onto a serving platter.
In a small pan to the side, quickly fry the spring onions with the remaining oil, stir through the palm sugar and pour over the cooked fish, sprinkle with fresh coriander and lime wedges.
Serve the Barbecued Snapper with the Nashi salsa and some steamed jasmine rice, and/or crisp salad if desired.
Serves 4

Enjoy!


Blog Recipes · Fish Recipes · Fruit & Veges Recipes · Summer Recipes
Home · About Bron · Portfolio · Recipe Index · Unit Converter
RSS Feed · Atom Feed · Twitter · Facebook · Flickr · Bron's Amazon Store