Wednesday 8th October 2008
Spring into Ground Beef Laksa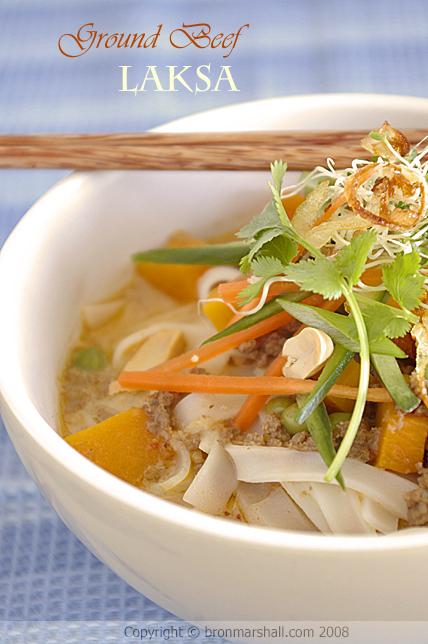 What foods and recipes invoke Spring for you? Thinking back through past Winters, what were you dreaming of, what did you desire most in the coming Spring?

Asparagus? Baby Spring Peas? Broad (fava) beans, young salad leaves, watercress and shooting sprouts... maybe it was something fruitier and sweeter like... strawberries or rhubarb? Certainly all these are what burst into season when the Winter begins to thaw, but what about the recipes you crave? I know for me when Spring finally arrives I look forward to less heavy meals. No more hearty stews... Boston Beans, Chilli and Cornbread. No more Slow Cooked Roasts, well not for a while at least.

Now it's time for Risotto with Citrus flavours, Steamed Asparagus and poached eggs, Grilled fish with young Asian vegetables, Coconut Laksa's topped with fresh young sprouts and crisp vegetables, noodles, salads and eggs, yes it's all these dishes that evoke a Spring fever in me. And where would I be without Spring desserts... gone are the steamed and baked dense puddings and in comes... mmmm mmm... Lemon citrus tarts, Rice pudding with stewed rhubarb, Panna cotta, Strawberries and Cream Sponge cakes. All these delights make Spring a heavenly season to look forward to!

But I don't have to look forward to it anymore...it's here, it's finally here!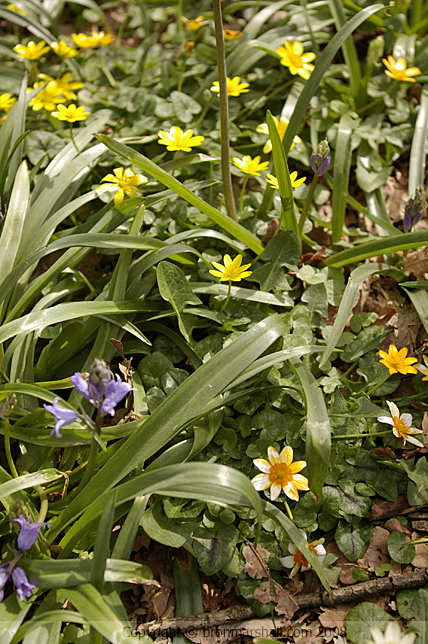 A New Fresh Spring Carpet Floor

Yes, because in case you hadn't noticed, I'm not really a "Winter person". I'm not one for the cold, I actually like warm feet and fingers and toes. However I am hoping a recent purchase in the Marshall household will make next Winter a whole LOT more bearable... Next Winter we plan to have HEAT... real HEAT, none of that crappy electricity excuse for some heat. Next winter we will have a rip roaring FIRE installed... waaahoo! Sorry I'm just a little bit excited over that! Just to imagine no more sitting in a room that is often less than 6°C (40°F), no hot water bottles, no sleeping bag and blankets necessary... OK...ok I'll quit now!

So where was I? Ahh yes.. Cravings for Spring

Laksa is one of those dishes I've always associated with Spring, not sure why exactly, perhaps it's the colours, the crunchy fresh sprouts and raw vegetables it is normally adorned with. Maybe it's the coconut milk, the smell, the creamy pure and natural colours of a coconut. I'm really not sure. A steamy bowl of Laksa just announces Spring is here to me.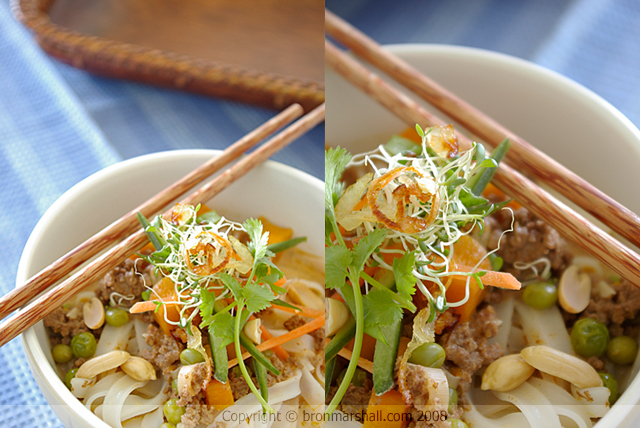 I try to always eat in season, it's far better economically, which is important on one income. But far more of a bonus is that fresh food in season will always taste better, often relying on what I can grow or find locally and organically. For this Laksa recipe I've used ground beef / or "mince" as we Kiwis call it. It's a cheaper source of red meat and family friendly, you also tend to get stuck with quite a lot of it when you raise your own meat. Although I'd be cautious if your beef mince was rather fatty and brown it in a separate pan to drain the extra off. With the richness of the coconut milk, trust me, you won't desire any more fat. It's not very traditional for sure, when one speaks of Laksa you would normally expect fish, prawns, other seafood or chicken. However this works out very nicely and has indeed become a bit of a Marshall family favourite.

There are as many Laksa recipes as there are soups, Thai, Malay...you name the place there's a different version and you can of course tweak any recipe with what you have available. Finishing your Laksa with as many different vegetables and garnishes as you desire. Using thick, thin, fresh or dried noodles of rice, wheat, buckwheat or what have you? Use your own homemade curry paste, a bought curry paste or special Laksa paste. That's the beauty of this dish, it's open to so many interpretations and this recipe below of mine is just simply one.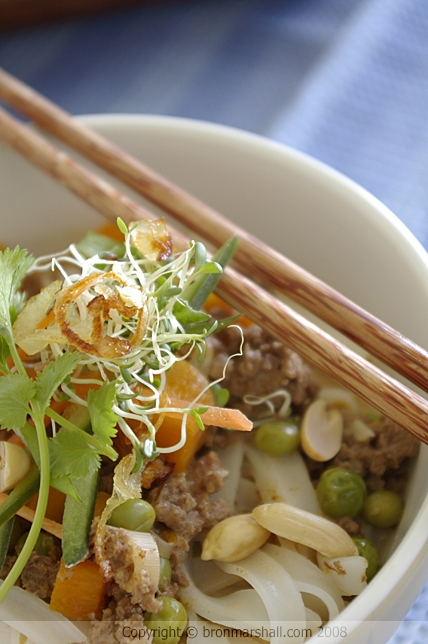 Ground Beef Laksa
peanut oil
2 red shallots, finely sliced
400 grams / 13 oz of ultra lean ground beef / beef mince
1 sweet potato / kumara or piece of pumpkin, peeled and cubed
3 tablespoons of Thai Red Curry paste
2 cloves of garlic, finely chopped
1 stem of lemon grass, crushed
1x 400ml / 13fl oz can of thick coconut milk
4 cups of vegetable stock or water
½ cup of tomato purée
½ cup of fresh peas
2 tablespoons of soft brown sugar, approximately
2 tablespoons of Thai fish sauce, approximately
the juice of 1 lime, approximately
To serve:
250 grams / 8 oz of rice stick noodles, cooked
carrot, julienne
telegraph or Lebanese cucumber, julienne
mung bean shoots or alfalfa sprouts
fresh coriander / cilantroroasted peanuts
In a large saucepan fry the shallot until golden and crispy in peanut oil, remove with a slotted and drain on absorbent towels until you are ready to serve.
Add a little of the ground beef mince to the saucepan browning and cooking through in several batches, remove and set aside.
Gently sauté the sweet potato in the same manner with a little more peanut oil if needed until golden and again set this aside.
In the same saucepan heat the Thai Red Curry paste with the garlic and crushed lemongrass stem until fragrant, mix in the coconut milk until it gently simmers.
Finally add back the ground beef mince and sweet potato together with the vegetable stock, tomato purée and peas.
Continue to cook over a medium heat until the sweet potato is tender.Meanwhile prepare the cook noodles and arrange into 4 large serving bowls.
Add sugar, fish sauce and fresh lime juice to the Laksa and taste adding more if needed to suit for your desired sweet/salty/sour flavour.
Ladle the hot Laksa over the noodles and arrange the julienne vegetables, sprouts, the reserved crispy shallots, coriander and peanuts on top of each and serve immediately.
Serves 4 hungry adults.
Enjoy!


Blog Recipes · Fruit & Veges Recipes · Meat Recipes · Soups Recipes · Spring Recipes · Spring 2008 Recipes · Vegetables Recipes
Home · About Bron · Portfolio · Recipe Index · Unit Converter
RSS Feed · Atom Feed · Twitter · Facebook · Flickr · Bron's Amazon Store