Thursday 13th November 2008
Spring Apple Blossom Bonnets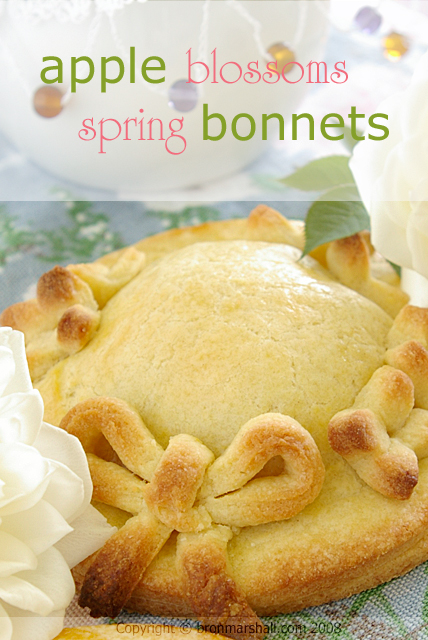 Spring Carnival and Canterbury Show week is upon us here on the Mainland in New Zealand. Ladies everywhere are dressing up in the most adorable fashions, Spring colours and hats, which all reminds me of the stories I read and heard when I was small about creating Spring bonnets and dressing up for a day at the races.

We are fortunate not to need to travel into Christchurch city for horse races as our neighbours are harness racing trainers! Which reminds me I must take some photos of the gorgeous newborn foals for you! I can simply look out our lounge window to watch the GGs trot on past, however the stakes aren't very high and I'm yet to cash in! This doesn't stop us and especially our two girls from dressing up in their finery and walking out to the track to watch and cheer them on. Cup week is as much about the fashion as it is the horses - it's all in the presentation!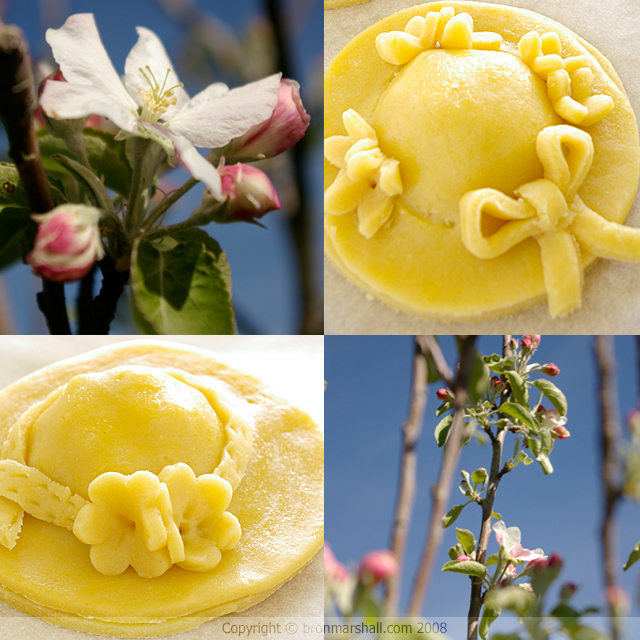 Food and cooking is often as much about the presentation as the taste too, wouldn't you agree? I love to explore new ways to present old favourites.

And as a bit of a girly girl and Mum to two little princesses ;-) I'm often desiring the very cute, pretty, more feminine ideas in presentation. It's true I never tire of surprising my girls with little treats, watching their eyes light up in wonderment. I'm a hopeless romantic and all too often spoil them and let it be said; spoil myself rotten too!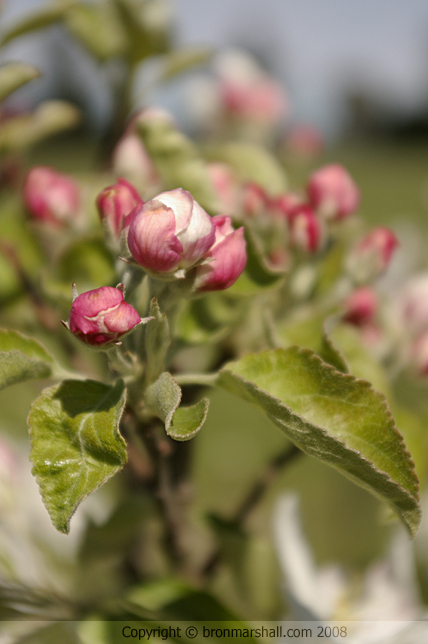 Our Apple blossoms pictured here several weeks ago have finished and now the fruit buds are beginning to swell into what we hope will yield an abundant number of tasty gifts in the Autumn.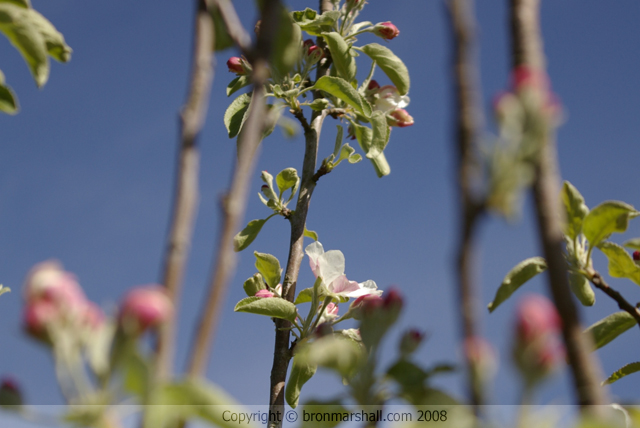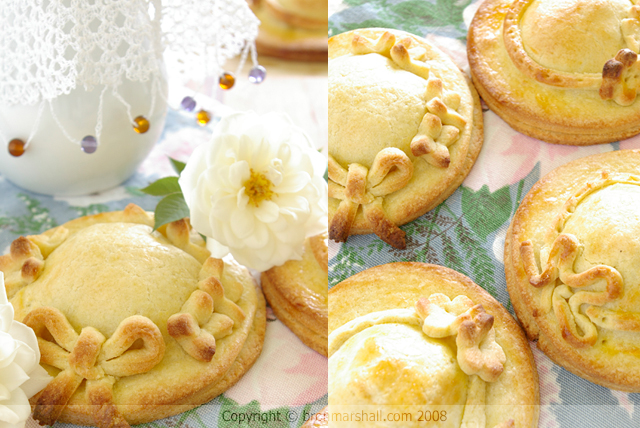 I think these Spring Apple Blossom Bonnets would be adored by young and old, grandmothers to little tots, they would be super to pop into Spring picnic baskets for the horse races, or served at garden parties, Mother's day and Easter celebrations in the Northern Hemisphere.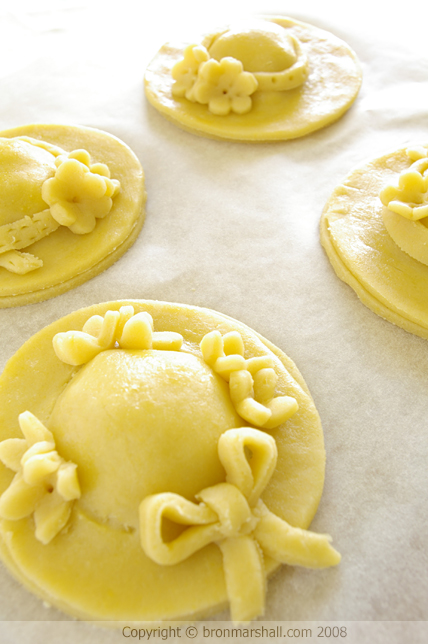 Essentially an individual Apple pie, they are dressed up to look like Spring Bonnets adorned with ribbons and bows, blossoms and leaves with the extra pastry. Lots of fun to get the little ones in the kitchen to help and create their own special bonnet. You could also add a sprinkling of sanding sugar to the pastry before baking for a different texture, your deliciously sweet edible Spring bonnets are only limited by your imagination.

Orange Blossom water gives a decadent floral touch and continues the blossom theme, however it's entirely optional! These are perfectly delicious on their own, yet a little dusting of icing sugar and a dollop of whipped cream on the side never hurts!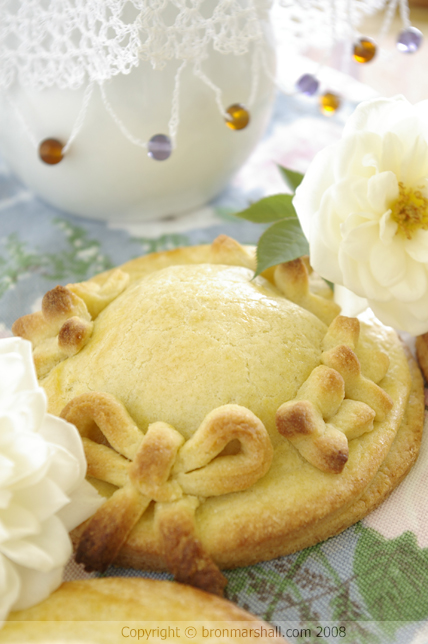 Spring Apple Blossom Bonnets
Sweet Blossom Pastry:
400 grams / 14 oz of plain soft white flour
a good pinch of salt
240 grams / 8½ oz of butter
100 grams / 4¼ oz of castor sugar
2 eggs
1 tablespoon of Orange blossom water or plain water
Apple filling:
3 to 4 medium sized Grannysmith apples, peeled and diced
3 tablespoons of caster sugar
1 tablespoon of cornflour / cornstarch
1 tablespoon of water
2 strips of fresh orange peel
1 cinnamon stick
½ a vanilla pod split
Bonnet Assembly:
½ cup of plain soft white flour, for dusting board/pin
an extra beaten egg, for sealing & glazing
For the Sweet Blossom Pastry
Sift the flour and salt into a large bowl or food processor.
Cut the butter into small cubes and rub into the flour either with your hands or using the food processor, until it resembles fine breadcrumbs.
Whisk the castor sugar, eggs and Orange blossom water together and add to the mixture to make a firm dough.
On a lightly floured bench or board knead the mixture until it forms a smooth ball.
Handle as little as possible to prevent the pastry from becoming hard when baked.
Cover with plastic wrap and refrigerate for 20 minutes.
For the Apple Filling
Peel the apples, remove the core and cut each into a small dice.
In a medium saucepan add the apple, sugar, cornflour, water, orange rind, cinnamon stick and vanilla pod.
Over a gentle heat and sweat for 5 to 10 minutes stirring regularly until the apple is just tender and still retains its shape.
Remove from the heat and discard the orange rind, cinnamon stick and vanilla pod.
Set aside to cool.
To Assemble the Bonnets
Preheat the oven to 180°C (360°F).
On a lightly floured board or bench carefully roll out half of the pastry until it's approximately 5 mm (1/8 inch) thick.
Cut 8 disks 10cm (4 inch) in diameter to form the bases. Roll out the second half of the pastry and cut 8 disks 12cm (5 inch) in diameter to form the lids.
Place a good dessert spoonful of the cooled apple filling into the bonnet bases.
With a pastry brush, moisten the edges with egg wash and carefully place the lids over the filling, gently shaping and pressing to seal and form a nice circular mound and bonnet shape.
With the pastry trimmings create ribbons, bows, blossom and leaves as you wish and fix them to the bonnets with egg wash.
Bake for 10 to 15 minutes or until the bonnets are gorgeously golden and cooked through.
Serve warm or cold, makes 8.
Enjoy!


Apples & Pears Recipes · Blog Recipes · Canterbury Recipes · Desserts Recipes · Fruit Recipes · Fruit & Veges Recipes · Picnics Recipes · Spring Recipes · Spring 2008 Recipes
Home · About Bron · Portfolio · Recipe Index · Unit Converter
RSS Feed · Atom Feed · Twitter · Facebook · Flickr · Bron's Amazon Store