Tuesday 11th November 2008
90 Years Ago...
On the 11th hour of the 11th day of the 11th month a ceasefire marked the end of the Great War (World War One).


From my archives - Red Remembrance Poppies, Chocolate Sables

Today we use the 11th of November to mark a day of Remembrance; known either as Remembrance Day, Poppy Day, Armistice Day or Veterans Day in different parts around the world and together remembering not only those who made the sacrifice in WW1 but also in more recent conflict. Today I've pulled this Poppy Sables post from my archives to commemorate.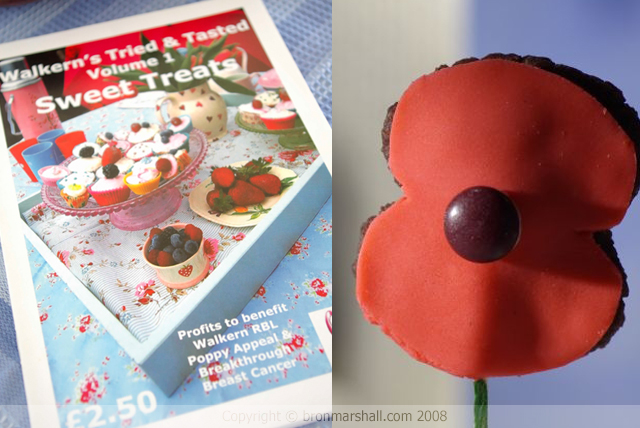 This year I also was fortunate to be able to contribute the recipe to "Walkern's Tried and Tasted - Sweet Treats" a fund-raising recipe booklet for the Walkern Royal British Legion Poppy Appeal. Thank you to the lovely ladies who sent me a copy.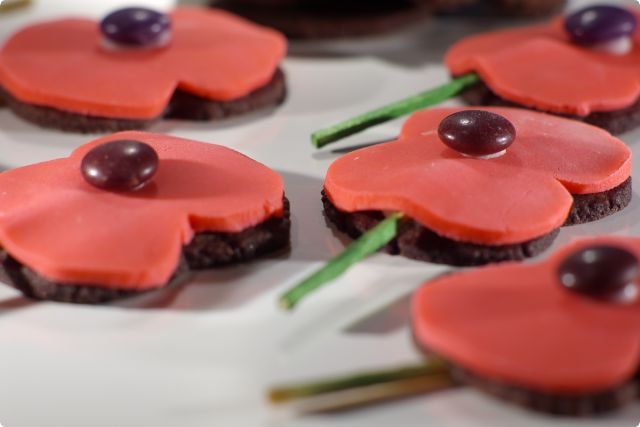 Chocolate Sable Red Remembrance Poppies
255 grams of plain white flour
30 grams of quality dark cocoa powder
200 grams of cold butter, cubed
100 grams of icing sugar
2 free range egg yolks
½ teaspoon of vanilla essence
200 grams of rolling fondant icing
red food colouring
cornflour/ cornstarch to work the fondant
30 dark sweets, such as M&M's/Pebbles/Smarties
30 toothpicks, or match sticks with the head broken off, etc. painted with green food colouring
a small amount of icing / frosting to fix the fondant, toothpicks and sweets
Preheat your oven to 180°C (360°F)
In a food processor place the flour, cocoa and cubed butter. Pulse until the mixture resembles fine breadcrumbs.
Add the icing sugar, egg yolks and vanilla and process to a form smooth ball of dough.
Wrap the dough in plastic wrap and refrigerate for 30 minutes.
On a lightly floured board roll the dough out, marking and cutting 30 poppy shapes.
Transfer the poppies to a lined baking tray / sheet and bake for approximately 8 minutes.
Leave to cool on a cake rack.
Knead the fondant with enough red food colouring to create a good red poppy colour, adding some cornflour if the fondant becomes too sticky.
Roll out the fondant and cut 30 poppy shapes to fix to your sables
Fix the fondant, green toothpick and a sweet to each sable cookie with a little icing to form the poppies
Makes 30
Until next time, take care.


Blog Recipes · Chocolate Recipes · Cookies Recipes · Spring Recipes · Spring 2008 Recipes · Sunday Afternoon Teas Recipes · The Baking Tins Recipes
Home · About Bron · Portfolio · Recipe Index · Unit Converter
RSS Feed · Atom Feed · Twitter · Facebook · Flickr · Bron's Amazon Store