Saturday 24th May 2008
Spiced Pumpkin and Cauliflower Soup a.k.a Refrigerator Soup Week #21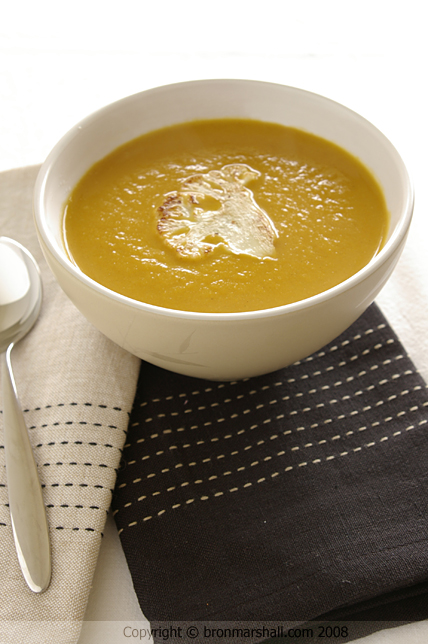 Come Friday evening I often find I need to clear out the fridge chiller bin, if purely to make room for the weekend's farmers market haul of new produce. Therefore Friday nights have become well known for their soups at Chez Marshall. Soups of course being ideal for enjoying something hearty and rewarding on cool nights from scrappy bits of vegetables or vegetables that are no longer looking their best.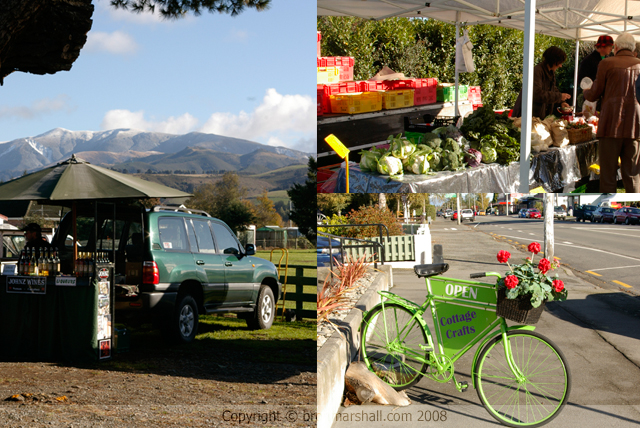 The two farmers markets I mostly frequent during the weekend are the Canterbury Farmers Market in Christchurch, Deans Bush on Saturday mornings and a more local and much smaller Oxford Farmers Market on Sunday mornings, although there are several others in the Canterbury region if I had more time I'd also like to visit, namely the Lyttelton Market on Saturdays. These photos are from a recent visit to Oxford, you can see the slightly snow capped hills in the background, there's a far bit more up there today and will no doubt now be a permanent fixture for the Winter through to about October.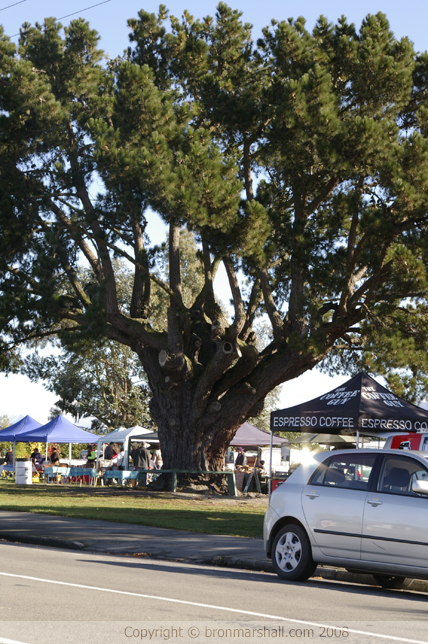 Last week I had two things playing on my mind, pumpkin and cauliflower. Cauliflower and Pumpkin!
I knew they were getting past the best sitting quietly and feeling unloved in our fridge and all through the week I had tried to initiate a plan with them, however I hadn't been at all inspired. By Friday I knew something had to be done or they were headed for the compost bin for sure. Both embarrassingly, were looking rather nasty, however after a few minutes with a sharp paring and cooks knife I had some much better looking pumpkin and cauliflower all chopped and prepared. Wondering how these two vegetables would get along together in a soup I started brainstorming what extra flavours I could combine with them. I quickly remembered cauliflower and pumpkin are often the base vegetables to curries and therefore cumin and cinnamon would be ideal. When normally making pumpkin soups I like to add a little tomato paste or purée, for a depth of flavour, not to mention colour when a pumpkin is a bit on the pale side.

Finally I finished my soup by adding a wisp of cream and topping each serving with a pan-fried slice of the remaining cauliflower, I love cauliflower done this way with a good sprinkle of maldon sea salt. My dear friend Jeanne also made some recently, however she calls them "cauliflower steaks" and bakes them in larger slices.

Needless to say we really enjoyed the soup, enough for me to write it up in my little black recipe note book and making it again this weekend to share it with you all... so it has to be good, 'dontcha' think?!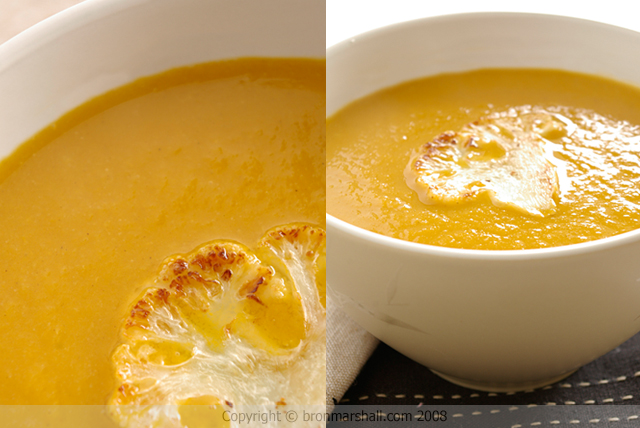 Spiced Pumpkin and Cauliflower Soup
1 tablespoon of olive oil
1 onion, finely chopped
2 teaspoons of ground cumin
1 teaspoon of ground cinnamon
1 clove of garlic, peeled
1 bay leaf
450 grams (1lb) of pumpkin, peeled and chopped, approximately
450 grams (1lb) of cauliflower florets, trimmed, approximately
800 mls (1½ pints) of chicken or vegetable stock, preferably homemade
¼ cup of tomato purée
salt and pepper to taste
a little cream to finish, optional
4-6 slices of cauliflower, extra
olive oil
maldon sea salt
In a large saucepan sweat the onion in a little olive oil until translucent and soft.
Add the cumin, cinnamon, bay leaf and a whole peeled garlic clove, continue to sauté for a minute or so until lovely and fragrant.
Add the pumpkin and cauliflower and sweat for another minute or two.
Add enough stock to cover the vegetables, topping up with water if necessary, add the tomato purée and a little salt.
Cover and simmer for 20 minutes or until the pumpkin and cauliflower are tender.
Meanwhile in a medium hot pan, fry the extra slices of cauliflower in a little olive oil until golden and cooked through, drain on adsorbent paper towels and keep aside in a warm place.
Remove the bay leaf and blend the soup mixture until very smooth. Pass the soup through a chinose if you desire, this helps to remove any stray coarse vegetable fibres.
Taste the soup for seasoning and adjust accordingly, finishing with a little cream if desired.
Serve the soup whilst still very warm, gently reheating if necessary and topping with a warm pan-fried slice of cauliflower and sprinkle of maldon sea salt or fleur de sel.
Serves 4 to 6
Enjoy!


Autumn Recipes · Autumn 08 Recipes · Blog Recipes · Fruit & Veges Recipes · Soups Recipes · Vegetables Recipes
Home · About Bron · Portfolio · Recipe Index · Unit Converter
RSS Feed · Atom Feed · Twitter · Facebook · Flickr · Bron's Amazon Store