Sunday 25th May 2008
Meyer Lemon Kisses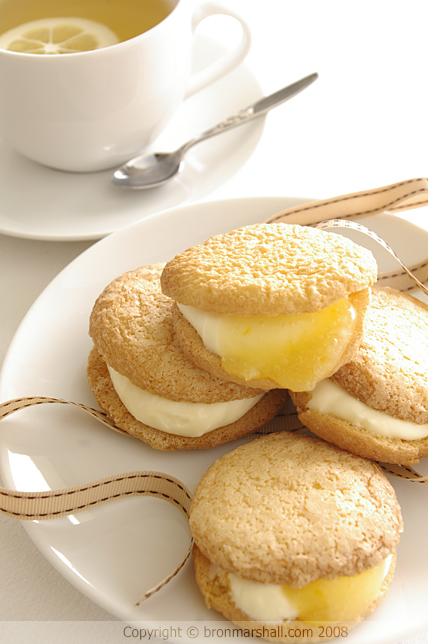 Meyer Lemon Kisses for My Sweethearts

I love to share kisses with my sweetheart and he has a special affection for anything related to sponge cake, citrus and especially Meyer lemons, so these particular kisses are always a great hit with J.

Cheekily he remarked that some of the kisses look like they had their tongues hanging out. Say what?! French kissing Kisses?! - now they would be sure to make some of our older Aunts *blush!*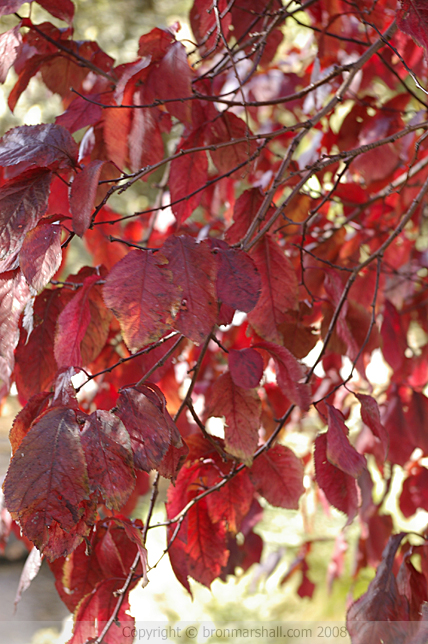 Anyway I digress, these Kisses are for another sweetheart of mine, a sweetheart that sadly I've never met, I know this sweetheart only through food blogging and emails, perhaps you know her too?! I think she is the definition of a "sweetheart". She is generous and kind and has an enormous heart of gold. She is made of all things nice and makes beautiful, stunning pastries with sugar and spice.

She is Helen, she is our Tartelette and she is our hostest with the mostest for this month's Sugar High Friday! a food blogging event created by the Domestic Goddess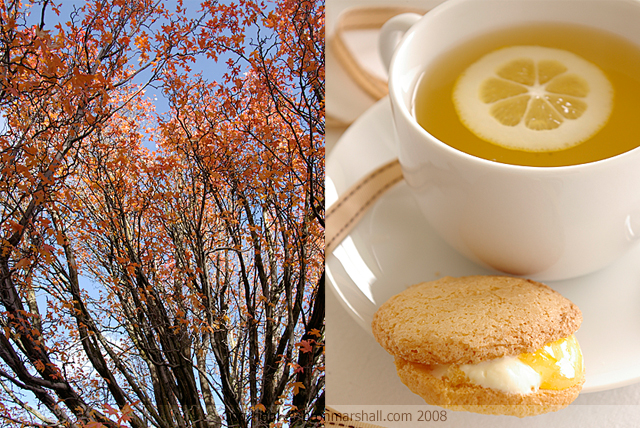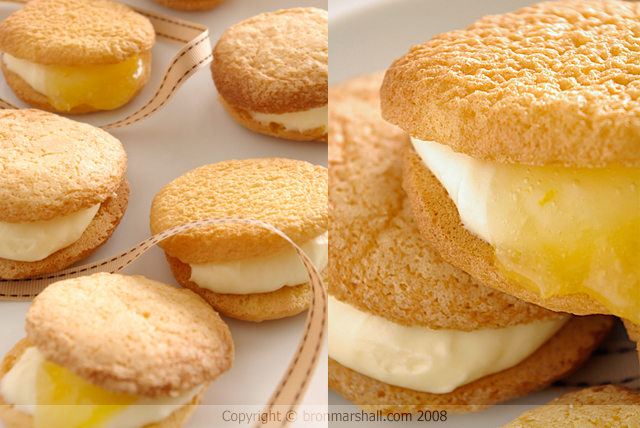 Meyer Lemon Kisses
2 free range eggs
¼ cup of caster / superfine sugar
Grated zest of one Meyer Lemon
¼ cup of plain white flour
½ teaspoon of baking powder
extra caster sugar to sprinkle
200 ml (7floz) of whipping cream
Meyer Lemon curd or Lemon honey - see recipe below
Preheat the oven to 190°C (370°F).
Line a baking sheet tray with cooking paper or a silicon mat.
Whisk the eggs and caster sugar with an electric mixer or beater on high until the mixture resembles a thick stable foam and a mark from a spoon dragged through the mixture doesn't disappear.
Add the lemon zest and continue beating until well combined.
Sift in the flour and baking powder and very gently fold the flour in with a large metal spoon.
Gently drop tablespoonfuls of mixture onto the lined baking sheet to form approximately 32 even sized rounds and leaving some room for spreading.
Sprinkle the tops with a little extra caster sugar.
Bake for 6 to 8 minutes or until they are light golden and spring back with a light touch.
Remove to a cake rack covered with a clean dry tea towel and allow to cool.
Whip the cream together with a couple of tablespoons of lemon curd to taste.
A few minutes before serving place two of the halves together with a spoonful of the curd flavoured cream and a little extra lemon curd.
Makes 16 Kisses
Meyer Lemon curd
¾ cup of white sugar
1½ tablespoons of cornflour (cornstarch)
½ cup of water
½ cup of Meyer lemon juice, freshly squeezed
Grated zest of two Meyer lemons
2 egg yolks
40 grams (1½ oz) of butter, cubed
Stir the sugar, cornflour, water, lemon juice and grated lemon zest over a low heat until all the sugar has dissolved
Continue to heat gently until the mixture has thickened somewhat.
Remove from the heat and whisk in the egg yolks and butter.
Continue to cook over a bain marie until the desired, fairly thick consistency has been reached.
Pour into a sterilised jar and use as required.
Enjoy!


Autumn Recipes · Autumn 08 Recipes · Blog Recipes · Food Blog Events Recipes · Fruit Recipes · Fruit & Veges Recipes · Sunday Afternoon Teas Recipes
Home · About Bron · Portfolio · Recipe Index · Unit Converter
RSS Feed · Atom Feed · Twitter · Facebook · Flickr · Bron's Amazon Store