Monday 9th June 2008
Snow Choux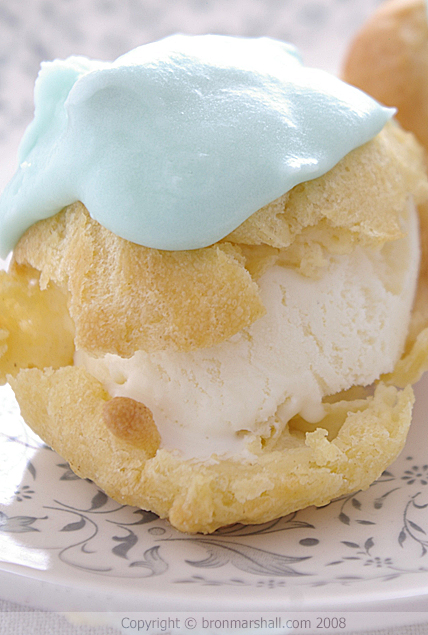 Profiteroles with Vanilla Ice Cream and Blue Curaçao Frosting

We had a little bit of snow fall on Saturday afternoon, lots of fun and so kind of it to arrive on a weekend so we could relax and enjoy it at home, rather than cursing it trying to get ourselves somewhere.
By the time the flakes had stopped and we braved going outside for a play, it had become quite dark and difficult for taking photos, so I waited.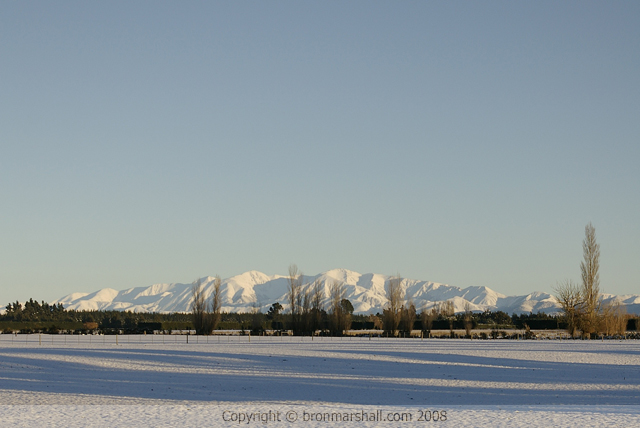 This is what we woke up to on Sunday Morning.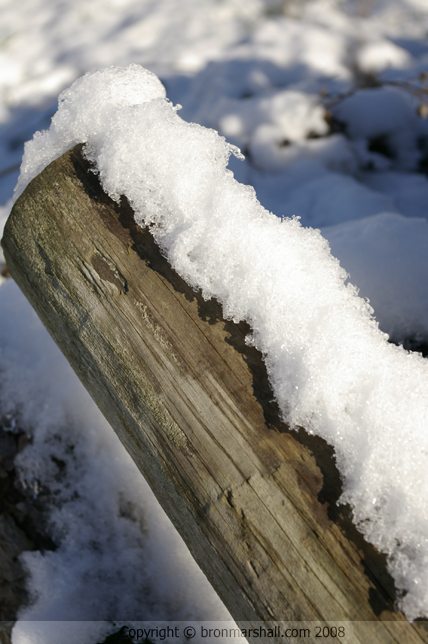 After returning from my walk and to take some photos a sense of panic came over me. CHOUX! I haven't made my choux! I had meant to make them on Friday, but clean forgot, with the purchase of our new hens and reorganising my pantry cupboards instead. I quickly set to work... saucepan down, cup of water, 100 grams of butter chopped, on to the gas burner... and it wasn't too long before together they were bubbling up with as much excitement as I had. I adore choux pastries, I can't help myself and invariably eat one or two as soon as they're out of the oven - plain and unfilled. It's true I love choux in all her forms. However I must confess, I think they are best when filled with something sweet and coated in more sweet deliciousness spiked with a little alcohol.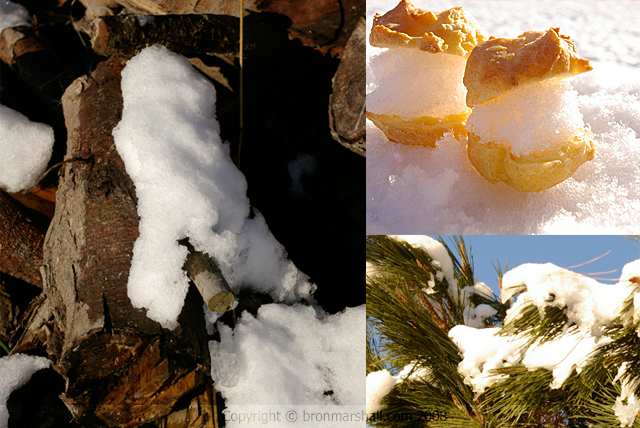 First up I tried filling a couple with fresh icy snow, mmm nah - they weren't that good actually!
Not enough flavour in the snow and certainly not sweet enough!! So I filled the rest of my choux with vanilla ice cream, topping them with a little Blue Curaçao Frosting glaze. I thought the blue was a wonderful Donna Hay colour and also in keeping with the chilly icy conditions outside.

This is my entry for HHDD #20 hosted by the gorgeous and gracious Suzana of Home Gourmets, entries are due today - Monday the 9th of June!. So get your ice skates and snow choux on if you're joining us!!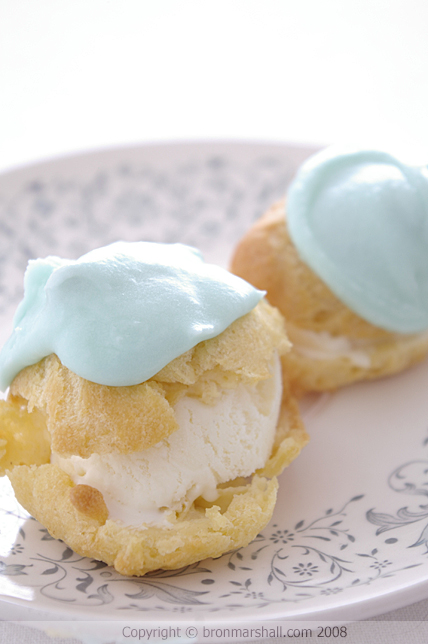 Profiteroles with Vanilla Ice Cream and Blue Curaçao Frosting
For the Choux:
250ml / 1 cup of cold water
100 grams / 3½ oz unsalted butter
a pinch of salt
1 cup of strong / high grade white bread flour, sifted
4 large eggs, lightly beaten
For the frosting:
2 cups of icing / confectioners sugar, sifted
1 teaspoon of melted butter
2 tablespoons of Blue Curaçao, or another favourite liqueur to taste
1 tablespoon of hot water, approximately
For the filling:
Vanilla ice cream or alternatively whipped cream, Crème Chantilly or Crème P'tissière
Place the water and butter in a saucepan over high heat and bring to a rolling boil.
Add the flour and salt all at once and beat with a wooden spoon until the mixture forms a ball.
Remove from the heat and add the beaten eggs a little at a time in approximately 6 portion stages.
Beat in each portion well to reach a dropping consistency.
Preheat the oven to 190°C (370°F).
Place small spoonfuls of the mixture onto lined baking sheets allowing room for spreading or alternatively you can use a piping bag with a 12mm (½ in) plain nozzle and pipe 2 cm (¾ in) rounds.
Sprinkle a little water about the tray and bake for 20 to 25 minutes or until puffed, dry and golden.
As soon as you remove them from the oven pierce each puff with the tip of a small knife to allow steam to escape and reduce the deflating possibilities.
Remove from the tray and cool on a wire cookie rack.
Choux Troubleshooting Tips!
Collapsed Puffs - Could be removing from the oven too soon - Underbaked; Using too soft flour; Oven too hot; Too much water; Too much egg.
Lack of Volume in Puffs (Tough and Doughy) - Could be too much flour; Not enough egg; Using too soft flour.
In a medium sized bowl sift the icing sugar
Add the melted butter, Blue Curacao, and enough hot water to create a smooth spreadable frosting.
When ready to serve, slit the choux puffs in half and fill with a little soft vanilla ice cream.
Return their top halves and spread a little of the frosting attractively so it runs down the sides.
Makes 20 to 24.
Enjoy!


Blog Recipes · Canterbury Recipes · Desserts Recipes · Eggs Recipes · Food Blog Events Recipes · Hay Hay It's Donna Day Recipes · New Zealand Recipes · Sunday Afternoon Teas Recipes · Winter Recipes · Winter 08 Recipes
Home · About Bron · Portfolio · Recipe Index · Unit Converter
RSS Feed · Atom Feed · Twitter · Facebook · Flickr · Bron's Amazon Store