Wednesday 23rd January 2008
Roll over Terrine it's Lime and Cranberry Ice cream!
I'm so fortunate to have the most patient, understanding and generous husband. He totally understands me and my obsession with food, so when I'm missing one or two vital ingredients, one call or email is all it takes for him to give up his lunch break and go hunting for the missing ingredients to bring home to me in the evening. J commutes to the city of Christchurch everyday while I generally stay at home with our girls and menagerie of animals.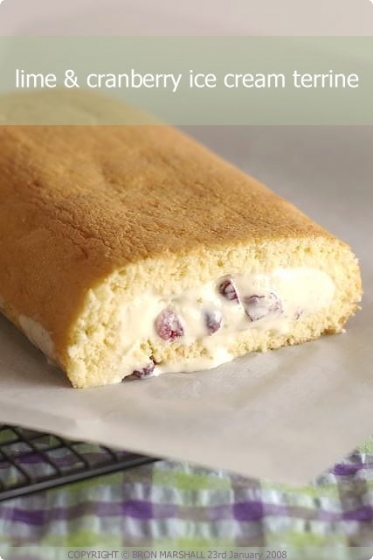 Anyway this time I had my heart set of getting some limes to make ice cream and we'd already been out on the hunt for them on Sunday night, but hadn't had any luck locally.

Our normally quite good local supermarket didn't have any, but to tell you the truth it was very hard to tell, as they had started packing all the fruit and vegetables away for closing time. They may have had some out back, yet there was no one around to ask. This is one thing I've never quite understood, but is that just me or would you agree? When a place advertises they're open to a certain time, I would think that all their departments would be available to prospective customers? Shouldn't they only start packing them away after they've closed? I guess that would be too much to ask, especially requiring to pay some staff after closing time!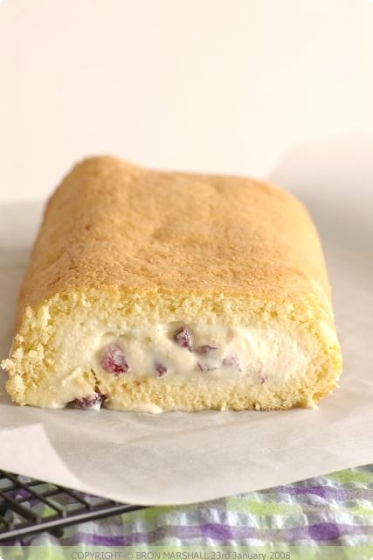 Anyway I digress, having not found any limes there we decided to try a second place. Nope they were all but closed and would not even let me near the door. Sigh! OK, admittedly it was just after 9pm, however with these warm days and daylight savings one finds it hard to keep track of time. So Monday came and I still didn't have my beloved limes, yet J was keen to help and asked where I suggested he go to find some during his day at work in the city and "how many do you want?" "how will I know the best ones to choose?"

After visiting the places I suggested with no luck, amazingly he found some at the most unlikely of stores! He did still have to ask however and a lady kindly brought a box from out the back, from which J picked 5 of the best, most brilliant green limes!

After he purchased them he called me back straight away. "Success!! They were the best green ones I could find in the box, now are you sure you only need 5?"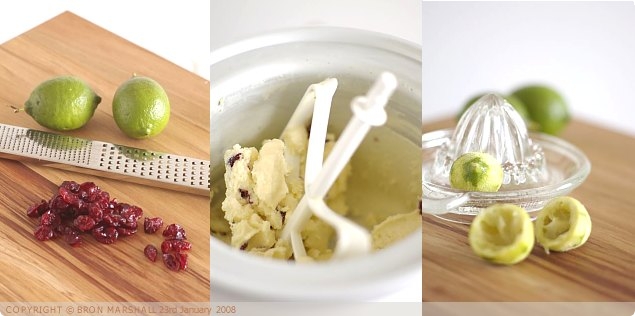 I truly am a lucky girl, to have such a devoted guy running after me, wouldn't you agree? Unfortunately we are now on yet another hunt... but that's another story!

This was to be my contribution to this month's "WTSIM" - Waiter there's something in my...terrine - hosted by the delightful and talented Johanna, the Passionate Cook however as I didn't read the rules properly and did not use a mould, I sadly may not be eligible for the round up.


Lime and Cranberry Ice Cream Terrine
For the Ice Cream:
5 egg yolks
100 grams of castor sugar
500 ml of full cream milk
1 vanilla pod, split
300 mls of whipping cream
Zest and juice of 3 limes
½ cup tightly packed dried cranberries (Craisins), chopped
For the Sponge Roll:
3 eggs
vanilla pod, seeds
110 grams of castor sugar
75 grams of plain white flour
In a saucepan heat the milk with the split vanilla bean, and the scraped seeds.
Whisk the egg yolks with 100 grams of caster sugar until thick.
Remove the vanilla bean from the milk and almost bring the milk to the boil.
Slowly pour the hot milk into the egg mixture whisking quickly and continuously to prevent the egg scrambling.
Strain the custard back into a clean saucepan and gently heat the custard stirring with a wooden spoon until it thickens.
Set aside to cool, it is important to cover the custard so it does not form a skin.
Add the cream, lime zest and juice and leave to chill in the refrigerator for several hours.
Pour the chilled mixture into an icecream maker and churn according to the manufacturer's instructions.
Adding the chopped cranberries towards the end when the ice cream has began to thicken.Place ice cream into the freezer until the sponge is cooked and terrine is ready to assemble.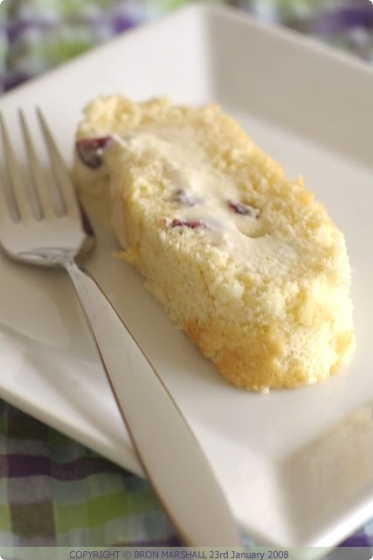 Preheat the oven to 200°C (390°F).
Line a swiss/jelly roll tin with cooking paper.
Whisk the eggs, vanilla and sugar with an electric mixer or beater on high until the mixture resembles a thick stable foam, and the mark from a spoon dragged through the mixture doesn't disappear.
Sift in the flour, and very gently fold the flour in with a large metal spoon.
Gently pour the mixture into the prepared tin and smooth out to the corners with a pallet knife.
Bake for 8 to 10 minutes. Check the sponge is cooked by carefully running your hand over the top. It is cooked if your hand leaves a slight mark, which disappears quickly and springs back.
Turn out immediately onto a cake rack covered with a clean dry tea towel.
Peel off the cooking paper and roll up the sponge immediately in the paper (rolling the sponge while it is still warm helps prevent the sponge cracking later!) and set aside allow to cool.
Once cool unroll the sponge and spoon some of the "Lime and Cranberry Ice cream" down the middle.
Roll the sponge back up securely in the paper and return to the freezer to set.
Slice when ready to serve.
Serves 8.
Enjoy!


Blog Recipes · Desserts Recipes · Food Blog Events Recipes
Home · About Bron · Portfolio · Recipe Index · Unit Converter
RSS Feed · Atom Feed · Twitter · Facebook · Flickr · Bron's Amazon Store