Saturday 26th January 2008
Our West Island and her Mango Chilli Prawn Pizza
We Kiwis sometimes joke that Australia is our "West Island", being as Australia is to the west of New Zealand's two main islands, the Tasman sea being the only thing between us.
Everyone downunder also knows that there is a long history of competition with our neighbours, whether it's been in sport, music or whatever.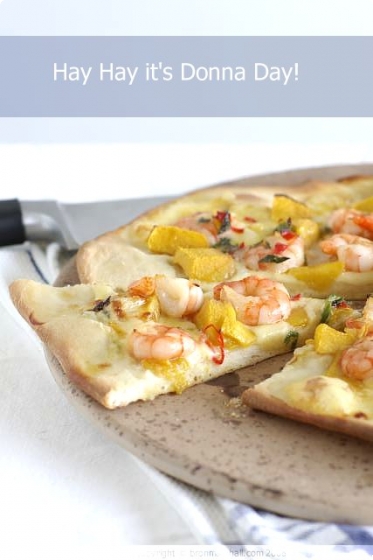 However it is a loving kind of sibling rivalry and just like bigger siblings, the Aussies are always "borrowing" our stuff. Yeah, you know the stuff I'm talking about!

But in truth, many Australian and New Zealand things get a little mixed up. Even our own currencies - our coins were a right muddle until recently when New Zealand introduced several new designs.

Anyway, while things are busy being misplaced, borrowed or muddled between our two countries and folks are getting a little mixed up and confused, I'm considering taking the opportunity to "borrow" a few somethings or even "someones" myself... it's only fair right?

One of the first people I'd choose to "borrow" would be Donna Hay. Isn't she fantastic?! Well I'm certainly a huge fan!




Hopefully Donna will pack some yummy fresh Australian mangoes and prawns before leaving so we can make my pizza together.

Mangoes, Chillies and Prawns, together or on their own scream Australia to me. They symbolise the warmth and colours of 'our West Island' and it's deliciously warmer climate. Not that New Zealand isn't delicious, mind, and it must be said we did almost manage to keep my good friend and creator of the Hay Hay it's Donna Day event. We had her for a darn good 35 years anyway, however, the call of those mangoes was just too great and Barbara recently defected to the West to get her fill. I do understand though and honestly if I couldn't live here where I do, I think Australia would certainly be the next best choice.

Anyway, wouldn't you know it, today just happens to be Australia day! So I'm quite happy to celebrate with our neighbours if they'll let me, share some sisterly love and sing "Advance Australia Fare?!" before tucking into some more mangoes on my Mango Chilli Prawn Pizza together with them.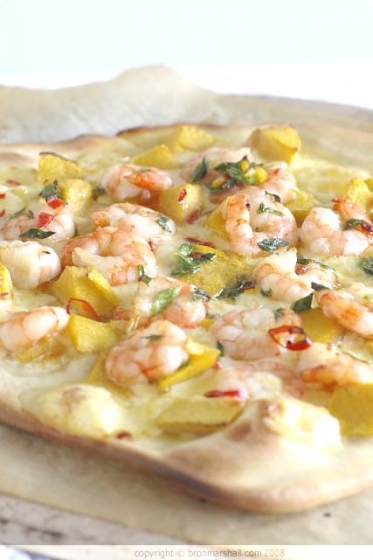 I used Donna's own recipe for the base and it is posted on our lovely host for round #17, ChichaJo's blog @ 80 Breakfasts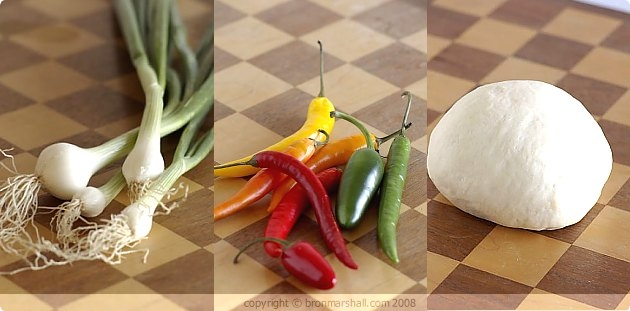 I made 2 large bases and topped it with the following:


Mango Chilli Prawn Pizza Topping
185 grams mozzarella approximately, sliced
1 ripe mango, roughly diced
1 tablespoon olive oil
2 chillies of your heat preference, chopped
2 to 3 spring onions, sliced
300 grams prawns, peeled and deveined
sea salt and freshly ground black pepper
Preheat your oven to 220°C (430°F).
Roll out your pizza bases and divide the mozzarella slices between them.
Scatter over half the diced mango on each base.
In a pan heat the olive oil, sauté the prawns over a high heat very briefly together with the chillies and spring onions, just until the prawns are starting to change colour.
Pour out the prawns, chilli, onions and juices onto your bases, season and quickly place the pizzas into the oven for 10 to 15 minutes until golden and bubbly.
Slice and serve immediately.
Update: Joey has posted a fantastic roundup of all the Donna Day pizzas, check it out here

Enjoy!


Blog Recipes · Food Blog Events Recipes · Fruit & Veges Recipes · Summer Recipes
Home · About Bron · Portfolio · Recipe Index · Unit Converter
RSS Feed · Atom Feed · Twitter · Facebook · Flickr · Bron's Amazon Store