Thursday 3rd April 2008
Mmmm My Ratatouille and Lamb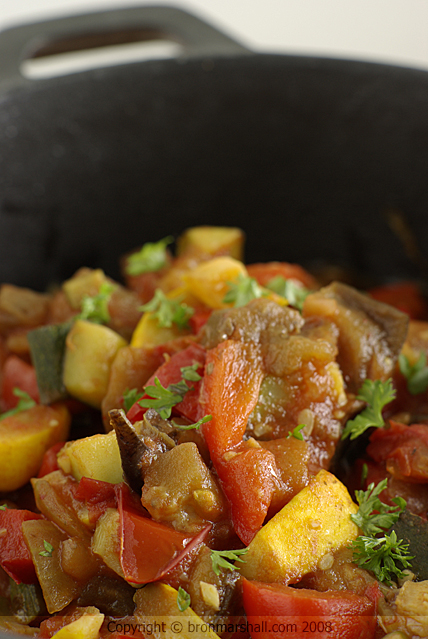 Vegetable Love

Almost everyone has a personal or family favourite variation on Ratatouille, a traditional dish from Nice in the South of France and this would be my variation. Often regarded as a peasant dish to use up a glut of fresh Summer vegetable produce, Ratatouille is a delicious way to get your required daily servings of vegetables.

Although many variations exist all around the world and even across Provence, several ingredients remain true to the original coarse vegetable stew known as "La Ratatouille Niçoise". They are... courgettes (zucchini), tomatoes, capsicum peppers (bell peppers), onion, and garlic.

Today the dish commonly includes aubergine (eggplant) and often other extras to give the dish an added "kick" - such as minced anchovies, eshallots, chilli and / or other spices and herbs. Naturally, you can also vary the ingredients and ratios to your tastes and what your have on hand. I find what often starts out as one or two vegetables of each kind, becomes a large billowing pot of the vegetable stew by the end of the preparation. However, that's ok as Ratatouille makes a wonderful leftover too! I love to eat it reheated the following day on some thick toast with a poached egg or two, yet it's also nice as a pizza topping, tossed through pasta or blended for a soup or sauce over grilled fish or chicken.

As with ingredient variations, there are several preparation method variations too.

The three main methods I know of are: sauté each ingredient separately before combining them to form the stew on the stove top; combining all the ingredients and cooking them for an extended time over low heat; and combining all the ingredients in a roasting dish and baking in an oven for an hour or so.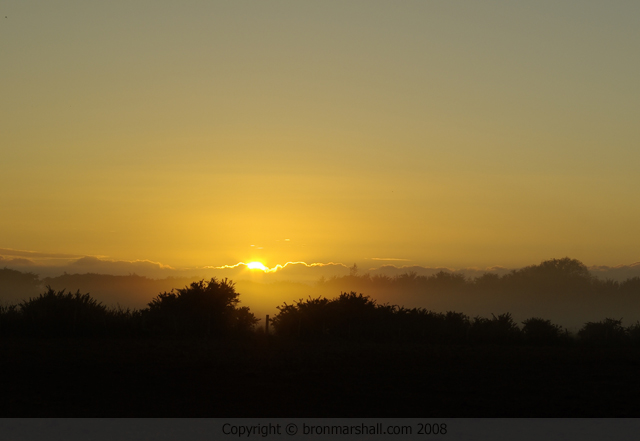 The Perfect Start to Our Easter Sunday - A Glorious Sunrise over Our Back Paddocks

I've made it each way and if I already have something in the oven I'm likely to make use of the heat and slide a dish of Ratatouille alongside. However, my preferred method is definitely sautéing each ingredient and I believe this to be the more traditional method.

Sautéing each ingredient separately gives you the most control over the texture of each vegetable. Since I really like the eggplant cooked down a lot, ensuring it's skin is perfectly soft and tender, I always start off with that first. Once that is cooked to my liking, I remove it from the pan and add the onions together with the peppers as I like them cooked about the same, then I repeat with the courgettes and pattypan as again they take about the same time, trying to only add a little olive oil when necessary. After that I combine them all together with the remaining ingredients, tomatoes, purée etc. and simmer uncovered for a good half hour or more.

Sure there is a lot of stirring involved this way as you cook each batch of vegetables, but this should come as no surprise as Ratatouille derives from the French verb "touiller," meaning to stir or mix food.

As we had our Ratatouille on Easter Sunday I served it with some deliciously little grilled lamb backstraps. I had hoped to share this with you sooner, however, life just seems to have got in the way over the last couple of weeks, still I hope you will enjoy it all the same!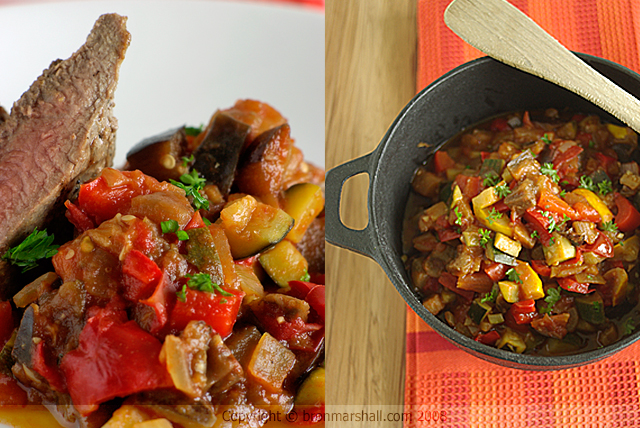 Ratatouille with Grilled Lamb Backstrap
olive oil
2 medium eggplants / aubergine (400 grams), diced
1 red capsicum, seeded and diced
3 courgettes / zucchinis, diced
4 small patty pan squash, diced
2 medium onions, finely chopped
4 cloves of garlic, finely chopped
6 medium tomatoes, cored and diced
¼ cup of tomato purée
2 bay leaves
a sprig each of fresh thyme, parsley and basil
sea salt and freshly ground black pepper
a good pinch of sugar, if desired
4 fresh lamb backstraps or fillet, approximately 115 grams (4oz) each
sea salt and black pepper
(NB: If you are concerned that your eggplants may be a little bitter - not generally a problem with smaller fruit - you can sprinkle slices with coarse salt and leave in a colander for 20 to 30 minutes to release the bitterness, then rinse and pat the slices dry.)
Chop each of the vegetables into small 1½cm (¾ inch) cubes.
Chop the onion and mince the garlic finely.
Heat 1 tablespoon of olive oil in a large heavy based saucepan or frying pan.
Add the diced eggplant in batches and fry until brown and soft on all sides approximately 6 minutes.
Remove and set aside.
Add a little more olive oil if necessary and fry the diced pattypan and courgettes for 3 to 4 minutes, remove and set aside, repeat with the onions and capsicums.
Add the garlic, diced tomatoes and previously cooked vegetables, toss through well to combine over the heat for 5 minutes.
Add the tomato purée, bay leaves, herbs and season with salt and pepper.
Simmer the Ratatouille over a low heat for a further 30 to 40 minutes or until cooked to your liking, taste and add sugar or more seasoning as desired.
Just before serving, season and oil the lamb backstraps, grill them for 4 to 5 minutes each side and put aside to rest for a couple of minutes, while you serve up the Ratatouille.
Cut the grilled lamb backstraps in half on an angle and serve alongside.
Serves 4 to 6 with leftovers!

Enjoy!


Autumn Recipes · Autumn 08 Recipes · Blog Recipes · Fruit & Veges Recipes · Meat Recipes · Vegetables Recipes
Home · About Bron · Portfolio · Recipe Index · Unit Converter
RSS Feed · Atom Feed · Twitter · Facebook · Flickr · Bron's Amazon Store