Wednesday 19th March 2008
A Family Tradition - Easter's Hot Cross Bun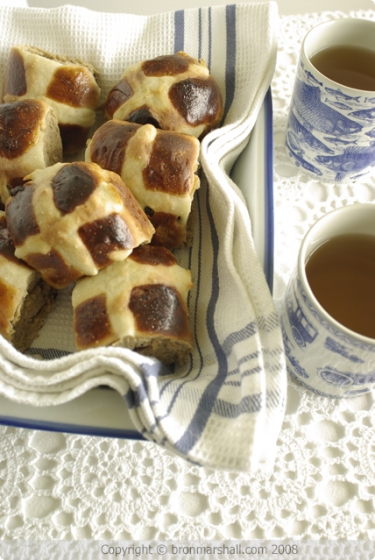 We Marshalls LOVE our Hot Cross Buns! So much so in fact, that I'm often required to make several batches over the Easter weekend, not to mention quite a few before Easter too!

According to the troops, Easter just wouldn't be the same without my Hot Cross Buns. Naturally any home made buns warm from the oven are so very much better than any bought from the shops. The rare times we've have purchased some, the times when I've been travelling or caught short on time to make the buns myself, we've been so bitterly disappointed. In fact, it almost makes you wonder if any fruit or spices came within a yard of them?!

I enjoy making them, almost as much as I love eating them. I adore the mixed aromas while measuring out and combining the fruit; raisins, currants and mixed peel and the spices; cinnamon, mixed spice and ground cloves. I love getting my hands in when the sweet, yeasty water and butter is added to the flour and kneading the mixture into a soft fragrant dough. The aromas seem to just get better and better as you work the dough, leave it to rise and then shape into the buns to prove. And the smell while they're cooking... well it almost drives the whole family insane with anticipation.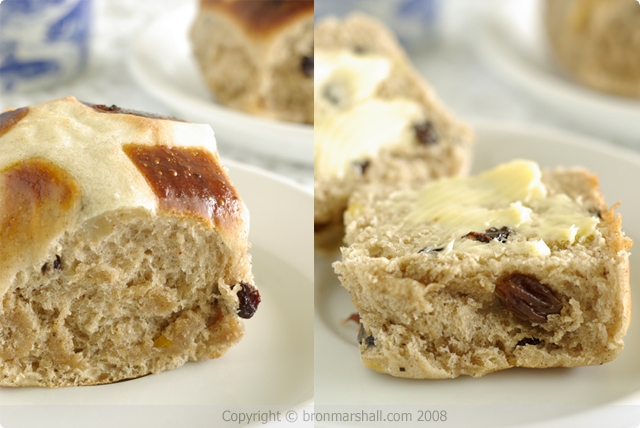 My three loved ones all tend to queue up in the kitchen, warming next to the oven and peering in the window, "are they ready yet Mum?... are they ready yet?"

I made these particular buns on Sunday and we enjoyed them warm from the oven during the very gloomy and grey afternoon we had, along with several cups of tea. Thankfully there were still a few left for us to toast for our breakfast on Monday morning when the sun came out again, allowing me to take some photos of the changing colours of early Autumn.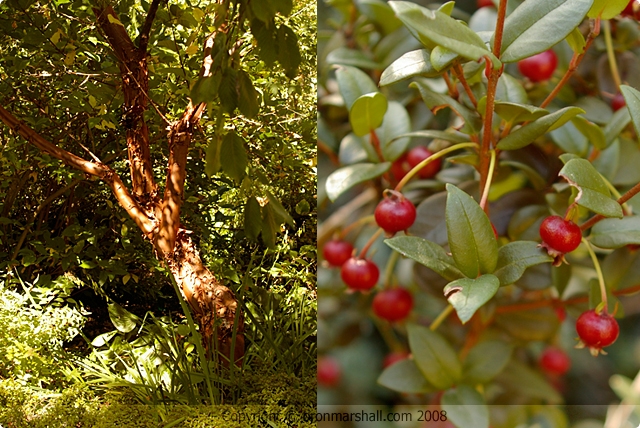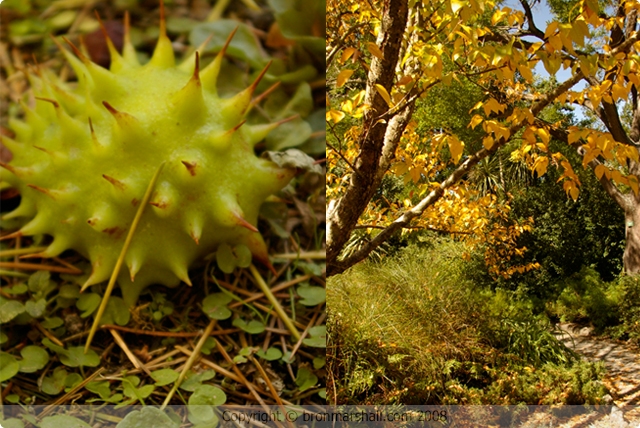 I know I blogged about Hot Cross Buns with the exact same recipe last year, but when something is so well loved and appreciated you know it's worth blogging about again! As for me, it's off to the shops to stock up on more flour, as I expect I'll be making some more of these tomorrow and Friday...!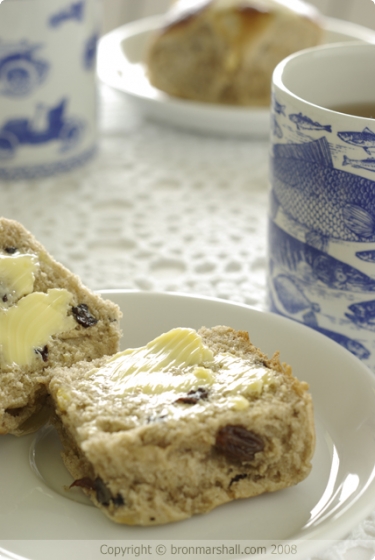 The mugs in the photos are from "The Spode Blue Room Collection - Vintage Motor Cars and Fisherman"
Hot Cross Buns
1¼ cups of warm water
½ cup of soft brown sugar
3 teaspoons of dry active yeast
4 cups of strong white flour
2 tablespoons of milk powder
2 teaspoons of mixed spice
1 teaspoon of cinnamon
A pinch of ground cloves
1 teaspoon of salt
½ cup of dried currants
½ cup of raisins
¼ cup of mixed peel - optional
50 grams / 2 oz of butter, melted
1 egg, beaten
½ cup of extra flour
1/3 cup of water
Optional sugar glaze:
¼ cup of caster sugar
2 tablespoons of hot water

Add the warm water to a medium sized bowl and stir in the brown sugar until dissolved.
Sprinkle the yeast granules over the top and put aside.
Melt the butter and set aside.
In a large bowl or electric mixer sift the flour, milk powder, spices and salt and then add the dried fruits.
When the yeast mix is frothy add to the flour and fruit and pour in the melted butter. Mix to combine and knead by hand or in a mixer with a dough hook for about 8 minutes or until lovely and smooth.
Cover and set aside to at least double in size (2 hours or more).
Cut and shape 15 buns (I like to weigh mine for even sized buns!) and place in a warm lined or greased baking tin.
Place the buns in a warm place to continue rising for at least another hour, a little longer if possible.
Preheat the oven to 200°C (390°F).
Gently brush the tops a little beaten egg wash.
Mix the remaining flour with enough water to make a firm 'pipe-ible' paste.
Using a piping bag or a small plastic bag with the point cut off, pipe the paste in lines across the buns to form the crosses.
Bake for 25 minutes, or until cooked through and hollow sounding when tapped on the bottoms.
Makes 16.
While the buns are still hot you can glaze the buns with a mixture of caster sugar and a little warm water if you desire. I didn't bother with this on Sunday
I don't even bother to worry about the sugar dissolving as if you do it immediately after the buns come out of the oven the heat will be enough to melt it.
You could also use sieved apricot jam.
Enjoy!


Autumn Recipes · Blog Recipes · Bread Recipes · Breakfast Recipes · Easter Recipes · Sunday Afternoon Teas Recipes
Home · About Bron · Portfolio · Recipe Index · Unit Converter
RSS Feed · Atom Feed · Twitter · Facebook · Flickr · Bron's Amazon Store