Sunday 20th January 2008
A Mountain of Meringues...
for a Mountain of a Man.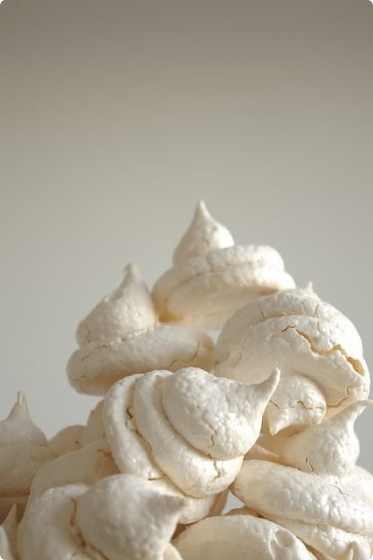 On 29 May 1953 Sir Edmund Hillary was on top of the world, literally, he and Sherpa Tenzing Norgay became the very first men to reach the summit of the world's highest Mountain; Mount Everest in the Himalayas located between Nepal and Tibet.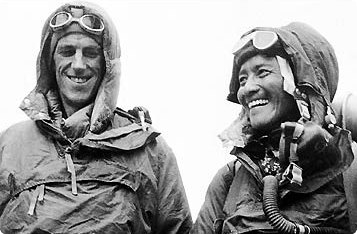 An amazing achievement by anyone's standard, however this was not the accomplishment Hillary held dearest to his heart, when it failed last week at the age of 88.

Instead it was his philanthropy and humanitarian aid to the Sherpa people following his and Tenzing's ascent of Everest, of which he devoted much of his life and gave him the most fulfillment. In Nepal he set up what was to become the "Himalayan Trust" and through his efforts many much needed schools and hospitals were established in the remote, acutely harsh region of the Himalayas.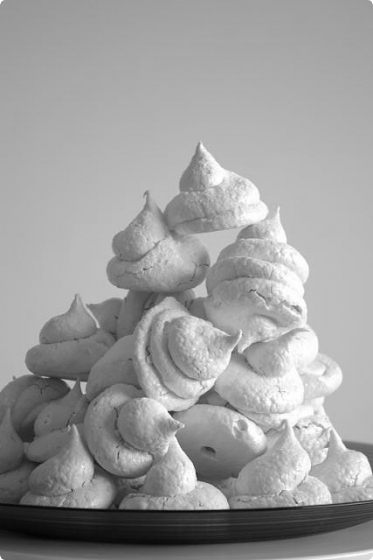 This is what I believe "Sir Ed" wants us to remember him for. This is how he wants us to commemorate him - giving back to the Sherpa people and providing them with education, health services, building and rebuilding schools, hospitals, airports, bridges and ensuring they have a clean water supply. This was what gave him the greatest satisfaction and indeed I'm sure if we were to continue this amazing legacy, safeguarding Nepal so it may continue to prosper for future generations is what would most guarantee his well deserved "Rest in Peace".

It is this unconditional giving from the shy, humble and hardworking man which makes him a "Mountain of a Man" in many Kiwi eyes and today we have sad eyes.

A state funeral is planned for Tuesday, 22nd of January in Auckland to celebrate Sir Ed's life and amazing achievements.

I'm celebrating with a "Mountain of Meringues"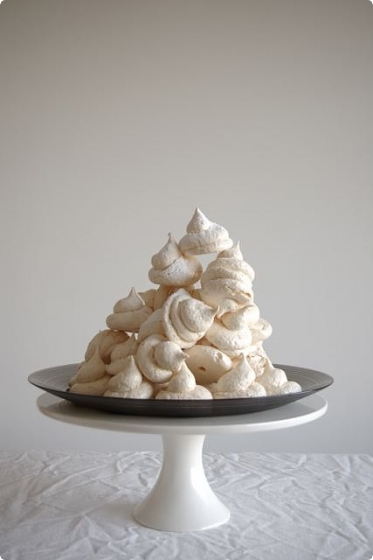 ...will you join the ascent and climb with me?


Meringues
5 egg whites, approximately 150ml
1 cup of castor sugar
A pinch of salt
1 teaspoon white vinegar
icing /confectioners sugar, whipped cream and blueberries to serve
If you need help with imperial conversions check out my Unit Converter here.
Preheat your oven to 120°C (250°F).
Make sure all your utensils are scrupulously clean and free of grease to ensure the egg whites are beaten to maximum volume
Prepare and line 2 baking trays with baking paper.
Place the egg whites and salt in a large bowl or your electric mixer and beat until stiff peaks form.
While still mixing slowly and gradually add the castor sugar.
Add the vinegar and continue beating until very thick and glossy.
Remove the beater and spoon the meringue into a piping bag fitted with a plain 1½cm nozzle.
Pipe small peaked rounds of meringue approximately 3cm in diameter onto the lined trays.
Bake for 40 minutes, after which turn the oven off and leave for a further 30 minutes until crisp right through.
Once the meringues are cool arrange them as high as possible to form "Everest" on a serving patter.
Dust with icing sugar, and serve alongside a bowl of fresh whipped cream and blueberries.
Makes approximately 32 meringues.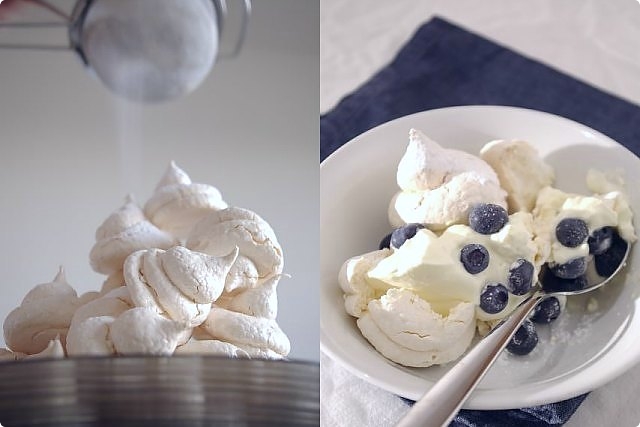 Blog Recipes · Desserts Recipes · New Zealand Recipes · Sunday Afternoon Teas Recipes
Home · About Bron · Portfolio · Recipe Index · Unit Converter
RSS Feed · Atom Feed · Twitter · Facebook · Flickr · Bron's Amazon Store