Wednesday 16th January 2008
Super Simple Nectarine and Blueberry Tarts
Goodness me ... I made this tart oh so so long ago. In fact, it's so long ago, it would be far too embarrassing to disclose the date on the "Nectarine and Blueberry Tart" file!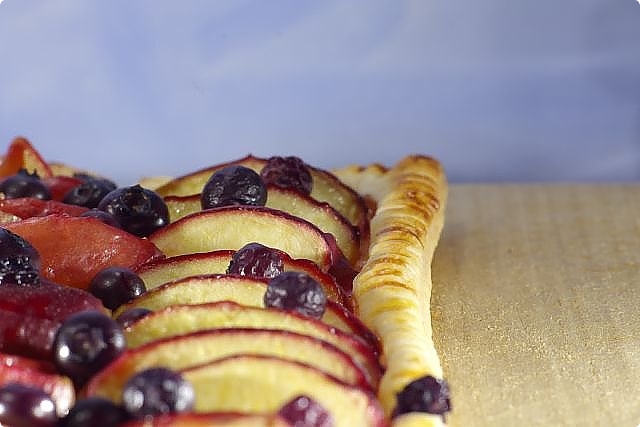 In fact with the lengthy absence of any actual recipe on this blog I had to open and edit a post from months gone by to remind and re-educate myself on the formatting and html code I normally use. Yes, I truly have been the most neglectful blogger however now my summer holidays are officially over - and with the curse of "Ms Mortgage" hanging over our heads my beloved sadly returned to his air conditioned and fluorescently lit cubical of programming hell on Monday morning. Term 1 for the studious (or should that read seditious?) homeschooling Marshall juniors has also begun... I myself have been working on restructuring my timetable with the aid of a heavy black vinyl covered "2008 Collins A41 Diary" to again include food blogging in my life.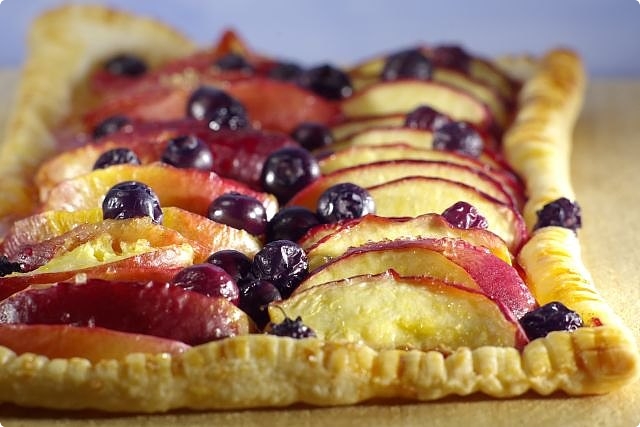 The good news is over the last half year or so I've collected several sets of yummy photos, regrettably though most are awaiting some kind of processing of sorts.
Some of the images simply need some hopefully entertaining, witty and intelligent words to accompany them, while others (especially the more recent ones) need uploading, culling and editing from my collection of chock full and overflowing memory cards.
I'm not short of things to do, as you can perhaps imagine?!
Enough whinging though, I'll have to pull my socks up, I desperately need a cleared card if I'm to complete these few food blog events I'm hoping to.

The question now is - can I remember the recipe for the golden flaky and syrupy "Nectarine and Blueberry Tart" you see before you??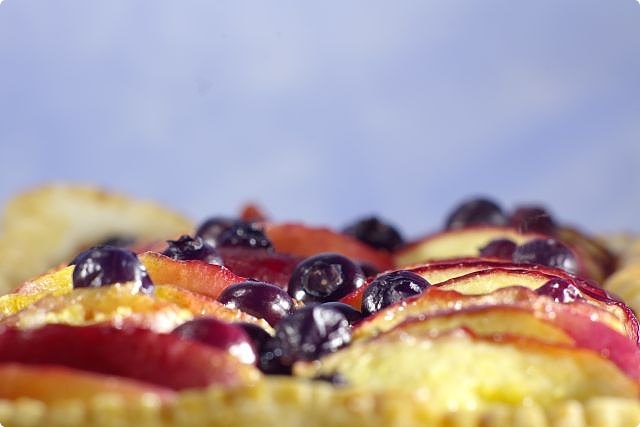 Thankfully it's so easy, (if you cheat as I did and use store bought puff pastry!) it would be difficult to muck up and could be made with any seasonal fruit you have on hand for a quick dessert or afternoon treat. I must, however, confess to adoring this combination of nectarines and blueberries.

It probably will come as no surprise that we Marshall's absolutely love berries and in all their colourful, vitamin packed miniature greatness. This time of year here downunder, we are extremely fortunate to indulge in large breakfast bowls full every morning. This does come at a price though and I shyly admit it does put a bit of a strain on our current fruit and vegetable budget, especially with multiple blueberry and strawberry punnets. Thankfully we have had delicious success with growing our own raspberries which helps to ease the pain in the wallet, we plan to start many many more canes for next year in an attempt to keep up with our demand. With this ongoing success has also come dreams of turning some of our 5 acres into a proper retail raspberry farm, so we can share some of our berry love with others.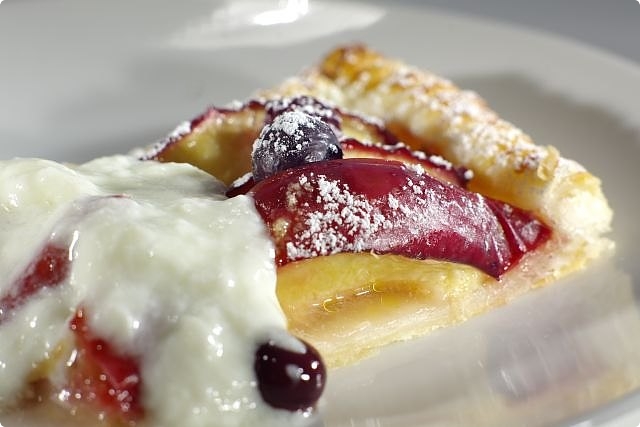 Only time will tell if this dream comes to fruition. In the meantime yes, I can share the recipe for...


Super Simple Nectarine and Blueberry Tarts
250 grams of puff pastry
8 nectarines, approximately
¾ cup of blueberries
1 tablespoon of butter
2 tablespoons of demerara sugar
icing / confectioners sugar to dust (optional)
Preheat your oven to 190°C (370°F).
On a lightly floured board roll the pastry to 5mm thick and cut in half to form 2 even sized rectangles.
Using a fork press a neat border on the fringe of each rectangle.
Place the pastry onto a lined baking tray, cover and refrigerate while you prepare the fruit.
Wash and dry your nectarines, cut each in half and then each half into neat slices.
Pat the nectarine slices on absorbent paper towels if the are dripping in juice.
Arrange the nectarine slices neatly onto each pastry rectangle and scatter with the blueberries.
Dot over the butter and sprinkle with demerara sugar.
Bake for 15 to 20 minutes until golden and bubbly.
Allow to rest for a few minutes before dusting with icing sugar and slicing.
Makes 2 tarts serving 4 to 6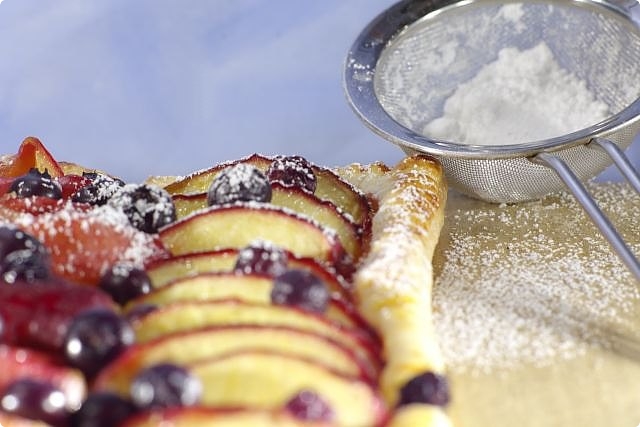 Enjoy!


Blog Recipes · Breakfast Recipes · Desserts Recipes · Fruit & Veges Recipes · Summer Recipes · Sunday Afternoon Teas Recipes
Home · About Bron · Portfolio · Recipe Index · Unit Converter
RSS Feed · Atom Feed · Twitter · Facebook · Flickr · Bron's Amazon Store