Sunday 14th December 2008
Hay Hay it's Donna Day - Pesto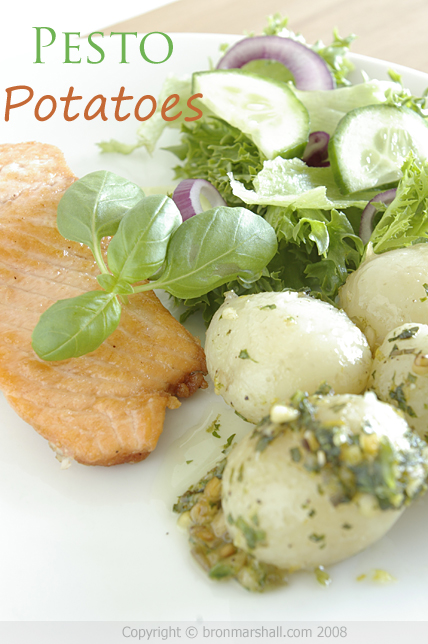 Donna Hay's Rough Chop Basil Pesto on New Jersey Benne Potatoes, Pan-fried Akaroa Salmon & Simple Garden Salad

I've fallen in love with Donna Hay's Rough Chop Pesto method, this months HHDD recipe as chosen by Joey of 80 Breakfasts our delightful host. Often after a day immersed in homeschooling, messy crafts or gardening in hot and windy weather. I'm hungry and tired like the rest of the family and to be honest the last thing I want to do is cook! I love cooking for sure, yet, just like most people there are some days when I feel right darn lazy. On these days if we lived in a town, or the city we'd probably succumb to some Indian takeaways, sadly however we don't and so on these days we fall to one of our favourites and what is a really easily prepared meal instead.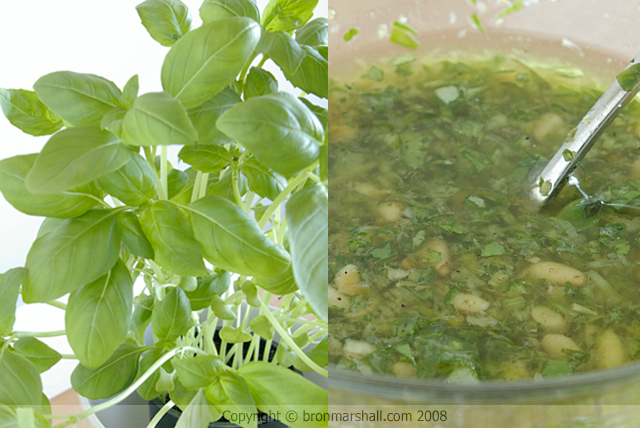 A quick phone call or text to J before he leaves work; "Please, can you pick up a side of salmon on the way home?" means we can spend the money we would have on takeaways on something a lot more satisfying, healthy and yet a very simple meal in minutes. We buy our Akaroa Salmon from the factory shop, the fish hardly needs to hit the pan it's so incredibly fresh you could be having it raw and as you know we often do!

Donna Hay's Rough Chop Pesto method is ideal for these lazy nights too. I far prefer rinsing a knife than lugging my super heavy mortar and pestle to the sink, or cleaning down all the attachments of my food processor. I'm pretty handy with a knife too, even if I do say so myself. Certainly my WÜSTHOF chef's knife is the most loved and most well used kitchen tool I own.

We coated some of our new potatoes, Jersey Bennes (my favourite!) in basil pesto. Fresh from our garden these sweet little potatoes' skins easily rub off under the running tap. Together with a simple salad; thrown together with from fresh leaves also found in the garden and a portion of pan-fried Akaroa salmon, you have a super delicious, healthy meal.

We stuck with the authentic and original basil flavour, however I'm keen to try the same method with mint to serve over mange tout, baby peas and with some lamb chops off the BBQ real soon. You can make a delicious pesto out of any herb you have an abundance of. Pop on over to Joey's for the basil pesto recipe and the method which is sure to make pesto part of your family's quick and easy go-to meals.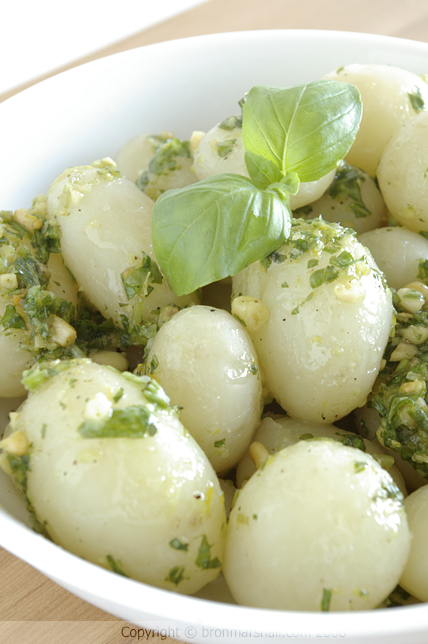 The deadline for HHDD #24 has been extended for the rest of the weekend, so if you're super quick you can also join us and be included for Joey's roundup. Go on! - it's super easy and doesn't your weekend deserve some yummy pesto too?!

Enjoy!


Home · About Bron · Portfolio · Recipe Index · Unit Converter
RSS Feed · Atom Feed · Twitter · Facebook · Flickr · Bron's Amazon Store