Friday 5th December 2008
A Hug in a Cocktail Glass
It's time to let the "cat out of the bag" so to speak; with my partner in crime Ilva of Luculllian Delights.

Together we have been organising the spreading of a little love;; a little care; a little surprise; some Virtual Hugs if you like... for someone very special, someone we believe could do with A World of Special Hugs right now!

Who are these virtual hugs for you ask?...

Well... IT'S YOU BARBARA of course!!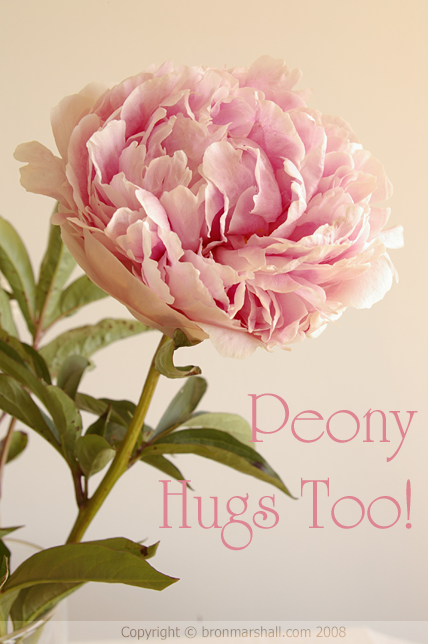 For those of you who don't know, our dear food blogger and friend Barbara from Winosandfoodies has been receiving chemotherapy treatment for cancer over the last several weeks. Now, ask anyone who knows just how absolutely (excuse my language!) SHIT you feel when you're being pump filled with these awful nasty cancer destroying chemicals, and you will understand why we think Barbara deserves all the love, care and attention food bloggers can give to another. Sadly most of us aren't able to drop in and give these HUGE HUGS, gifts of food, words, photography and strength to you in person Barbara, over there in Queensland, Australia - however we can give them to you VIRTUALLY!!

So Barbara this food (and some no-so food) blogging weekend - we are devoting to YOU!! We hope you enjoy quietly exploring your favourite blogs and finding out just how much we all care, love and want to share strength and HUGS with you!

Psst! If anyone happened to miss Ilva and my behind the scenes scheming and also feels strongly about sharing a Virtual Hug with Barbara, please do! We do apologise for missing/forgetting you on our list. Please send through the link to your post, to either Ilva or myself, that way we can help Barbara navigate her hugs and not miss any!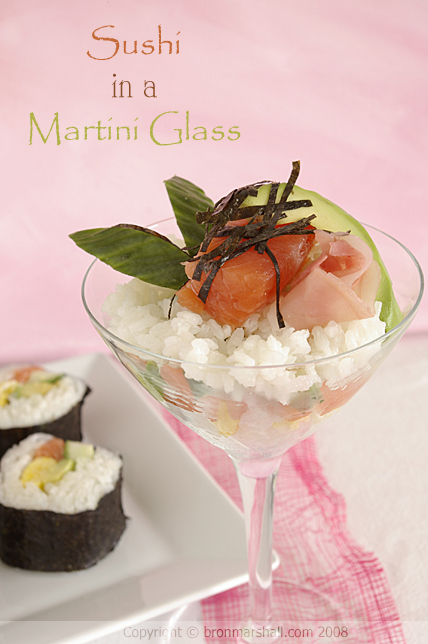 For my own VIRTUAL HUG Barbara, I've compiled you a little Sushi in a Martini Glass.

It was inspired by something I saw Aussie chef Pete Evans make, my idea being that you may not feel like a large mouthful of Californian roll style Sushi, but with it in a glass you can easily eat it a little at a time, slowly and without it falling apart in your hands. Obviously it's a little like that Ol' Prawn Cocktail of years past and if I had the means, I would have dearly loved to put one of those giant Queensland prawns over the side.

However, instead in your Sushi Cocktail you have some of our local and gorgeously fresh Akaroa Salmon Sashimi, hass avocado, telegraph cucumber and a little egg omelette made from my very own chooks/hens. I suggest adding a little Shoyu or Tamari - sweet soy to finish it.
Hope you like it!

Lotsa love and hugs to you! (and Bryan and the boys!)


Home · About Bron · Portfolio · Recipe Index · Unit Converter
RSS Feed · Atom Feed · Twitter · Facebook · Flickr · Bron's Amazon Store