Friday 6th April 2007
Hot Cross Buns!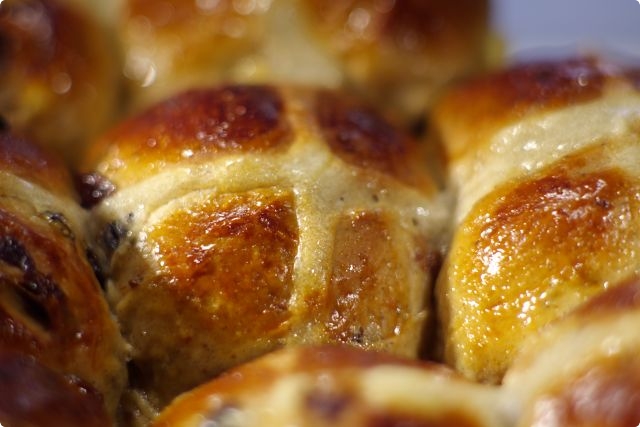 Hot Cross Buns
Hot Cross Buns
One a penny
Two a penny
Hot Cross Buns
If you have no daughters
Give them to your sons
One a penny
Two a penny
Hot Cross Buns


Waay hey hey... Yes! I've made Hot Cross Buns TOO!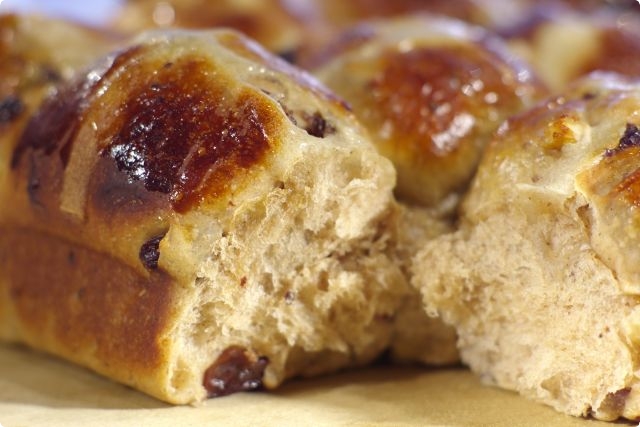 Not many people know that Hot Cross Buns actually pre-date the arrival of Christianity in the United Kingdom - the cross originally representing the pagan sun wheel not the Easter crucifixion. It was Queen Elizabeth I who converted the buns to Christianity and declared that the buns may only be eaten at funerals, Easter and Christmas.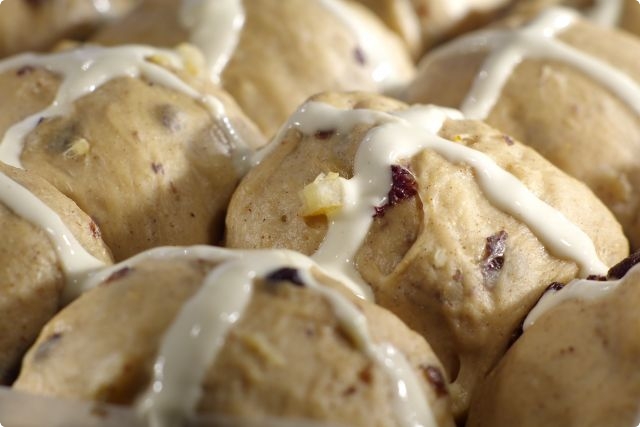 As with most things, homemade ones are so, so much better than anything you can buy, better still you can enjoy them piping hot and straight from the oven this way. I have been making this recipe for several years with great success. I like mine packed with fruit, raisins, currants and including mixed peel, however I realise this is not to everyone tastes. So naturally one can cut back on the fruit or leave the peel out completely if you don't happen to like it, no problem!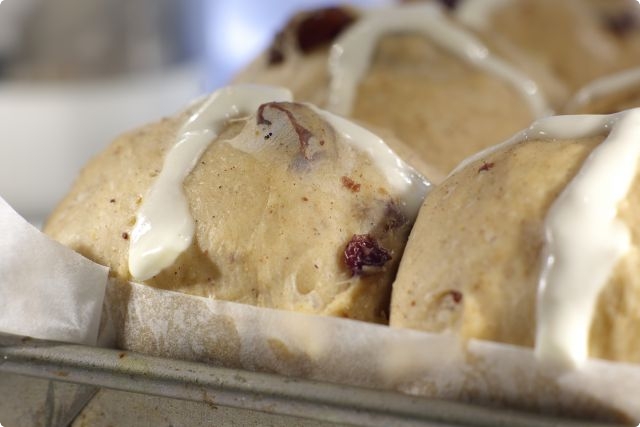 After reading my local TV3 news feed this morning, I'm also very keen to give renowned Kiwi chef - Peter Gordon's Kiwi Kumara Twist Hot Cross Buns a try in the near future, they definitely sound something a bit different as far as Hot Cross Buns go!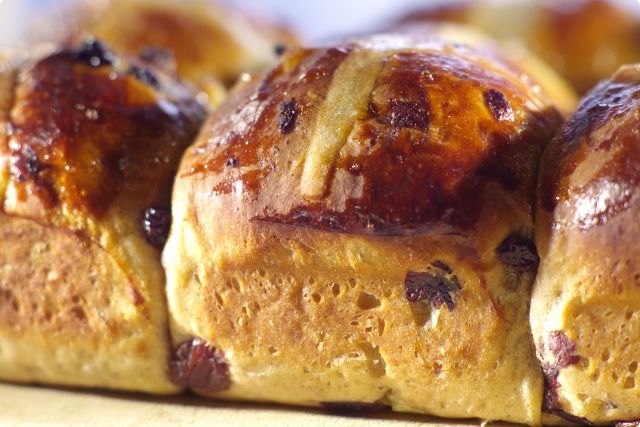 In the meantime I hope you enjoy these, Happy Good Friday everyone!!
Please stay safe if you are travelling this weekend!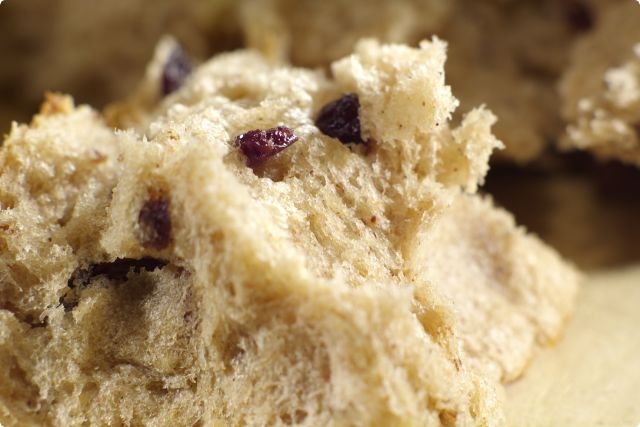 Hot Cross Buns
1¼ cups of warm water
½ cup of soft brown sugar
3 teaspoons of dry active yeast
4 cups of strong white flour
2 tablespoons of milk powder
2 teaspoons of mixed spice
1 teaspoon of cinnamon
A pinch of ground cloves
1 teaspoon of salt
½ cup of dried currants
½ cup of raisins
¼ cup of mixed peel (optional!)
50 grams / 2 oz of butter, melted
1 egg, beaten
½ cup of extra flour
1/3 cup of water
¼ cup of caster sugar
2 tablespoons of hot water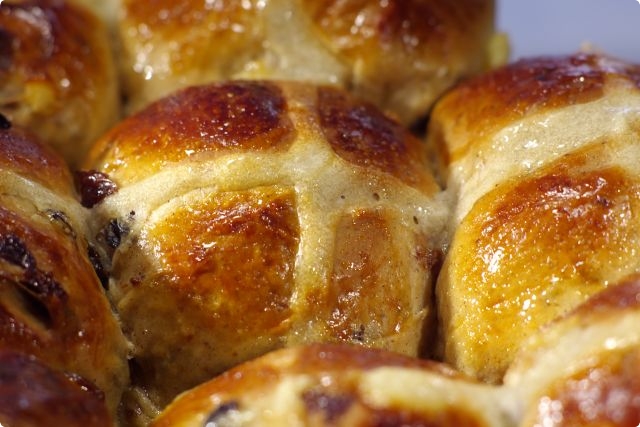 Add the warm water to a medium sized bowl and stir in the brown sugar until dissolved.
Sprinkle the yeast granules over the top and put aside.
Melt the butter and set aside.
In a large bowl or electric mixer sift the flour, milk powder, spices and salt and then add the dried fruits.
When the yeast mix is frothy add to the flour and fruit and pour in the melted butter. Mix to combine and knead by hand until smooth or for about 8 minutes using a mixer with dough hook.
Cover and set aside to at least double in size (2 hours or more).
Cut and shape 15 buns (I like to weight mine for even sized buns!) and place in a warm lined or greased baking tin.
Place the buns in a warm place to continue rising for at least another hour, a little longer if possible.
Preheat the oven to 200°C (390°F).
Gently brush the tops a little beaten egg wash.
Mix the remaining flour with enough water to make a firm 'pipe-ible' paste.
Using a piping bag or a small plastic bag with the point cut off, pipe the paste in lines across the buns to form the crosses.
Bake for 25 minutes, or until cooked through and hollow sounding when tapped on the bottoms.
While they're still hot you can glaze the buns with a mixture of caster sugar and a little warm water. I don't even bother to worry about the sugar dissolving as if you do it immediately after the buns come out of the oven the heat will be enough to melt it.
You can also use sieved apricot jam and a new thing I learnt this year via other food bloggers was the use of golden syrup to glaze, I haven't tried it myself yet!
Makes 15 Scrummy Yummy Hot Cross Buns.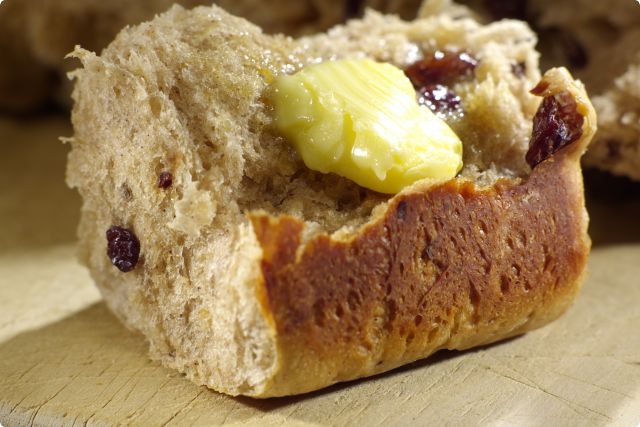 Cheers


Blog Recipes · Bread Recipes · Easter Recipes
Home · About Bron · Portfolio · Recipe Index · Unit Converter
RSS Feed · Atom Feed · Twitter · Facebook · Flickr · Bron's Amazon Store