Sunday 21st January 2007
Chocolate Custard Tart with Homegrown Raspberries
The good humoured and talented David Lebovitz is host to this month's Sugar High Friday, naturally he has chosen the theme of Chocolate, Chocolate by Brand to be more precise!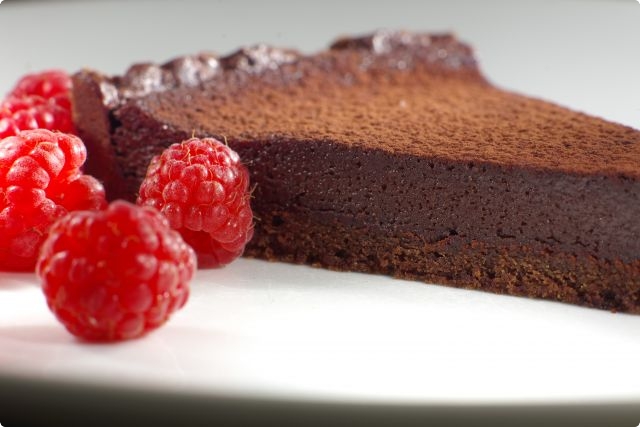 I chose to use New Zealand's "Whittakers - 62% Dark Cacao" and why?

Well firstly because I'm a teensy bit poor! Hey, I'm a home-schooling Mum!
I'd love to use (try!) Valrhona, however to purchase a 250 gram bar in New Zealand would sting me over 15% of our family's budget for the whole week. This budget, which from a single mediocre income needs to cover 84 servings, (7 days x 3 meals x 4 people!) not to mention feeding our several four legged fluffy friends and any extra chemist supplies, alcohol, emergency coffee stops, hehe! I need along the way... hear my plight?! Anyhow Whittakers is a great product and the best quality product affordable to me.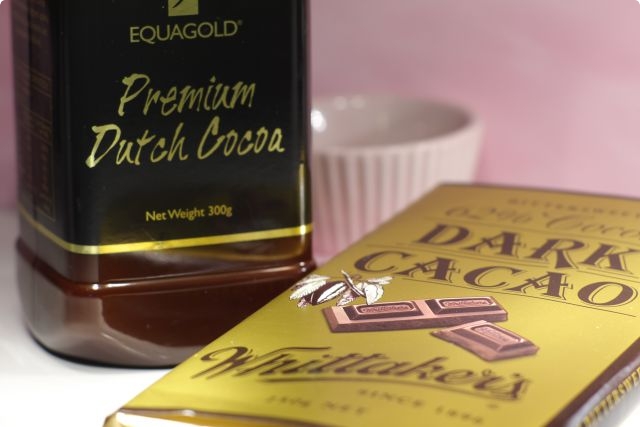 Secondly Whittakers is a New Zealand brand, a Kiwi company and I'm a very proud Kiwi and I try very hard to buy locally and especially Kiwi made.
Likewise why I also chose to use Equagold another Kiwi company and their Premium Dutch Cocoa.




This moist, rich and delicious tart needs little fuss to serve. A slight dusting of cocoa gives it an elegant and luxurious touch, and a handful of raspberries is just the perfect fresh and slighty tart accompaniment.


Chocolate Custard Tart
Chocolate Pastry
60 grams of butter
60 grams of caster sugar
1 egg
30 grams of Whittakers 62% Dark Cacao, melted and cooled
125 grams of plain white flour
1 tablespoon of Equagold's Premium Dutch Cocoa powder, plus extra to dust
Cream the butter and sugar until pale and fluffy, fold through the egg and cooled melted chocolate.
Sift in the flour and cocoa powder and mix to form a smooth soft dough, don't be afraid if the dough feels too soft, it's meant to be like this.
Cover with plastic wrap and refrigerate for at least 30 minutes.
Preheat oven to 190°C (370°F).
Lightly grease a loose bottom 22cm tart pan.
On a lightly floured piece of baking parchment or silicon paper roll out the dough just large enough to line the tart pan.
Very carefully flip the pastry into the tart pan and press up the sides, trimming the edge neatly.
Return to the refrigerator for 20 minutes.
Place the pan onto a baking tray and dock the base slightly with a fork.
Blind bake the pastry by lining with more baking parchment paper and filling with pastry weights or uncooked rice.
Bake for 15 minutes, remove the pastry weights and bake for a further 5 minutes.
Set aside to cool.
Reduce the oven temperature to 150°C (300°F).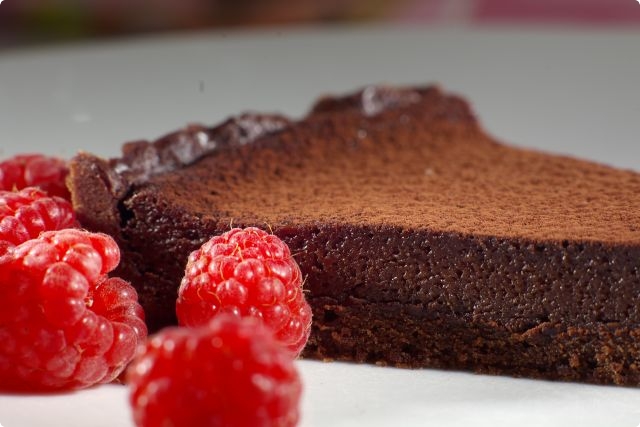 For sealing the base
60 grams of Whittakers 62% Dark Cacao, melted

Using a pastry brush, evenly coat the tart base with this 60 grams of chocolate.
Custard Filling
275 mls of cream
50 mls of full cream milk
1 vanilla pod, split and seeds scrapped
140 grams of Whittakers 62% Cacao, melted
2 eggs
100 grams of caster sugar
pinch of salt
Place the cream, milk and vanilla bean with it's scrapped seeds in a saucepan and just bring to the boil.
Strain the hot cream mixture over 140 grams of melted chocolate and stir until smooth, discarding the vanilla pod.
In a bowl whisk the eggs and caster sugar together, then combine with the chocolate cream mixture, strain once more into separate bowl with lip or pouring jug.
With the tart pan on a baking sheet and on the middle oven shelf pulled out, carefully pour the filling mixture into the pastry shell.
Carefully ease the shelf back in and bake the tart for 30 minutes.
The filling will wobble a little, but sets in the pan.
Cool the flan to room temperature and dust with extra cocoa powder.
Serve with a handful of raspberries and a little whipped cream if desired.
Serves 8 to 10.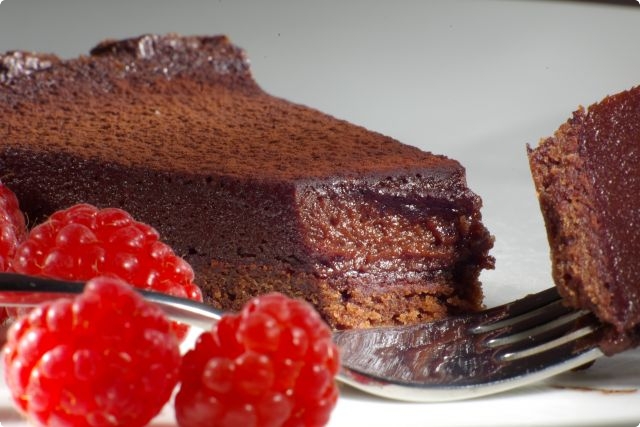 Enjoy!


Blog Recipes · Chocolate Recipes · Desserts Recipes · Food Blog Events Recipes · Summer Recipes
Home · About Bron · Portfolio · Recipe Index · Unit Converter
RSS Feed · Atom Feed · Twitter · Facebook · Flickr · Bron's Amazon Store