Sunday 21st January 2007
CD Camp Carbonnade of Beef
It's not really meant to be stew season at my place.
Yet, I was very keen to take part in the new event created by Andrew, Jeanne and Johanna of which Andrew is hosting the first round "Waiter! There's something in my...stew!"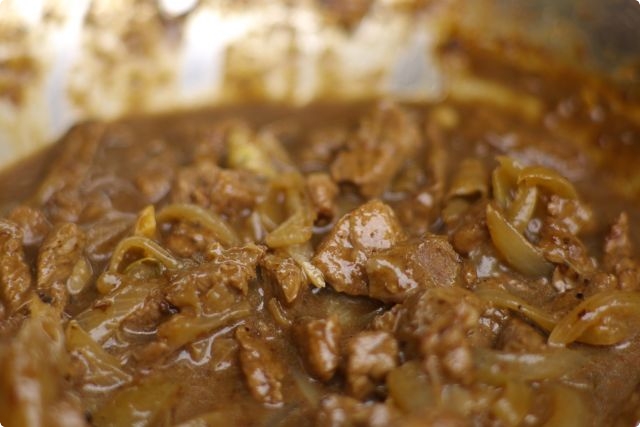 As well as it not being stew season here in NZ, I had another slight disadvantage, that being I had been reduced to a camp kitchen i.e a gas bbq. I was however still determined to take part in this challenge.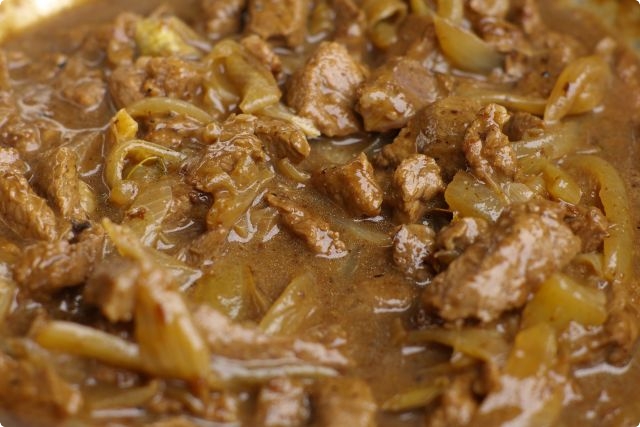 Camping comes with some ingredient limitations also, like your home freezer's delicious supply of homemade beef stock, however a quick rummage produced the substitute of a Campbell's chicken 'real stock' box, the stew was on it's way!
I didn't have any fancy brand beer either, being not much of a beer drinker, in fact I don't drink a lot of alcohol at all, I enjoy it, fine! But it simply makes me too sleepy!
Having said that I still have my loyalities and so it was some what of crime for this Southerrrn born kiwi belle to be using Canterbury Draught, but then 'it's a hard road finding the perfect beer'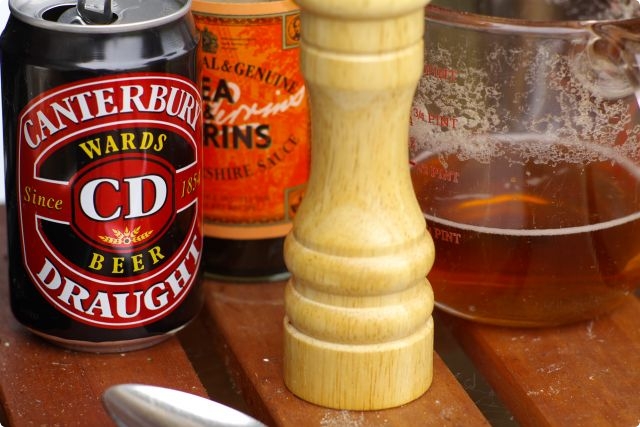 CD Camp Carbonnade of Beef
1 tablespoon of olive oil
600 grams of lean beef rump, sliced
1 large onion, sliced
2 tablespoons of flour
1 tablespoon of butter, melted
2 tablespoons Worcestershire sauce
375 ml can of beer
200ml of stock, beef or what have you
2 bay leaves, 2 wild thyme sprigs
salt and pepper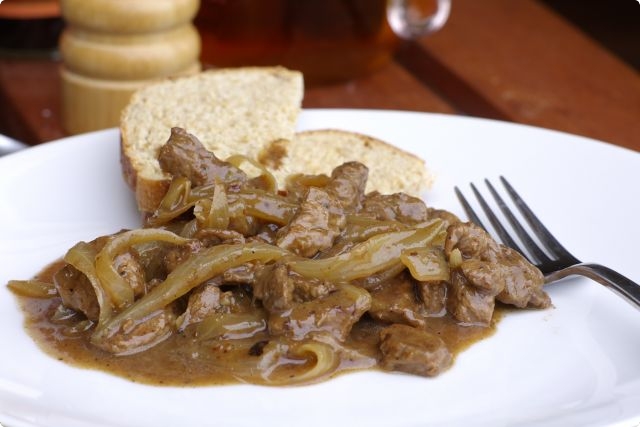 Heat the oil in a large saucepan or wok over the gas flame of a bbq (having a wok ring is brilliant!) add the onions and sauté until slightly brown on all sides and transfer to a dish.
In the same pan add the sliced beef, cook the meat until it's nicely browned on all sides.
Add the flour and butter to the saucepan and stir through.
Cook on a low heat for around ½ a minute being careful not to burn the flour.
Return the onions to the pan and slowly add the beer and beef stock a little at a time stirring constantly.
The stew will thicken as you do this.
Add the bouquet garni of thyme and bay leaves and bring the stew to the boil.
Cover and simmer over a low flame for 20 to 30 minutes or as long as you can afford, until the meat is tender, or the gas runs out!
Remove and discard the bouquet garni, add salt and pepper to taste and sprinkle with some more fresh thyme if desired. Ideally serve accompanied with seasonal vegetables, however since we are camping a couple of slices of fresh wholemeal damper will do the trick!
Serves 4 to 6.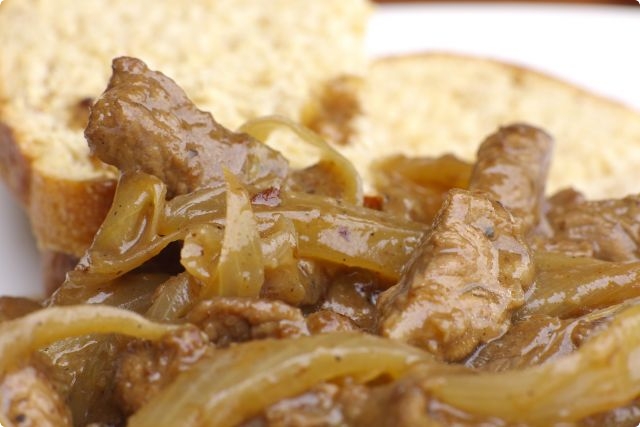 Our CD Camp Carbonnade turned out to be just the ticket, a delicious and hearty concoction to warm the bellies of myself and my fellow campers.

Enjoy!


Blog Recipes · Food Blog Events Recipes · Meat Recipes
Home · About Bron · Portfolio · Recipe Index · Unit Converter
RSS Feed · Atom Feed · Twitter · Facebook · Flickr · Bron's Amazon Store