Friday 28th April 2006
And now a Cookbook Meme!
Ivonne from Creampuffs in Venice tagged me weeks ago for this Cookbook MEME, and I've finally got my act together, so here we go…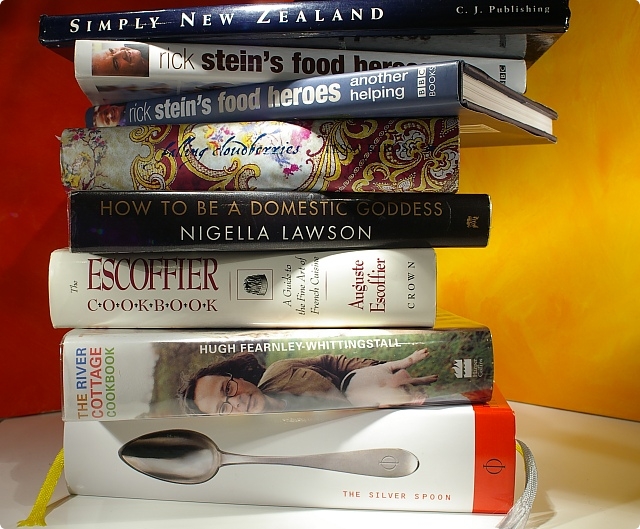 How many cookbooks do you own?
Whoa! Ok if I attempted to count them I'd say around 864!
Haha I'm guessing! I honestly have no idea!
In the last few months I've inherited 100 or so more from my mother-in-law's collection, I also have several years (10 years?) worth of foodie magazines and periodicals, mostly Cuisine and NZ House and Garden, which I frequently enjoy referring back to.

In saying this I rarely actually follow a recipe, I generally only refer to recipe books for inspiration, combination of food flavours and presentation ideas - relying on my own cooking knowledge and skills to produce food.

Which is the cookbook that you bought most recently?
"How to be a Domestic Goddess" by Nigella Lawson.
Yes, I'm behind the times! Seriously, I had it on my list for quite some time, then found it went out of print. Finally saw a copy on Trademe (New Zealand's equivalent to eBay Auctions) a couple of weeks back and managed to win it! Two others I've recently purchased are The English version of "The Silverspoon" and "Falling Cloudberries"

Which is the cookbook that you read most recently?
"Little Café Cakes" by Kiwi chef, Julie Le Clerc. She has several recipes for the most gorgeous little cakes using "yesterday's bread" and I was looking for a little inspiration for the next round of IMBB!

Name 5 cookbooks that mean a lot to you.
Yep, this IS a tough one, as Ivonne says, but I'll try;

The Escoffier Cookbook by Auguste Escoffier- need I say more, it's a classic guide to French Cuisine.

The River Cottage Cookbook by Huge Fearnley-Whittingstall- very inspiring book, for wannabe self reliant, small farming types like myself and my husband Jonathan.

"Rick Stein's Food Heroes - Another Helping" by Rick Stein
I love Rick Stein and his attitude towards using local and small producers, plus the lovely man signed this one for me as we shared a joke together.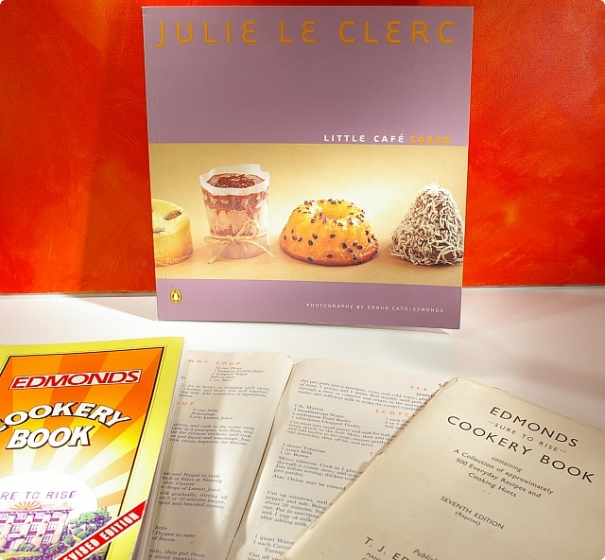 Edmonds - Sure to Rise Cookery Book - a Kiwi icon!
No Kiwi home is complete without one! It's been republished about a zillion times ... ok maybe not quite a zillion! It's New Zealand best selling book, that's right best selling BOOK, not only best selling cookbook.

It was first published in 1907. I own several copies, the eldest being the 7th edition from 1954.

Although not technically a cookery book, it is a huge favourite of mine and not only because our Cuisine Du Monde site has been featured in it, twice! Hehehe, but because it a bloomin' excellent magazine and highly inspiring read each month ... New Zealand's own Cuisine Magazine

I generally prefer not to pass memes on, although if you have the desire or inclination, please feel free to contribute your thoughts through the comments or on your own blog.
I however will now tag Paul from EatNZ, and Caroline from Bibliocook since she requested it.

Thanks Ivonne, twas lotsa fun!
Cheers


Home · About Bron · Portfolio · Recipe Index · Unit Converter
RSS Feed · Atom Feed · Twitter · Facebook · Flickr · Bron's Amazon Store