Monday 13th February 2006
White Chocolate Mousse with Rose Water
For Sugar High Friday #16, Jennifer over at Taste Everything Once challenged us to come up with a "Recipe for Love" a tempting dessert that doubled as an aphrodisiac!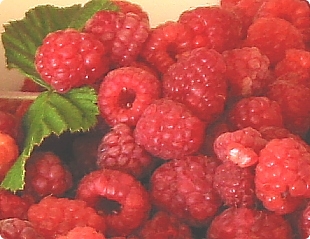 I began racking my brain.
Unfortunately my Jonathan doesn't have the biggest of sweet teeth, well perhaps that's not entirely true - he simply prefers different things to me!

J has a few favourites though… like a freshly homemade Swiss roll (aka Jam Roll) basically a thin vanilla sponge rolled up with yummy raspberry jam, simple but sweet.
In truth, raspberries in all their forms are quite popular with him.
But he's not keen on chocolate, won't touch dark or bitter sweet especially! Although he does enjoy a little white or milk chocolate very occasionally.

So what do I have?

Vanilla Sponge
Raspberries
White chocolate…
mmm yes I can work with that!

White Chocolate Mousse with Rose Water, wrapped in a thin vanilla sponge, topped with sugared rose petals and served with muddled raspberries and champagne.

Initially I fuddled around trying to make a sweet sugar raspberry ripple and love heart effect through the sponge, but I wasn't happy with the results, the patterns melted away and the sponge was too sweet, indeed quite sickly! Anyway with limited time... I stuck with a plain sponge. To make the white chocolate mousse a tad more romantic and seducing, I added a couple of tablespoons of rose water. After the mousse had set, I muddled a few fresh raspberries (the last of the seasons, most probably!) and a splash of champagne. Finishing with a couple of sugared fresh rose petals.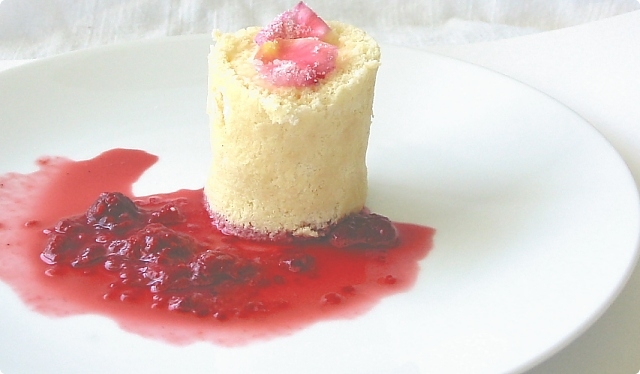 White Chocolate Mousse with Rose Water
2 large egg yolks
3 tablespoons white granulated sugar
80 grams of good white eating chocolate
4 tablespoons of whipped cream
1 to 2 tablespoons rose water to taste
40 grams of butter, cubed
2 egg whites
Beat the egg yolks together with 2 tablespoons of sugar until the mixture is very thick and creamy - approximately 8 minutes. The egg should be very pale and fluffy and double the quantity.
Place the broken up chocolate in the top of a double boiler over hot water and leave until melted.
Once melted, add the butter cube by cube and stir until fully absorbed. Remove from the heat.
Add the chocolate mixture slowly to the egg mixture, a little at a time folding gently until thoroughly incorporated and smooth.
Cool the mixture completely.
In a large bowl whip the cream and fold in the rose water.
In another clean bowl whisk the egg whites and remaining tablespoon of white sugar and beat until soft peaks form.
Fold in the cream and a quarter of the egg white into the cooled chocolate mixture, continue with the remainder of the egg whites using a lift and fold motion.
Pour the mousse into 4 to 6 moulds and refrigerate overnight or until set.
Carefully remove the moulds and wrapped the mousse in a thin layer of sponge if desired.
Assemble together with sugared petals and muddled raspberries and champagne.
And in his words …
"mmmm gorgeous! It's lovely and light, and not too rich, not like what I was expecting! YUM!"

Thanks again to Jen for hosting this Sugar High Friday event #16
Please check her round up of all the seductive delights.



Blog Recipes · Desserts Recipes · Food Blog Events Recipes
Home · About Bron · Portfolio · Recipe Index · Unit Converter
RSS Feed · Atom Feed · Twitter · Facebook · Flickr · Bron's Amazon Store