Sunday 26th February 2006
La Bouillabaisse Marseillaise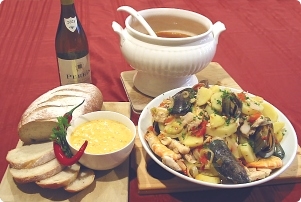 This months "Is My Blog Burning?" IMBB #23 is hosted by the amiable Cucina Testa Rossa

With her theme "Vive la France!" we were to choose a regional French dish and explain its origins. Also, since we are visiting France it would be a crime, if not really silly, to not match a French wine with the dish.

I chose to make Bouillabaisse because I love fish and it would have to be the most famous fish stew of the Mediterranean, if not the whole world!



This dish is prepared in every fishing port along the coast of Provence, although it is usually thought to have originated in Marseilles. Popular Marseillais legend suggests that the Goddess Venus served bouillabaisse to her husband, Vulcan, to lull him to sleep while she consorted with Mars.

Greek food writers have always laid claim to inventing the precursor of bouillabaisse. They argue that when the Phocaeans, Greeks from Asia Minor, founded Marseilles in around 600 B.C. they brought with them a fish soup known as Kakavia and that this was the basis of the future Provençal French Bouillabaisse. However, we really have no idea whether such a dish was "brought" to the western Mediterranean, as there are many varied culinary writings which mention boiled fish stews throughout ancient Europe.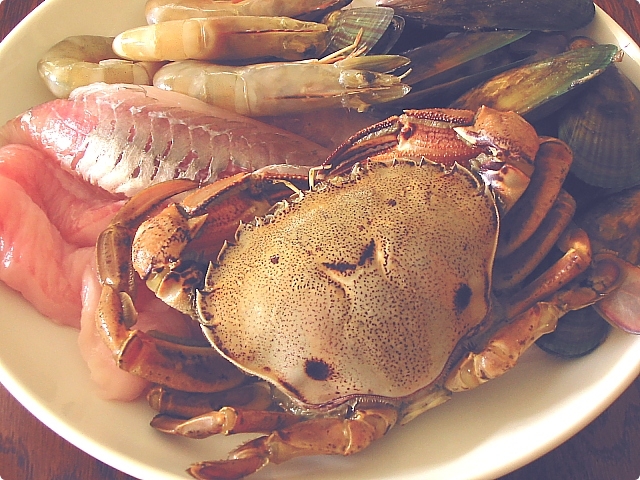 Bouillabaisse is also often considered the fare of local French fishermen who, on returning from their fishing expedition, would boil up a batch whilst sorting their catch; some to be sold on the local market and the rest to be kept for eating at home. Therefore, it could be regarded as simple family dish which has been improved on and modified over the years to the point where today most bouillabaisse includes more expensive types of seafood.

However the most distinguishing characteristic of a bouillabaisse is not the fish, as naturally all fish stews and soups have fish! What makes bouillabaisse unique is the added flavours of saffron and fennel.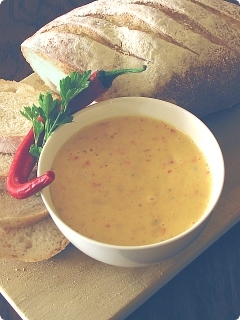 The stew and the fish are usually served in separate bowls, with the stew poured over slices of French bread seasoned with a spicy type of aioli (garlic mayonnaise) called rouille.

Jean-Noël Escudier, a famous Provençal food writer, described bouillabaisse as a "magical synthesis." Another famous French epicure, Curnonsky, called it soupe d'or, or soup of gold. Not too far wrong as, interestingly, saffron by weight is more expensive than gold.

The word Bouillabaisse comes from two French words bouillir (to boil), and abaisser (to reduce). Of course there are strong opinions about what a 'proper' bouillabaisse should contain. French writer and gourmet August de Croze once proclaimed it is a culinary heresy to use white wine in a bouillabaisse because wine only changes the nature of the fish, yet others disagree.

As for my opinion, I think as long as you have a good variety of extremely fresh fish, fantastic olive oil, saffron, and fennel - you can't go wrong. Make sure you bring your stock to a furious boil, and just cook the fish through - no more, and you'll enjoy a delicious and highly successful bouillabaisse feast.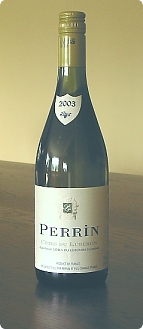 One last piece of advice: it is probably unusual if not unwise to serve Bouillabaisse for only 2 adults and 2 young children, as it quite time-consuming to prepare and some of its ingredients are quite expensive. So, unless you want to be eating Bouillabaisse all weekend I suggest inviting a few mates over.

We matched our Bouillabaisse with Perrin, Côtes du Lubernon 2003 from the Lubernon Mountains of Provence.


Eyes: Pale white gold
Nose: Peaches
Mouth: Fruity, yet luscious and smooth with a hint of spice.
Verdict: Yep we liked it a lot, excellent value for a French wine in New Zealand $19.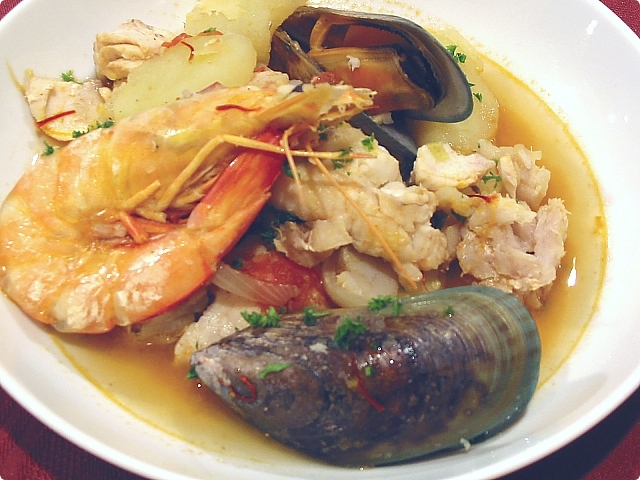 Bouillabaisse
2 tablespoons extra virgin olive oil
1 onion, halved and sliced
1 pinch of cumin seeds
2 pinches of fennel seeds
1 fresh red chili, finely chopped
1 large fennel bulb, sliced
1 leek, sliced (white part only)
500 grams of fresh roma tomatoes, peeled and deseeded, chopped
1 kg of fresh firm fish fillets (e.g snapper, cod, monkfish, gurnard, skin on or off as preferred)
8 to 10 green lip mussels, debearded and scrubbed well
1 crab, halved and cleaned
6 king prawns
A large pinch of saffron threads
1 litre of fish stock (heated with saffron)
1 tablespoon tomato paste
Sea salt and freshly ground black pepper
2 to 3 large potatoes, chopped and boiled until tender
2 cloves of garlic, finely chopped
Freshly chopped parsley
Heat oil in a large saucepan, fry onions, cumin and fennel seeds and chili for two minutes.
Add the sliced fennel bulb and leek and continue frying for another couple of minutes before stirring in the tomatoes.
Place fish and seafood pieces in neatly, putting the densest fish in first, finishing with the prawns on top.
Cover with the warmed stock, saffron and tomato paste.
Season with salt and pepper and boil for 10 minutes or until the fish is just cooked through.
Transfer the fish pieces to a large warmed platter and mix through the potatoes. Sprinkle with chopped parsley.
Add the garlic to the liquid and pour into a soup tureen for everyone to help themselves.
Rouille
2 egg yolks
¼ teaspoon of dijon mustard
250 ml / 8.8 fl oz of olive oil (don't use all extra virgin as it can have a rather bitter taste)
2 teaspoons of hot water
1 red capsicum, roasted, peeled, deseeded and minced
1 clove of garlic, crushed
A pinch or two of chili powder
2 teaspoons of lemon juice or to taste
Salt & pepper to taste
Place the 2 egg yolks and the dijon mustard in a blender or large bowl.
Whisk for 1 minute.
Very slowly pour in the oil, whisking continuously until the mixture has a thick consistency.
Whisk in the hot water, this helps stabilize the mayonnaise and gives it a lighter colour.
Flavour with minced capsicum, garlic, chili powder, lemon juice, salt and pepper.
Chill before serving.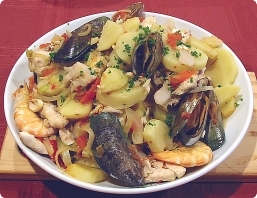 I hope you enjoyed my version of the Bouillabaisse Feast from Marseilles, I trust it's pretty authentic to the original. Unfortunately I've never been to Provence, so last night I announced that the next Bouillabaisse I devour must be in France. Wish me luck!



Blog Recipes · Culture & Tradition Recipes · Fish Recipes · Food Blog Events Recipes · Soup Recipes · Wine Recipes
Home · About Bron · Portfolio · Recipe Index · Unit Converter
RSS Feed · Atom Feed · Twitter · Facebook · Flickr · Bron's Amazon Store