Sunday 12th February 2006
Valentine's Day Cookies

This Tuesday is Valentines Day, in recent years with the encouraging push of consumerism and American T.V shows, popularity has grown hugely in New Zealand. But have you ever wondered how it came about? There are several conflicting theories… however I kinda like this one!




When the Roman Empire reigned, a festival every February was held to honour the God of Fertility. During the festival young men would choose their female sweethearts. An Emperor named Claudius feared the young men would not fight in battles, being besotted with their new wives, so he outlawed all marriages.
Naturally young couples still fell in love and wished to marry and the adoring couples shared their desire with the Catholic Bishop 'Valentine' who, understanding love, began to secretly marry the loving couples. But Claudius found out and arrested Bishop Valentine and ordered the death penalty. While waiting in jail, Valentine began exchanging letters with the jailer's daughter. Quite soon they fell in love, and on the day he was set to be beheaded he sent her one last letter signing it "From your Valentine"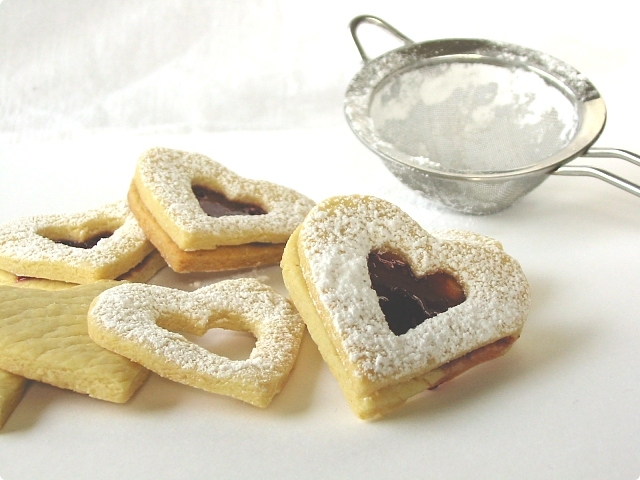 St. Valentine's Day Shrewsbury Hearts
125 grams of butter
½ cup of white sugar
1 egg
1 tablespoon grated lemon zest
2 cups plain white flour
1 teaspoon of baking powder
raspberry jam
icing sugar to dust
Preheat your oven to 180°C (360°F).
In a large bowl cream the butter, sugar and lemon zest until light and fluffy. Add the egg and beat well. Mix in the sifted flour and baking powder. Knead the mixture together to form a stiff dough.
On a lightly floured board roll the dough out to 4mm thick. Cut heart shapes with a 6cm ish sized cookie cutter, cut a further smaller heart out of half the cookies. Place on lined baking sheets and bake for 10 -12 minutes.
Cool on a cookie rack. When cold, spread raspberry jam on the whole hearts and place the hearts with holes on top. Dust with icing sugar
Makes 25
Have a happy Valentine's day!


Blog Recipes · Cookies Recipes · Culture & Tradition Recipes · Summer Recipes · Sunday Afternoon Teas Recipes · The Baking Tins Recipes
Home · About Bron · Portfolio · Recipe Index · Unit Converter
RSS Feed · Atom Feed · Twitter · Facebook · Flickr · Bron's Amazon Store