Sunday 22nd January 2006
Wasabi and Black Sesame Macaroons
My first food blog event: "Hay Hay's it's Donna's Day #2″ - Macaroons

I've only recently discovered food blogging events, and as Donna Hay's recipes are still fresh in my mind having received her lovely festive "Christmas" cookbook from Santa. Also as I had planned to include some chocolate dipped macaroons on my infamous Christmas sweets and baked treats platter this year.

My treat platter sits on our old leather trunk (which doubles as a coffee table) throughout the Christmas / New Year break every year, continually being topped up as people come and go. Like most previous years, I simply ran out of time to make everything I wanted. Every year I discover new recipes I'd like to make for the platter and there are always the old family favourites which are insisted upon and NEED to be included. The list of recipes invariably becomes too long and I run out of time with all the other preparations of Christmas.

But I digress … suffice to say that the Donna Hay events seem a great place to start.

For this "event" although I'd prefer to call it "challenge" (hosted by Pearl of the Orient) we are to follow Donna Hay's Recipe for Lime Macaroons, and perhaps try replacing the key flavour of lime zest with a new ingredient or ingredients of our own.

I'm really not sure why, but wasabi jumped into my head straight away. Maybe it's because the clean soft green colour of wasabi reminds me of the soft colours which Donna's magazine and merchandise is often produced. I also thought about the way chocolate works so well with chilli. Perhaps the Asian influence and heat of wasabi would work well with the coconut and sweetness of the macaroon?? hmmmm?

So I gave it a go… at first with only ½ the recipe, having discovered less coconut in the pantry than I expected, and Hay (sorry couldn't resist) they weren't too bad, quite different with just the very slightest tingle on the tongue. I gave them a second go, the full recipe to get the ratio of wasabi just right, then another idea struck, more for extra presentation (cuteness!) than for flavour - black sesame seeds.

Here is the result - Wasabi and Black Sesame Macaroons!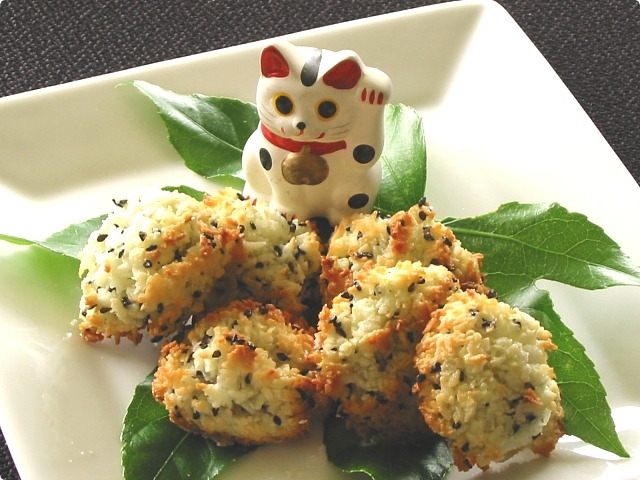 Enjoy


Home · About Bron · Portfolio · Recipe Index · Unit Converter
RSS Feed · Atom Feed · Twitter · Facebook · Flickr · Bron's Amazon Store