Monday 13th March 2006
Post and Eat - Spicy Celery and Pepperoni Cones
After a long time staring into my fridge at the manky looking celery for this inaugural leftovers event of Ed's over at Tomato, "Post and EaT Everything WeekEnd Lame LeftoverS" a.k.a Pete Wells - Professional Cheese Sandwich Critic. I assembled the following onto the kitchen bench to create - "something delicious" I hoped!


Spicy Celery and Pepperoni Cones
leftover manky, yet surprizingly crisp celery
leftover sliced hot pepperoni salami
a half sheet of leftover puff pastry
1 teeny free range egg
a hard parmesan rind
bottle of milk
butter
sweet smoked paprika
plain flour
a pile of creamhorn moulds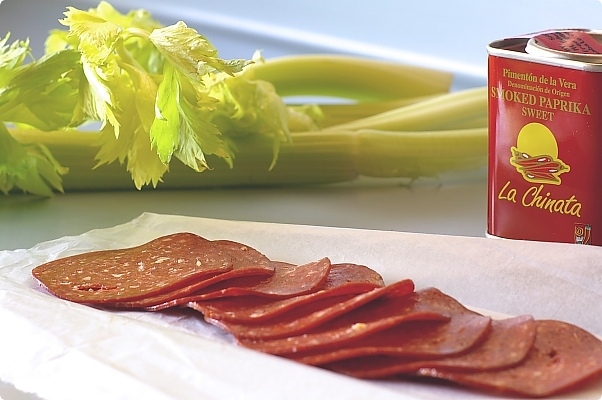 I cleaned down the celery, removing the worst looking bits, and diced it finely to gently sauté in a little butter, I added flour to make a roux, milk to make béchamel, seasoned it with a little salt and pepper and sweet smoked paprika, and some parmesan. I then cut the hot pepperoni into slivers and folded it through the warm aromatic béchamel.

I rolled the pastry out a little thinner and cut it into 1cm strips, greased my Great Aunt's old creamhorn moulds and gently wrapped the pastry strips around and around. Brushing the assembled moulds with my teeny beaten free range egg. I slipped them into the hot oven for 6 minutes or so until they were golden.

Before they were cool I gently eased the golden pastry cones off the moulds, and filled them with the still warm aromatic spicy paprika, hot pepperoni and celery béchamel mixture. Dusted them with a little more paprika, quickly snapped 3 of them, before serving them up to my adoring family who scoffed the lot in no time at all, complaining I hadn't made enough!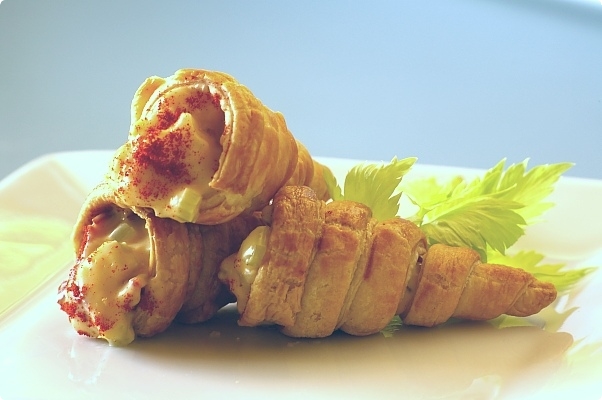 I suspect these would go down a treat with a cold Pilsner too!
Enjoy


Appetizer Recipes · Autumn Recipes · Blog Recipes · Food Blog Events Recipes · Fruit & Veges Recipes · Meat Recipes · Sunday Afternoon Teas Recipes · Vegetables Recipes
Home · About Bron · Portfolio · Recipe Index · Unit Converter
RSS Feed · Atom Feed · Twitter · Facebook · Flickr · Bron's Amazon Store