Friday 27th January 2006
Baked Honeydew Peaches
Sugar High (LOW) Friday #15

This month for the food blog event "Sugar High Friday" hosted by Becks and Posh we were to be "a lot more frugal than usual with the fat and the sugar. In fact, try not to use processed sugar at all" My guess is after the excesses of the festive season, everyone was after something a little lighter.

I chose honey as my sweet, but not just any honey - pure, organic raw honeydew sourced from Native New Zealand Mountain Black Beech forests on the foothills of the Southern Alps on the Mainland (South Island) of New Zealand - which I'm very proud to call my home! The Black Beech trees produce a dark, aromatic sap or nectar that the honeybees collect and turn into a rich, musky citris honeydew honey that is said to be New Zealand's answer to maple syrup as it naturally remains a liquid and tastes fantastic poured over pancakes, releasing a complex "Christmas Cake" taste and aroma. New Zealand Honeydew honey is also rich in complex sugars, which maintain and enhance the body's digestive system, so not only does it taste wonderful, but it is also great for you.

For my entry I mixed a couple of tablespoons of the sweet amber coloured New Zealand Honeydew honey with ½ a cup of chopped organic walnuts (from my own tree!) and ¼ cup of rolled oats. I pressed a cup of fresh raspberries through a fine sieve to remove the seeds and create a smooth unsweetened raspberry couli. I then blanched and refreshed 4 small fresh peaches to remove their skins, halved and removed the stones, gently cut a little off each of the peaches bottoms, so they would sit flat in the baking dish and spooned the Honeydew walnut mixture into the hollows.

Placed them in a moderately hot oven for 6 to 8 minutes, until the topping was golden and crunchy and the honey was bubbling and dripping down the sides of the peaches. On 4 plates I spread a little of the unsweetened raspberry couli, placed two baked peach halves and a quenelle of homemade natural unsweetened yoghurt. And voila…

Native New Zealand Black Beech Forest Honeydew Baked Peaches with homegrown walnuts and rolled oats, on fresh raspberry couli and a quenelle of natural unsweetened yoghurt.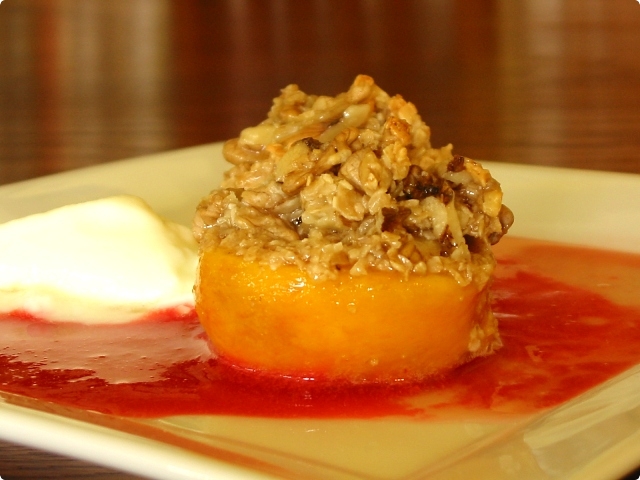 Check out 'Sam's Round Up' of all the "Sugar (LOW) Friday" Entries

Enjoy


Home · About Bron · Portfolio · Recipe Index · Unit Converter
RSS Feed · Atom Feed · Twitter · Facebook · Flickr · Bron's Amazon Store