Friday 8th September 2006
Warm Red Cabbage, Pancetta and Feta Salad
Very few warm salads are easier than this inviting nest of red cabbage, pancetta and feta.
It's a dish made quite literally in a flash of the pan, very fast and makes an excellent start to any meal, as the acid from the lemon helps kick start your digestive system and gets your juices flowing.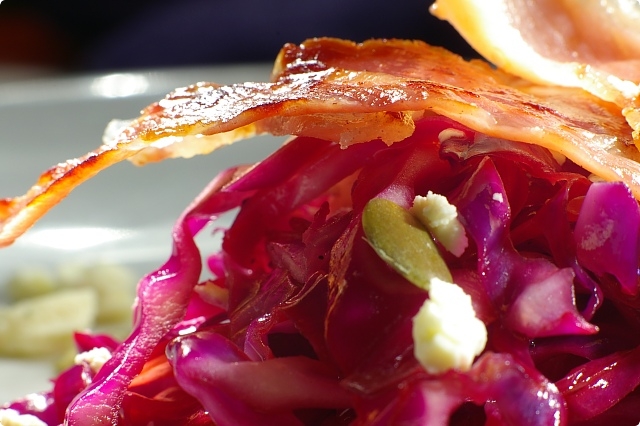 I also adore how the whole process of this dish continually changes the cabbage's colour and appearance. From it's originally raw purple state, to the wilted and warm blue and finally with the addition of acid via the lemon, it turns to a vibrant crimson red.
It's a chemistry lesson and a delightful start to a meal, all in one!

If you you're a fan of blue cheeses, this would work perfectly well too, along with some toasted walnuts instead of the pumpkin seed. As you see I like the use of and the taste of a little butter here, however by all means use olive oil if you prefer, or leave it out altogether if you're using a non-stick pan.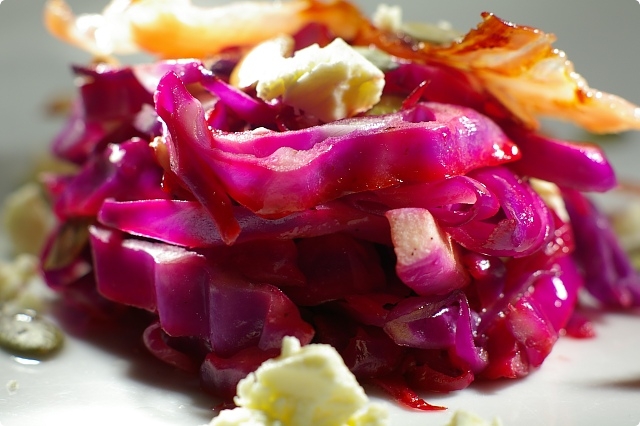 Warm Red Cabbage, Pancetta and Feta Salad
½ a medium to small red cabbage (6 good handfuls of shredded)8 slices of pancetta
20 grams of butter
1 large lemon, the juice
160 to 200 grams of crumbled feta
¼ cup of pumpkin seeds, toastedSalt and Pepper to taste
Slice the cabbage thinly and set aside.
Meanwhile gently grill the pancetta in a large frypan, turn once, remove and set aside.
Add the butter to the hot pan and quickly toss the red cabbage around the pan to wilt it slightly and just heat it through.
You don't want to 'cook' the cabbage, just knock a little of the life out of it! Only keep it in the pan over a high heat for 2 minutes, max!
Once the cabbage is hot, pour over the lemon juice and toss to coat.
Quickly divide the wilted cabbage onto 4 plates and dot with the crumbled feta and sprinkle with the toasted pumpkin seeds, pepper and salt to taste.
Finally prop two pancetta slices on each and serve immediately.
Serves 4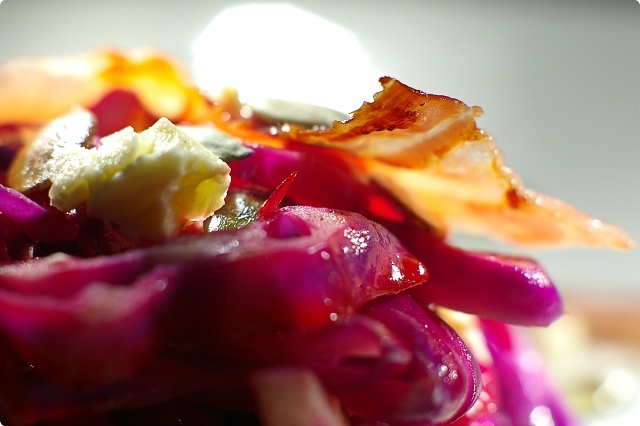 Enjoy!


Appetizer Recipes · Blog Recipes · Fruit & Veges Recipes · Salads Recipes · Vegetables Recipes · Winter Recipes
Home · About Bron · Portfolio · Recipe Index · Unit Converter
RSS Feed · Atom Feed · Twitter · Facebook · Flickr · Bron's Amazon Store