Saturday 11th February 2006
Plum Inspirations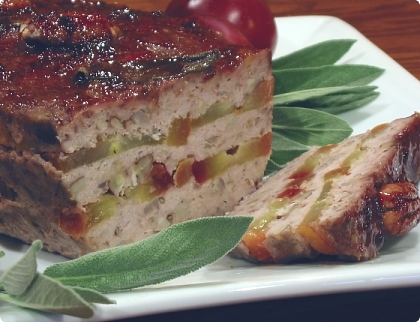 Pork, Plum and Pecan Terrine

This is a delightful summertime treat with fresh plums, although it's also gorgeous made with prunes soaked in port during the winter months when fresh plums are unavailable.


Pork, Plum and Pecan Terrine
8 small ripe red plums, sliced
600 grams / 1 lb of quality lean pork mince
1 large shallot, finely diced
1-2 cloves of garlic, crushed
1 egg
½ cup of breadcrumbs
1/3 cup of chopped pecans and a few halves for decoration
salt and pepper
½ a whole nutmeg, freshly grated
a few fresh sage leaves
3 tablespoons of plum jam
1 tablespoon of Port (optional)
Boiling water
Preheat oven to 180°C (360°F)
Line a terrine dish or loaf tin with a layer foil and then one of baking paper, leaving enough up the sides to completely in close the mixture. In a large bowl mix together the pork, shallot, garlic, egg, breadcrumbs, chopped pecans, nutmeg and salt and pepper. Press 1 third of the mixture evenly into your prepared dish, make a layer sliced plums with half the slices, and then repeat with a 2nd third of the pork mixture, 2nd layer of sliced plums and the last of the pork mixture is on the top.
Fold over the baking paper and foil securely, place the terrine into a roasting dish, and full the roasting dish with boiling water until it reaches half way up the side of the terrine dish.
Bake for 45 minutes or until it is cooked through. Meanwhile combine the plum jam and port.
When the terrine is cooked through, fold back the foil and baking paper and decoratively place the sage and remaining pecans, and brush with the port and plum jam mixture, return to the oven for 10 minutes or until the top is lovely and golden looking.
Cool completely before slicing, serve with fresh bread and salad.
Serves 6
It seems since the beginning of time plums have always been associated with things that are highly desirable and well prized. We all envy someone who has a "plum" job, described as an easy, well paying job. The connection between "plum" and prize can also be found in Mother Goose.

Little Jack Horner sat in the corner
Eating his Christmas pie,
He put in his thumb and pulled out a plum
And said "What a good boy am I?!"

The first publication date for Little Jack Horner has been traced to 1725. Legend has it that "Little Jack Horner" was the steward Richard Whiting (1461 - 1539) who manage the household, collected the taxes and kept the accounts for the Bishop of Glastonbury.
During that time Glastonbury was the largest and wealthiest Abbey in England, it is rumoured that the Bishop tried to bribe King Henry VIII to stop the systematic dissolution (looting!) of Monasteries in England. Sending Whiting to the King with a gift of twelve title deeds of various English manorial estates.
The title deeds were said to have been secreted in a baked pie (apparently valuables were often hidden in these bizarre fashions to thwart thieves). Whiting a.k.a Little Jack Horner believed that the bribe would do no good and is said to have stolen the deeds to the manor of Mells, Mells being the real 'plum' of the twelve manors.

So with plums being so highly prized it makes sense to indulge in them at their peak, which is now if you live, as I do, in the Southern hemisphere.
Thankfully New Zealand offers excellent plums, the variety you choose need not matter, whilst the dark claret flesh of a Doris is visually exciting, the subtle golden yellow of a Shiro is equally delicious.

When choosing plums try to find ones with a good even colour for their variety, a firmness to light softness when gently squeezed. Avoid fruit that is hard or very soft, poorly coloured or with shriveling, bruises or breaks in the skin.
Plums are generally picked mature but not fully ripe. Ripen them at room temperature, you can speed up the ripening by placing them in a brown paper bag with ethylene-producing fruits such as a banana, apple or pear. They are ready when they give off a gentle, sweet plum aroma and they are soft to the touch. To "hold" already ripe plums keep them in the refrigerator, away from ethylene producing foods that may ripen them further, but be sure to bring them to room temperature for a couple of hours before eating them.

Plums are high in carbohydrates, low in fat and low in calories. They are an excellent source of vitamin A, calcium, magnesium, iron, potassium and fibre. Like prunes, (dried plums!) they work well as a mild laxative and contain antibacterial and antiviral compounds. As a bonus plums are free of sodium and cholesterol. As with all fruit, plums contain a substantial amount of your daily recommended intake of vitamin C.

Here are some quick ideas hopefully offering you plum inspiration.


Try replacing tomatoes with fresh sliced plums in your salads
Throw freshly sliced plums into your stir-fries, particularly nice with chicken or pork!
Roast plums along side golden kumara, sweet potatoes or yams
Wrap halved and stoned plums with streaky bacon or pancetta and grill for a tasty nibble
Slice plums on pizza with a tangy bbq or chilli sauce, bake with slices brie, diced ham and red onion, or grill between flour tortillas for yummy quesadillas
Plums make an excellent stuffing for chicken, poussin or a rolled loin of pork, try them diced with breadcrumbs, a finely diced onion, ½ teaspoon of mixed spice and cinnamon, the zest of an orange and a lemon, some oregano, salt and pepper and a knob of soft butter
Make a scrummy tabbouleh or couscous with soaked burghul wheat or couscous, sliced plums, chopped spring onion, parsley, whole grain mustard, runny honey, a little red wine vinegar and olive oil with crumbled feta on top
Finely dice plums and red onion for a super salsa with orange juice, zest, a chopped chilli or two, a pinch or two of ground cinnamon and a few herbs of your choice, coriander mint, parsley, chives, great with cold or grilled meats, even a slice or two of cheese.
Or try a little grated fresh ginger root, nutmeg, honey, and whole seed mustard in a plum salsa
Make a delicious fresh fruit salad with sliced red and yellow plums, nectarines, and orange segments and pour over a vanilla bean infused syrup, gorgeous on it's own or with a little thick Greek yoghurt
Naturally there's poaching them in wine and serving with a dollop of mascarpone and a couple of sponge finger biscuits
and finally this old favourite never fails to comfort, plum and apple crumble, with crème anglaise or runny cream.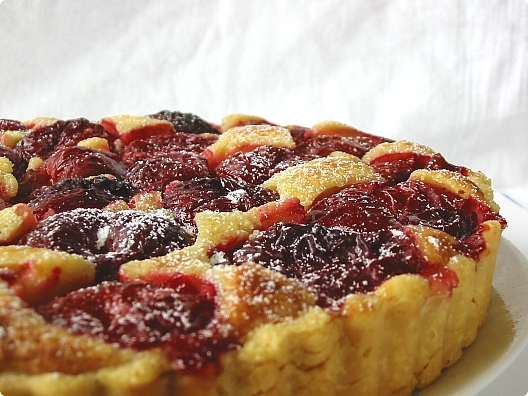 Plum and Almond Tart

This tart can be a little sharp depending on the sweetness of your plums, if you prefer a sweeter base you can replace the short pastry with sweet pastry.


Plum and Almond Tart
Short Crust Pastry
200 grams of plain white flour
¼ teaspoon of salt
100 grams of cold butter
1 egg yolk
2 tablespoons of iced water
Sift the flour and salt into a large bowl or food processor.
Cut the butter into small cubes and rub into the flour either with your hands or using the food processor, until it resembles fine breadcrumbs. Lightly whisk the egg yolk and ice water together and add to the mixture to make a firm dough.
On a lightly floured bench or board knead the mixture until it forms a smooth ball. Handle as little as possible to prevent the pastry from becoming hard when baked.
Cover with plastic wrap and refrigerate for 20 minutes.
Almond Filling
125 grams butter
125 grams caster (superfine) sugar
1 vanilla pod
2 eggs
140 grams ground almonds (almond meal)
45 grams of plain white flour
¼ to ½ teaspoon of almond essence (I prefer a ¼ teaspoon)
16 fresh red plums, halved with the stones removed
2 tablespoon of butter
¼ cup caster sugar or to taste

Preheat your oven to 190°C (370°F).
On a lightly floured board or bench carefully roll out the pastry to line a 24cm tart pan and trim around the edges.
In a large bowl scrap the seeds from the vanilla pod, add the butter and caster sugar. Cream together until light and fluffy. Add the eggs one at a time beating until well combined. Lastly add the ground almonds, flour and almond essence and mix well.
Carefully spoon the almond filling into the line pastry pan, smooth evenly with a pallet knife. Arrange the plum halves very closely together, cut side down in around the entire surface of the tart, squeezing them in as tightly as you can. Dot the 2 tablespoons of butter over the plums and sprinkle with sugar.
Bake the tart for 10 minutes on the lowest shelf in your oven. After 10 mins transfer to the middle shelf and bake for a further 40 minutes or until the filling has set and is golden in colour.
Cool briefly before slicing and serving warm with whipped cream or ice cream, or if desired at room temperature simply with a dusting of icing sugar.
Serves 8
Enjoy your Plums!


Blog Recipes · Fruit & Veges Recipes · Ingredient Inspirations Recipes · Summer Recipes
Home · About Bron · Portfolio · Recipe Index · Unit Converter
RSS Feed · Atom Feed · Twitter · Facebook · Flickr · Bron's Amazon Store