Tuesday 23rd May 2006
The Ultimate Chocolate Chippie Log
I had intended on posting this recipe for the last Sugar High Friday - Candy is Dandy but Liquor is Quicker! Unfortunately though, life got a little hectic and time became too precious for food blogging. Nevertheless, I thought I must post it before the next SHF event, which is this coming Friday with a ginger theme. Although to be perfectly honest, I could repeat the idea as an Ultimate Gingernut Log would be darn good too!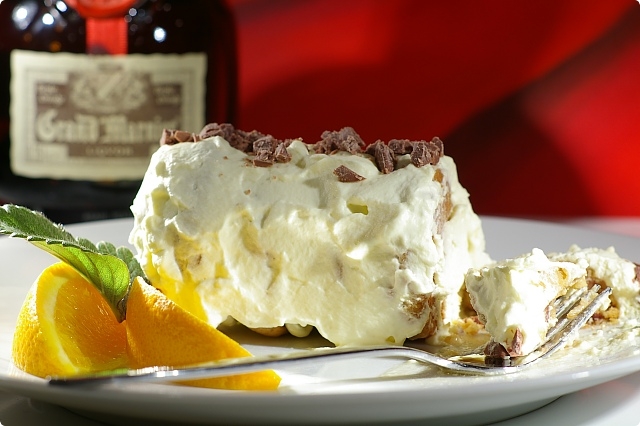 This is a favourite 'junk dessert' from my childhood. My mother would always cheat and use a packet of store bought chocolate chippie bikkies. Mum would also always use cream sherry, but I enjoy making it with a variety drinks: plain teetotaler friendly orange juice or pineapple juice;
not so teetotaler friendly rum, Grand Mariner or Kahlua, and if I'm feeling especially wicked ... a B-52 log. With the B-52 I alternate what I dip each cookie in - Kahlua, then Grand Marnier, then top it all off by beating the whipped cream with a good slosh of Baileys Irish Cream ... oh dear! Did I mention it was wicked?!

Anyway for whichever variation of this devilish boozy dessert you choose, you first need to make a batch or two (how hungry are you?) of my Ultimate Chocolate Chippie Cookies!

It's no secret I've made many fans with this chocolate chippie cookie recipe, we all think it's pretty top knotch! I normally make the cookies quite large, although here we're making an Ultimate chocolate chippie log so it's a good idea to make them a little smaller. I've suggested a tablespoon.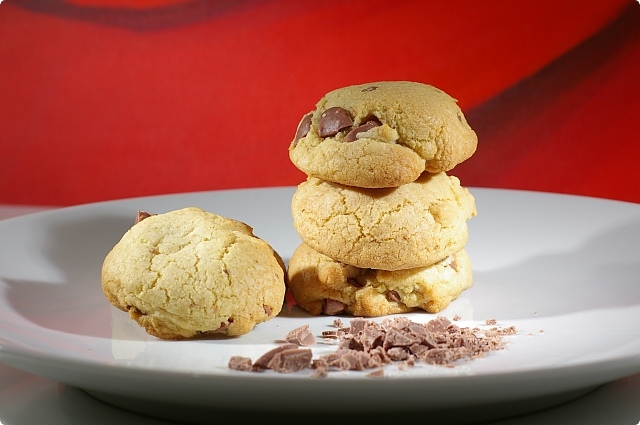 Ultimate Chocolate Chippie Cookies
2 cups of flour
½ a teaspoon of salt
½ a teaspoon of baking soda
180 grams of butter - melted (not softened) and cooled slightly
1 cup of soft brown sugar
½ a cup of white sugar
1 large egg
1 egg yolk
2 teaspoons of vanilla essence
1½ cups of roughly chopped quality dark chocolate preferably, although I used milk chocolate in the photo
Preheat the oven to 170°C (340°F).
In a large bowl mix the flour, salt and baking soda together.
In another bowl mix the butter and both sugars well, then beat in the vanilla and the eggs - one at a time.
Add the rest of the dry ingredients and mix until just combined.
Stir in the chopped chocolate.
With a tablespoon, scoop small mounds of dough onto a lined baking tray. Do not flatten!]]Bake the cookies for 7 or 8 minutes until they are light golden and still a little puffy.
Makes approximately 35 small cookies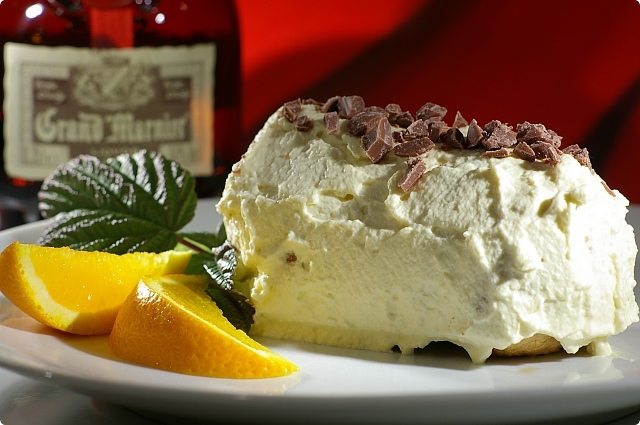 To assemble your Ultimate Chocolate Chippie Log


Ultimate Chocolate Chippie Log
20 small chocolate chippie cookies
½ to ¾ of a cup of Grand Marnier or some other juice or liquor of your choosing
400 mls of cream, softly whipped
fresh fruit to serve - I used oranges here, naturally berries in season are especially good!
Grated chocolate
Dip a cookie into the Grand Marnier and then smear one side with a little cream.
Dip a second cookie and sandwich them together on a serving plate.
Continue sandwiching the dipped cookies together with cream, until you reach your desired log length or run out of cookies!
For individual logs, 5 small cookies per person is a very generous portion!
Cover the logs in more whipped cream and refrigerate for a couple of hours to let the flavours meld and soften the cookies.
Garnish as desired with grated or shaved chocolate and fruit.
Serves 4.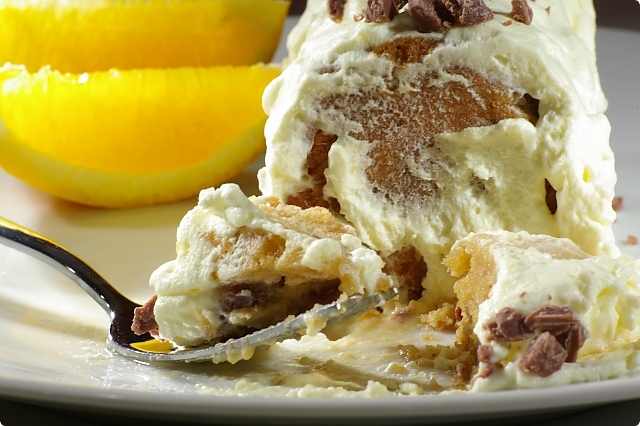 Enjoy!


Autumn Recipes · Blog Recipes · Cakes Recipes · Chocolate Recipes · Christmas Recipes · Cookies Recipes · Desserts Recipes · Food Blog Events Recipes · Sunday Afternoon Teas Recipes · The Baking Tins Recipes
Home · About Bron · Portfolio · Recipe Index · Unit Converter
RSS Feed · Atom Feed · Twitter · Facebook · Flickr · Bron's Amazon Store