Friday 10th March 2006
Discoveries T-leaf-T
I'm a coffee and hot chocolate kinda gal, or at least I thought I was?!
Scary childhood memories of strong over brewed Bell tea bags on my elderly female relatives breath was enough to totally put me off ever partaking in tea until recently. Although perhaps it may have been the sloppy, prickly kisses that coincided with Bell tea halitosis?!
I have, however sampled a few herbal teas and tisanes through the years, experimenting with herbal remedies and such, but never had I drank tea from true black tea leaves. Well except the few times I've unknowingly picked up J's mug by mistake and taken a sip, whilst I was deeply engrossed in a good book. Anyway how I digress…

After searching out some finer teas to gift J at Christmas, I've discovered I also quite like drinking tea, but not from a tea bag mind you! Yes, I guess it may well be true that I'm a proper tea snob now since these fine teas have now become a regular part of my life.

That is T-leaf -T teas have become a regular part of my life!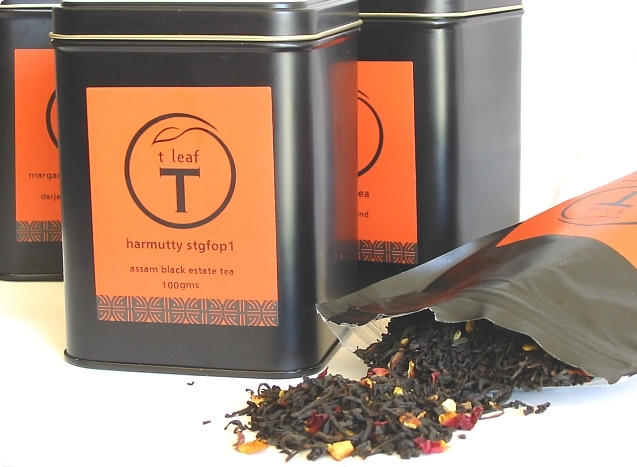 T-leaf-T is a new "tea emporium" located in Wellington (Duke's Arcade, Willis Street). They boast around 130 loose leaf teas, estate teas, organic teas, infusions, green teas, herbal tisanes and rooibos. And they're delicious!
It's a delight every morning to experience a whiff of the fresh sweet aromas when opening a tin.
Here are a few descriptions of the T-leaf-T tea's we have enjoyed to whet your appetite. But this is simply a drop in the bucket - to fully appreciate the range they have on offer visit them online at www.tleaft.co.nz or pay them a call in Duke's Arcade and experience their sniffing tins.

Margaret Hope's Darjeeling - "The Thea Sinensis hybrid produces a
small wiry dry leaf with good tip content. Full flavoured with a hint of sweet nutmeg, this is a dlicate flowery tea with a clear liquor and lingering muscatel aftertaste."
Harmutty Assam - "A medium bodied well balanced tea with a surprising
malty and fruity aroma. A dash of milk brings out the delicate sweetness."
Morning Tea (love this catchy name!) - "A blend of spring plucked
Darjeeling and Ceylon teas. This slightly spicy, fresh and aromatic tea with a golden liquor is a must try morning tea."
Christmas Flavoured Tea - "The scent of cloves, vanilla and cardamom
break through the flavoursome black tea base. A must have for the Christmas season but still tastes great all year round"
Orange Pekoe - "T leaf T's special blend of select Sri Lankan orange pekoes. A beautiful golden liquor is accompanied by a bold yet smooth flavour with hints of oak. Enjoy any time of the day."
Since my new found appreciation for tea, it seems I'm finding new tea products pop up all over the place - check out these other great Kiwi based stores online:
www.teatotal.co.nz
www.chai.co.nz
www.kerikeritea.co.nz

Cheers


Home · About Bron · Portfolio · Recipe Index · Unit Converter
RSS Feed · Atom Feed · Twitter · Facebook · Flickr · Bron's Amazon Store