Friday 27th January 2006
Chinese BBQ pork salad with shattered glass noodles
Use Your Noodle - IMBB # 22 Hosted by Cooking with Amy

Initially for this event I thought I'd blog about my own favourite version of ramen noodle soup, affectionately known as "Tampopo Noodle Soup" in this house. Hopefully you have all seen the film Tampopo? It's an inspiring film, a right foodie gem that is sure to make you crave ramen noodles. Basically it's a lovely tale about a young Japanese widow who runs a Ramen Noodle House, she makes fairly average ramen, but with the help of a truckie named Goro, she learns how to make THE BEST ramen.

Anyway on second thoughts, I felt ramen was too conventional an approach to noodles and someone else was bound to go that route, and since I love a challenge... I began hunting for further ideas. Scratching around in the cupboards to see what else I could come up with, I saw my jar of Chinese five spice and straight away thought ... mmmm Chinese BBQ pork. Also, since the weather is lovely and warm here in New Zealand, salads are still the go most days, so my next noodle thought was a Chinese BBQ pork salad with deep fried crispy rice vermicelli.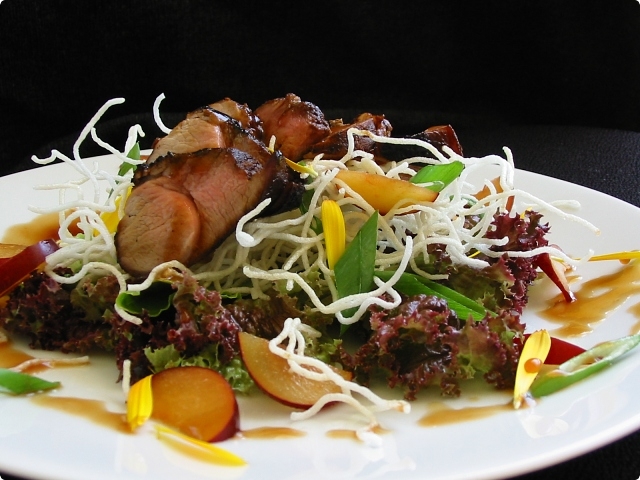 Chinese BBQ pork salad with shattered glass noodles
For the pork marinade
2 pork fillets / tenderloins
2 tablespoons grenadine
2 tablespoons honey
2 tablespoons hoisin sauce
1 tablespoon soy sauce
½ teaspoon Chinese five spice
Marinate for at least 2 hours, then bbq until almost cooked through, and caramelised on all sides.
Let them rest for at least 6 minutes before slicing. A base of baby salad greens, slithers of fresh ripe red plums, sliced spring onions and freshly picked calendula petals, a nest of crispy deep fried raw rice vermicelli noodles, sliced Chinese bbq pork and hoisin sauce vinaigrette.
Check out 'Amy's Round Up' of all the "Use your Noodle" Entries

Enjoy


Blog Recipes · Food Blog Events Recipes · Fruit & Veges Recipes · Meat Recipes
Home · About Bron · Portfolio · Recipe Index · Unit Converter
RSS Feed · Atom Feed · Twitter · Facebook · Flickr · Bron's Amazon Store