Friday 17th March 2006
Irish comforts for St. Patrick's Day
Whilst the Northern hemisphere looks forward to Spring and coming warmer weather, here in New Zealand, - "the Land of the Long White Cloud" the middle of March brings with it shorter days and cooler nights. The mornings have the familiar dewy autumnal coolness and freshness now, and the autumn leaves have been falling for some days, the backyards are awash in beautiful golden colours. With all this the evenings come earlier, as does an extra blanket on the bed at night.

This weekend marks the end of our 'daylight saving' which is also kind of sad, although I'm happy to have the extra hours sleep.

March 17 also marks St. Patrick's Day, the day in which Ireland and the world remembers the Irish patron saint. After a wet drizzly Friday what could be more comforting than a few slices of warm corned beef on a great mound of buttery 'champ' with some braised carrots and cabbage. Everyone knows an Irishman is lost without his potatoes, but did you know that before the horrid potato famine of 1846-1850 the average Irishman tucked away 5 kg / 11 lbs of spuds every day?! Now that's a lot of potatoes! Irish Champ is a favourite traditional way to serve potatoes in Ireland, and makes lovely warming comfort food for any dreary day.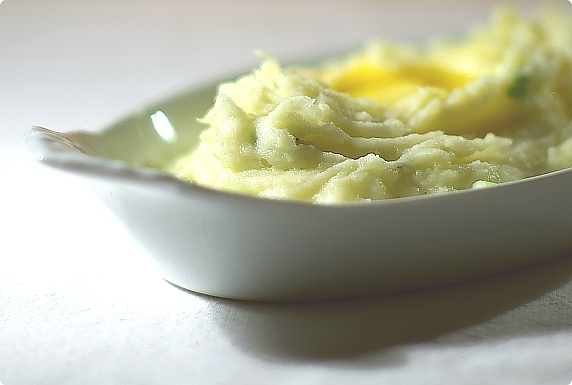 Champ
6 large floury potatoes
salt
2 to 4 Spring onions
60 grams of butter, cubed
180 mls of milk
sea salt and black pepper
more butter if desired
Clean and scrub the potatoes, peel and cut into equal sized pieces.
Place them in a large saucepan, cover with cold water and bring the potatoes to the boil.
Salt the boiling water and simmer for 20 - 30 minutes until the potatoes are tender.
Meanwhile slice the spring onions finely and add them to the milk.
Heat through either in a small saucepan or the microwave for a minute or two, to allow the onions to infuse the milk.
When the potatoes are cooked though and tender, check them by piercing with a fork or skewer.
Drain the potatoes throughly and begin to mash them immediately or push through a ricer.
Mix through the hot milk and spring onions, beat in the butter and season to taste.
Work quickly so as to loose as little heat as possible.
If working ahead the champ can be reheated in the microwave or kept warm covered in a hot oven, but be sure to cover so it doesn't form a crust.
Serve with more knobs of butter if desired.
Serves 4
Corned Beef or salted /cured beef is another common comfort dish in Ireland.

Most "Corned Beef" is cut from the Silverside or Brisket, brisket is generally cheaper having more fat and rolled, whereas silverside is leaner and not rolled.


Corned Beef
1½ - 2 kg joint corned silverside or brisket
1 onion
bay leaves
peppercorns
whole cloves
(garlic, thyme, citrus rind and mustard seeds can also be used for flavouring)
If you are lucky enough to own a pressure cooker, I would highly recommend using this method as it is likely to ensure a more tender result.


Simply add your joint (1-2kgs) and enough water to come half to ¾ of the way up the side of the meat.
You may flavour the cooking liquor with an onion, a couple of bay leaves, some peppercorns and cloves if you desire.
Bring the pressure cooker to the boil, reduce heat and simmer away for 30 to 40 minutes.
Take from the heat, release the pressure and drain the meat.
Rest, slice and serve.
Saucepan method:
Choose a saucepan that the joint just fits into, cover with cold water and add desired flavourings. (see above)
Bring to the boil, cover and simmer for 2½ to 3 hours, it is important to make sure you simmer the meat, boiling can result in a more tough cut.
Rolled Brisket often needs longer - up to an extra hour. As a guide allow 1 hour per 500g of meat.
Take from the heat and drain the meat.
Rest, slice and serve.
Serves 4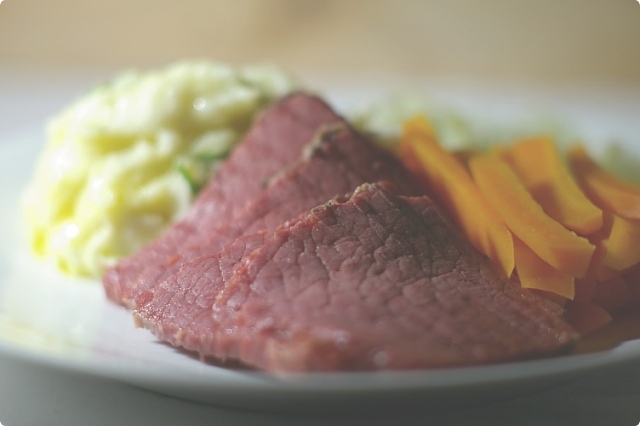 I served my Irish comfort meal of Champ and Corned Beef with some braised carrots and cabbage. Traditionally these would have been added to the meats cooking liquor, but cooking separately produces and more desirable result in my opinion.

Now, what comforting meal would be complete with out a homely old fashioned pudding or dessert of Apple and Blackberry crumble - recipe to follow.

Slainte!
Enjoy


Autumn Recipes · Blog Recipes · Culture & Tradition Recipes · Fruit & Veges Recipes · Meat Recipes
Home · About Bron · Portfolio · Recipe Index · Unit Converter
RSS Feed · Atom Feed · Twitter · Facebook · Flickr · Bron's Amazon Store