Monday 10th April 2006
Polpette di Pollo con Panna e Limone - Chicken Meatballs in a Lemon and Cream Sauce
A few months ago I bought my own copy of "The Silver Spoon" - an English version of "the best selling Italian cookbook for over fifty years". This heavy 1262 page recipe book is full of classic, traditional and regional Italian dishes. You probably all know about the book, in fact ... it's very very likely that you own a copy yourself! If not then I'm sure you are familiar with a lot of the recipes featured in it.

So okay - open your copy and turn to page ... well actually, this recipe isn't in it! It's one of my own recipes; a recent invention whilst craving a comforting result from the chicken mince in the refrigerator. However, it is somewhat inspired by "The Silver Spoon" and also from the creations of Kiwi Chef - Ray McVinnie.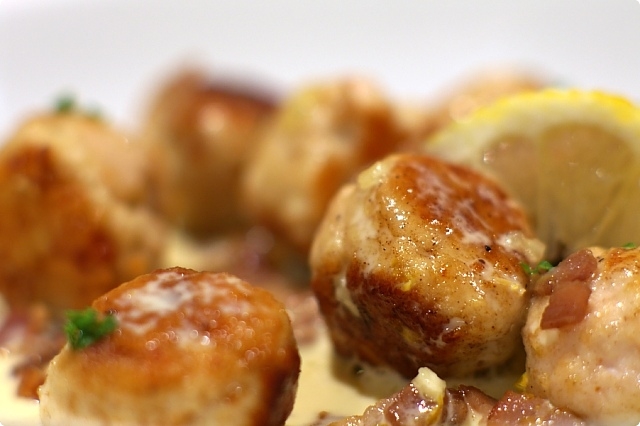 I absolutely adore the golden colour of the chicken. Just looking at the photos makes me salivate!

This dish would be great thrown over some pasta, mashed potatoes or steamed rice, or even with just a little bread to mop up the sauce.


Polpette di Pollo con Panna e Limone - Chicken Meatballs in a Lemon and Cream Sauce
500 grams of minced chicken
2 cloves of garlic, crushed
zest of 1 lemon
1 egg
½ cup of fresh breadcrumbs
freshly grated nutmeg
flour for dusting
20 to 30 grams of butter
2 tablespoons olive oil
2 rashers of lean bacon, finely chopped
1 clove of garlic crushed
¼ cup of white wine
juice of 1 lemon
¾ cup of cream
salt and pepper to taste
a touch of chopped parsley to finish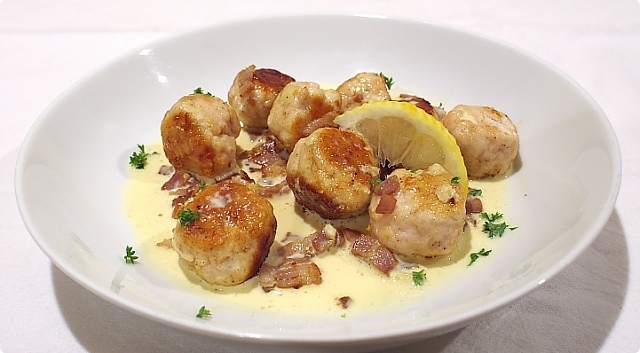 In a large bowl combine the chicken mince, garlic, lemon zest, egg, breadcrumbs and nutmeg.
Take small spoonfuls of the mixture and roll into balls, then dust with flour.
Heat a large frypan and add the butter and oil.
Gently add and cook the meatballs until golden all over and cooked through.
Remove the meatballs from the pan and set aside.
In the same pan add the bacon and fry until crispy.
Drain the extra rendered fat and add the garlic. Deglaze the pan with the wine, scraping up all the stuck meat into the sauce.
Add the lemon juice and finally the cream, reducing together a little to form the sauce.
Return the meatballs to the sauce to heat through and season well.
Enjoy


Blog Recipes · Meat Recipes
Home · About Bron · Portfolio · Recipe Index · Unit Converter
RSS Feed · Atom Feed · Twitter · Facebook · Flickr · Bron's Amazon Store