Monday 30th October 2006
Petit Fours - Baked Chocolate Mousse Cups with Mini Matcha Ice-cream Spheres
I saw this idea on the television several months ago, I don't watch a lot of television and wasn't even really watching this time. I have no idea what the program was or anything. I spotted it purely out of the corner of my eye while passing through the living room with a armful of washing one night, I didn't hear a recipe or even necessarily the correct components.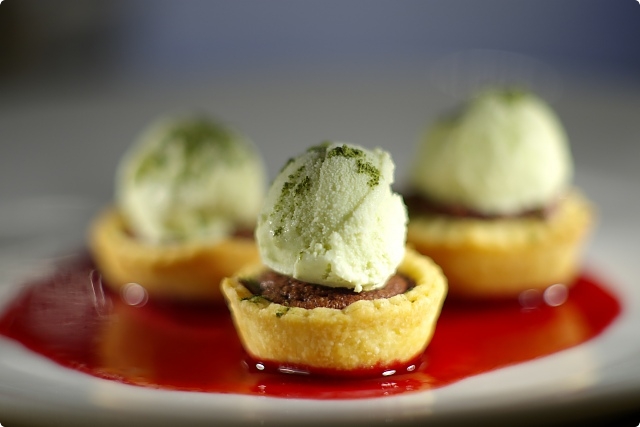 However the images still inspired me enough to have a go. I believe it was a Tapa Bar in Auckland that was being reviewed at the time, so somewhere in Auckland these or something similar to these, are served… I think?!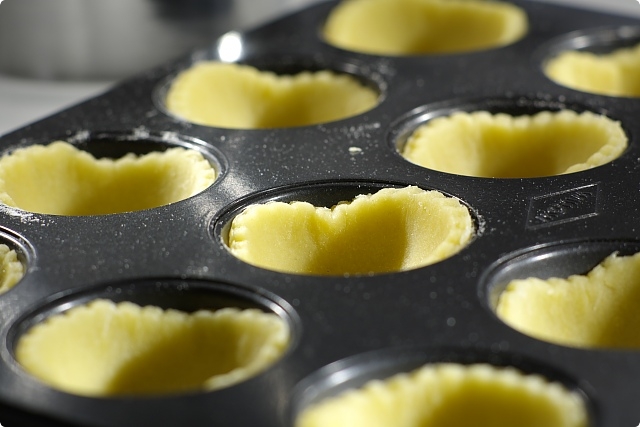 I'm calling them Baked Chocolate Mousse Cups with Mini Matcha Ice-cream Spheres!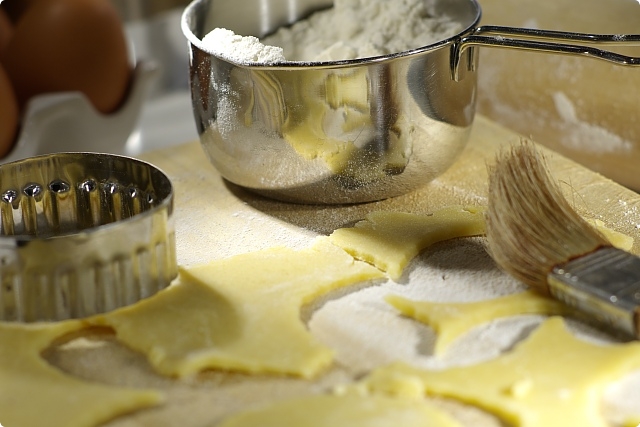 And if I'm not too late for the lovely Jeanne's roundup (Thank you so much for your lovely email Jeanne, with my extension!) this is also my contribution for this month's Sugar High Friday!
Or as the case is... my Sugar High very very early Monday Morning NZ daylight saving time i.e 1:00 am!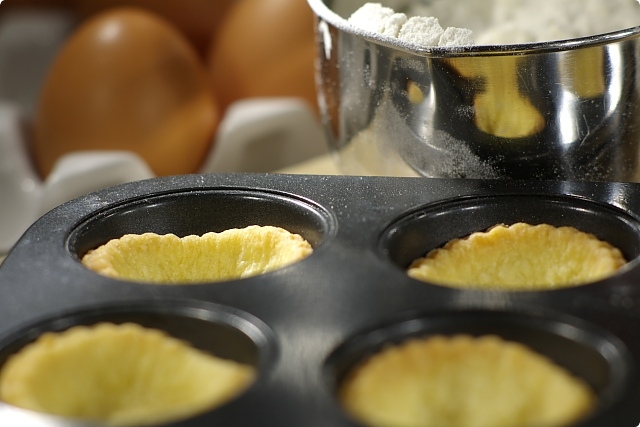 First I started out making some coulis!


Blackberry Coulis
½ cup of blackberries
2 tablespoons of water, approximately
2 tablespoons of icing sugar or to taste
Push blackberries through a fine sieve and mix with enough water and icing sugar to reach your desired constancy and taste.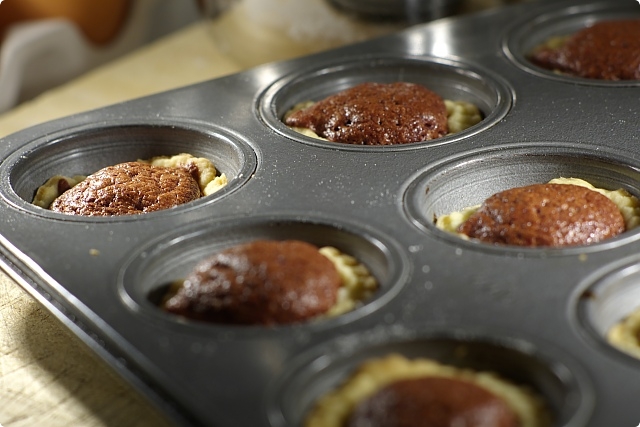 Pastry Cups
200 grams / 7 oz of flour
a pinch of salt
120 grams / 4¼ oz of butter
50 grams / 2 oz of castor sugar
1 egg
Sift the flour and baking powder into a large bowl or food processor.
Cut the butter into small cubes and rub into the flour either with your hands or using the food processor, until it resembles fine breadcrumbs.
Whisk the castor sugar and egg together and add to the mixture to make a firm dough.
On a lightly floured bench or board knead the mixture until it forms a smooth ball.
Handle as little as possible to prevent the pastry from becoming hard when baked.
Cover with plastic wrap and refrigerate for 20 minutes.
Preheat the oven to 180°C (360°F).
On a lightly floured board or bench carefully roll out the pastry.
With a cookie cutter cut the dough into rounds to fit mini muffin or patty tins.
Dock the bottoms so they don't rise, and bake for 8 to 10 minutes.
Leave aside to cool, while you make the chocolate mousse.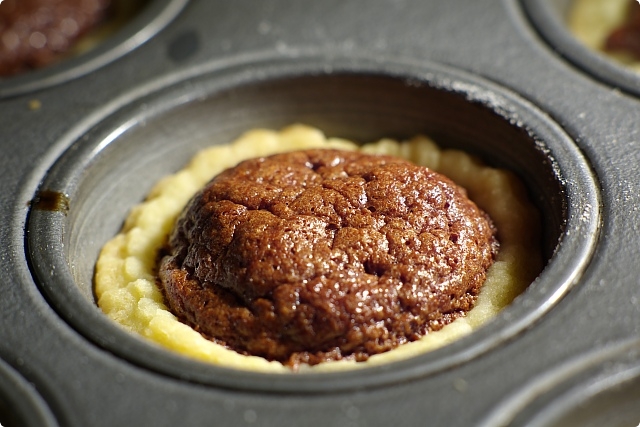 Dark Chocolate Mousse Filling
3 large egg yolks
4 tablespoons white granulated sugar
120 grams of good dark eating chocolate
60 grams of butter, cubed
3 egg whites
Beat the egg yolks together with 3 tablespoons of sugar until the mixture is very thick and creamy - approximately 8 minutes. The egg should be very pale and fluffy and double the quantity.
Place the broken up chocolate in the top of a double boiler over hot water and leave until melted.
Once melted, add the butter cube by cube and stir until fully absorbed. Remove from the heat.
Add the chocolate mixture slowly to the egg mixture, a little at a time folding gently until thoroughly incorporated and smooth.
Cool the mixture completely.
In another clean bowl whisk the egg whites and remaining tablespoon of white sugar and beat until soft peaks form.
Fold in a quarter of the egg white into the cooled chocolate mixture, then continue with the remainder of the egg whites using a lift and fold motion.
Lower the oven temperature to 160°C (320°F).
Place small spoonfuls of mousse in the cooled pastry cups and bake for 5 to 6 minutes, or until they are just set.
Leave the cups to cool completely before assembling to serve.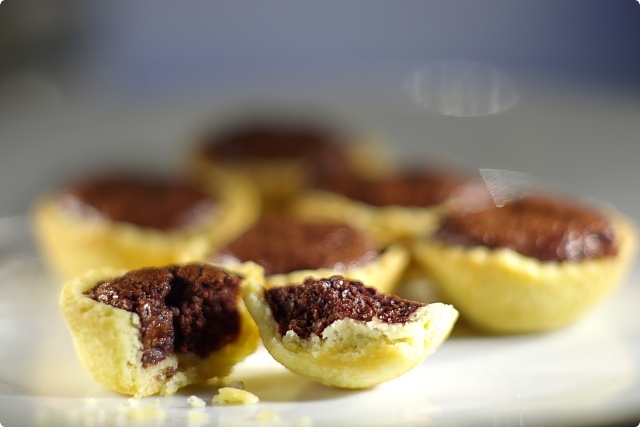 To serve:]]Top the cool Baked Chocolate Mousse Cups with small balls of ice-cream, I used Matcha / Green tea, however you obviously could use any flavour you wished.
Make the small ice-cream balls with a melon baller or Parisian scoop, rinsing the scoop in hot water before creating each one.
Dust the tops with a little extra Matcha powder or Fine Dutch Cocoa.
Place the completed cups on a tray with a pool of blackberry coulis so that the pastry cup bottoms absorb a little.
Serve immediately!
Makes approximately 30 cups depending on the size of your moulds.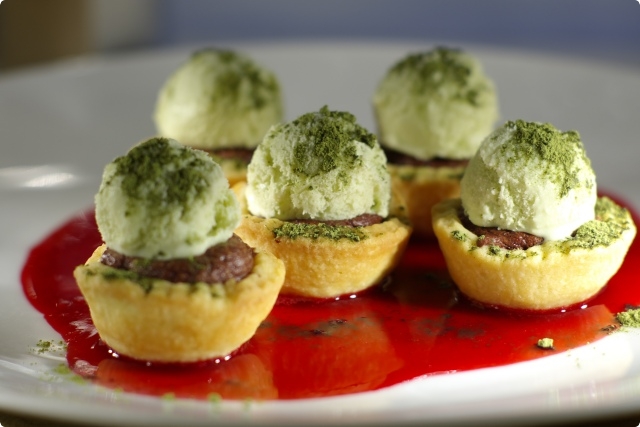 Enjoy!


Blog Recipes · Chocolate Recipes · Desserts Recipes · Food Blog Events Recipes · Fruit Recipes · Spring Recipes · Sunday Afternoon Teas Recipes
Home · About Bron · Portfolio · Recipe Index · Unit Converter
RSS Feed · Atom Feed · Twitter · Facebook · Flickr · Bron's Amazon Store