Thursday 17th November 2011
For the Love of Food - NZFBA Conference

Marinated Olives / Prawns in Cider with pickled shallots, garlic purée @ The Tasting Shed
I'm still on a high from my weekend away in Auckland for our first ever New Zealand Food Bloggers Conference. Where I was surrounded by so many creative and passionate people, it's a far cry from when I began food blogging.
In 2005 there were
only 2 of us
in New Zealand, soon 3 and 4. However now there are over
75 members
signed into the
NZFBA's website
and I'm sure there are more Kiwi foodie blogs we are yet to discover.
26 of us converged at
The Tasting Shed
in Kumeu on Saturday morning for a full packed day of presentations, food and laughter.
I arrived in Auckland on Friday evening along with fellow presenter
Jaco Swart
from Christchurch and had the privilege to stay with
Allison Pirrie-Mawer
the brains and driving force behind the event out in the beautiful beach side town of
Muriwai.
Due to nerves I started Saturday morning much earlier than I'm familiar with, Allison's sunny face soon put me at ease as we packed the final goodies into their bags and loaded up her little car.

Lemon Cheesecake Goodies from Gu / Alli brings out more bags / The Little Green Car / Attendees chat over morning tea / Here's trouble! - Sue, Alessandra, Alli and Kristina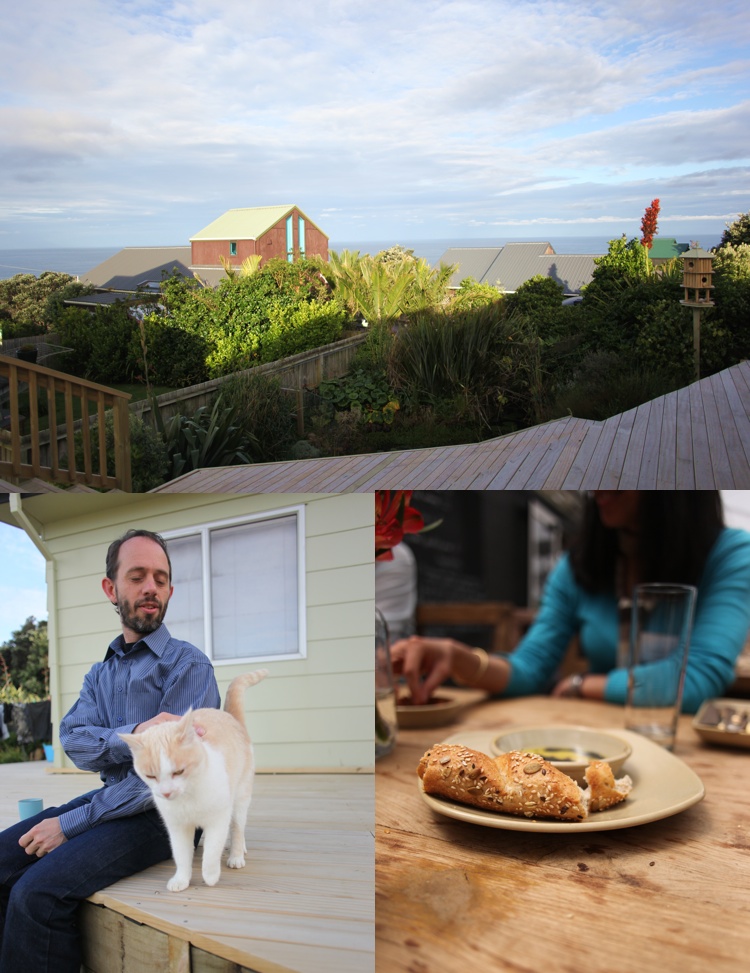 The Tasman Sea @ Muriwai. / Jaco & Milly the Smoocher / Bread and Oil @ The Tasting Shed
Kristina
and
Sue
made everyone feel welcome playing Santa and gifting each attendee on arrival their goodie bag chocka block full of nommy food noms.
Who would go to other conferences? Seriously food conferences have THE BEST goodies.
Unfortunately I didn't get a photo of all the loot in mine before I started separating and spreading the items throughout my luggage and/or devouring them.
However a quick recap - There were chocolates from
Whittakers
,
Fruit leathers from Annies,
Sweet slices, brownies and caramel from Loaf,
Delicious Ice Teas from Teza,
More Chocolate Brownies from Kokako
- you can never have too much chocolate!
Gravity Coffee,
Christmas blend Tea,
Cereals from Hubbards,
Gu puds,
more treats and a tote bag to hold it all from
Cuisine
.
Andrea from So D'Lish
gave us great tips on Design, Fonts and Search Engine Optimizing - "if your viewers were bees, which flowers would they find and go for first?"
Jaco
explained the benefits of social media, finding the one/s that suit you and ended with the flattering account of how we arranged our first coffee tweet up after he stole my 4sq mayorship for a local Chch foodie haven.
The lovely
Alessandra
had us in fits of hysteria as she gave it to us straight about more professional food writing. The ins and outs of getting a book proposal together and magazine articles after they have been under the editors knife.
Just before lunch we heard from Emma who blogs with several others in a collaboration for
Fisher & Paykel's "Our Kitchen"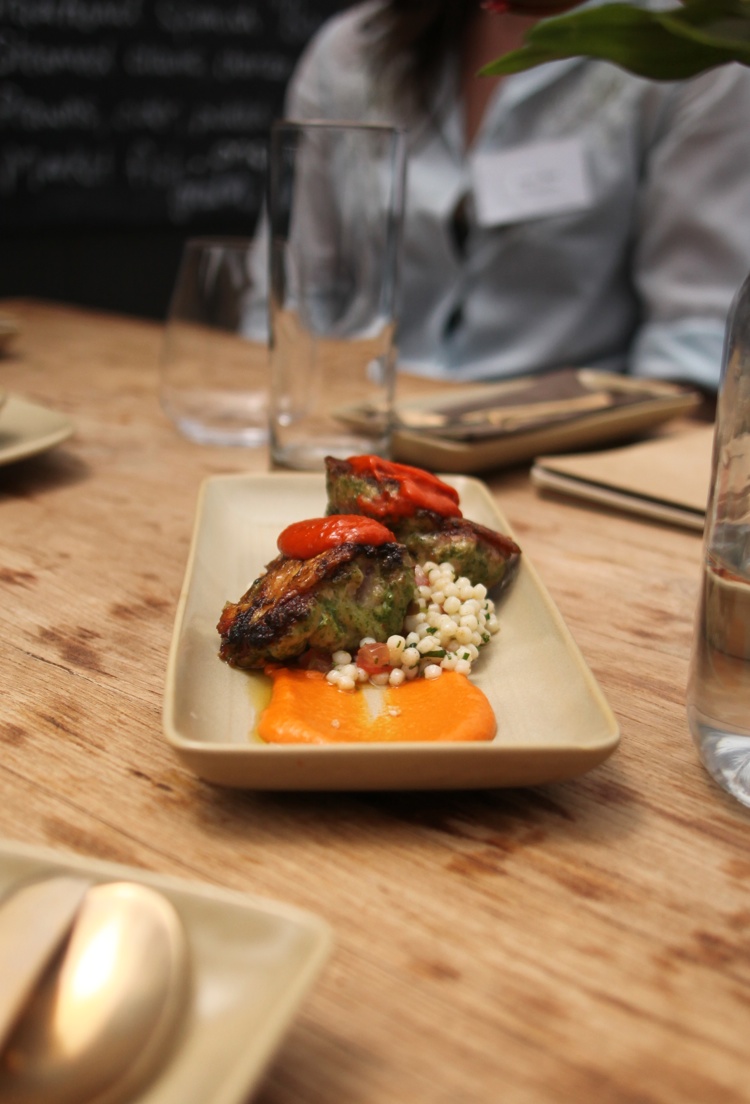 Romesco marinated Chicken thigh, Israeli couscous, Parsley, Harissa @ The Tasting Shed
After lunch I was part of a Q&A panel, including
Sasa,
Rosa,
Jemma
and
Vanessa
simply discussing our views on issues that are unique to NZ food blogging and that all frequent question..
"How do we make money?"
We didn't come up with a great answer... do you have one?
Next up
Louise from Pacific Harvest
presented an absolutely fascinating, educational, and for me - an utterly inspiring introduction to "Sea Vegetables" - the other seafood. With plenty of yummy tastings how could this not be a highlight of the day?! I could have listened to Louise all evening, quite happy to miss the photography workshop!
We were squeezing in every moment, so while the others went off to
Coopers Creek
next door for wine tastings. I continued devouring seaweed and helping Louise pack up ready for my piece on food photography and styling.
Sadly in keeping with Auckland's
four seasons in one day,
it had begun to rain and with limited space available inside it became a bit more of a presentation than actual workshop although we did get around the table a bit discussing the use of reflectors and diffusers - and my favourite guys at
Photo & Video International
had given me 2x 5'n'1 sets give away to the best looking attendees.
We wrapped the day up with those giveaways in a raffle together with other goodies from our other sponsors, I was delighted to score one of
Mad Millies Cheese Kits.
Then it was time to race into town for more FOOD!! This time at
"Cook the Books"
in Grey Lynn, where Felicity had created loads of different tastings for us to enjoy well into the night.
It sure was a grand day out and once back in Muriwai, Alli, Phelan (Mr Pease Pudding), Jaco and I even plotted ideas into the early hours for the next one!
Below is a list of everyone who attended and their blogs, and a link to their account of the day where possible and also our generous sponsors.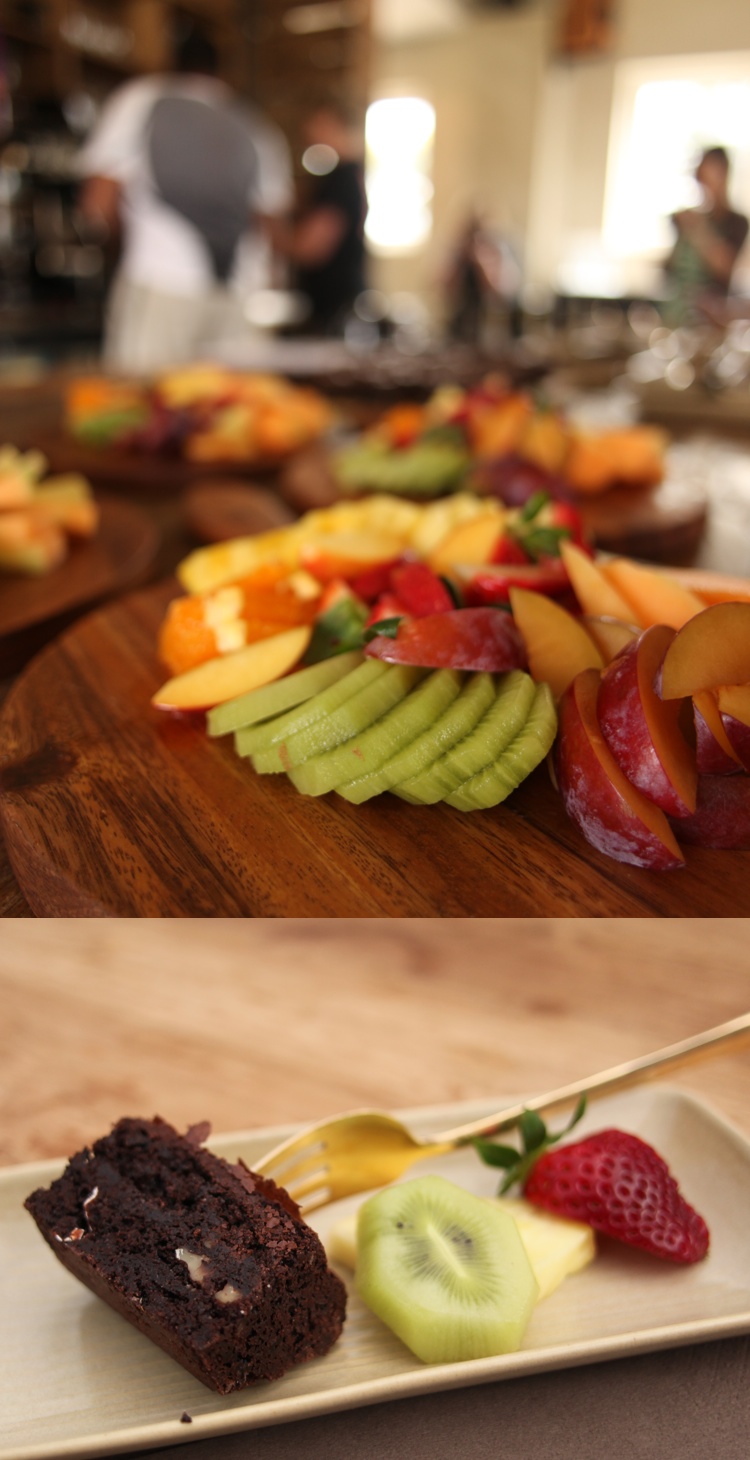 Platter of fruits and Scrumptious Chocolate Brownie @ The Tasting Shed
Alessandra Zecchini – http://alessandrazecchini.blogspot.com
--
and her account of the conference
Alli Pirrie-Mawer – www.peasepudding.wordpress.com
--
we came, we blogged, we enjoyed
Andrea Wong - http://www.dlish.co.nz
--
and her roundup of the day
Bron Marshall - http://bronmarshall.com
-- this page!
Carmella Lee - http://easyfoodhacks.blogspot.com
--
and her notes from the day
Christina Hoey – http://gninwordon.blogspot.com
--
for the love of food & cookies!
Christy Harcourt – http://ellicestreetgalleykitchen.wordpress.com
Jaco Swart – http://rainbowcooking.co.nz
Jemma Adams – http://timeforalittlesomething.com
--
her post of the day.
Julie Treanor – http://www.domestic-executive.com
--
and her take on the day
Kristina Douglas – http://plum-kitchen.blogspot.com
--
a conference you really want to attend
Lesley MacMichael - http://www.eatetc-lesley.blogspot.com
Mairi Herbert – http://toast-mairi.blogspot.com
--
and her recap.
Mika Reilly – http://milliemirepoix.wordpress.com
Moira Clunie – http://aucklandvegan.wordpress.com
Rosa Wakefield – http://www.mrscake.co.nz
Rowan Bishop - http://rowanbishopfoodwriter.blogspot.com
Sasa Hashimoto – http://sasasunakku.com
Shirleen Oh – http://sugarandspice-and-allthingsnice.blogspot.com
--
from the moment it was announced
Sue Busch – http://couscous-consciousness.blogspot.com
Vanessa and Ingrid Opera – http://www.foodopera.blogspot.com
Viviane Perenyi – http://atdownunder.com
--
and her post for the love of food
Emma Boyd – http://ourkitchen.fisherpaykel.com
Louise Fawcett – http://www.pacificharvest.co.nz
Finally huge thanks to the following for making our first New Zealand Conference such a great success!
The Tasting Shed - Kumeu
Cook the Books - Grey Lynn
Kohu Road
Gu Puds
Teza - Iced Teas
I love pies
Mad Millie
Pacific Harvest
Whittakers
Kokako
Gravity Coffee
Bell Tea
Annie's Fruit Leathers
Photo & Video International - Merivale, Christchurch
Coopers Creek - Kumeu
Loaf
Cuisine
Hubbards Cereals
New Holland Publishers
Home · About Bron · Portfolio · Recipe Index · Unit Converter
RSS Feed · Atom Feed · Twitter · Facebook · Flickr · Bron's Amazon Store