Thursday 13th October 2011
Dark Bittersweet and Slightly Spicy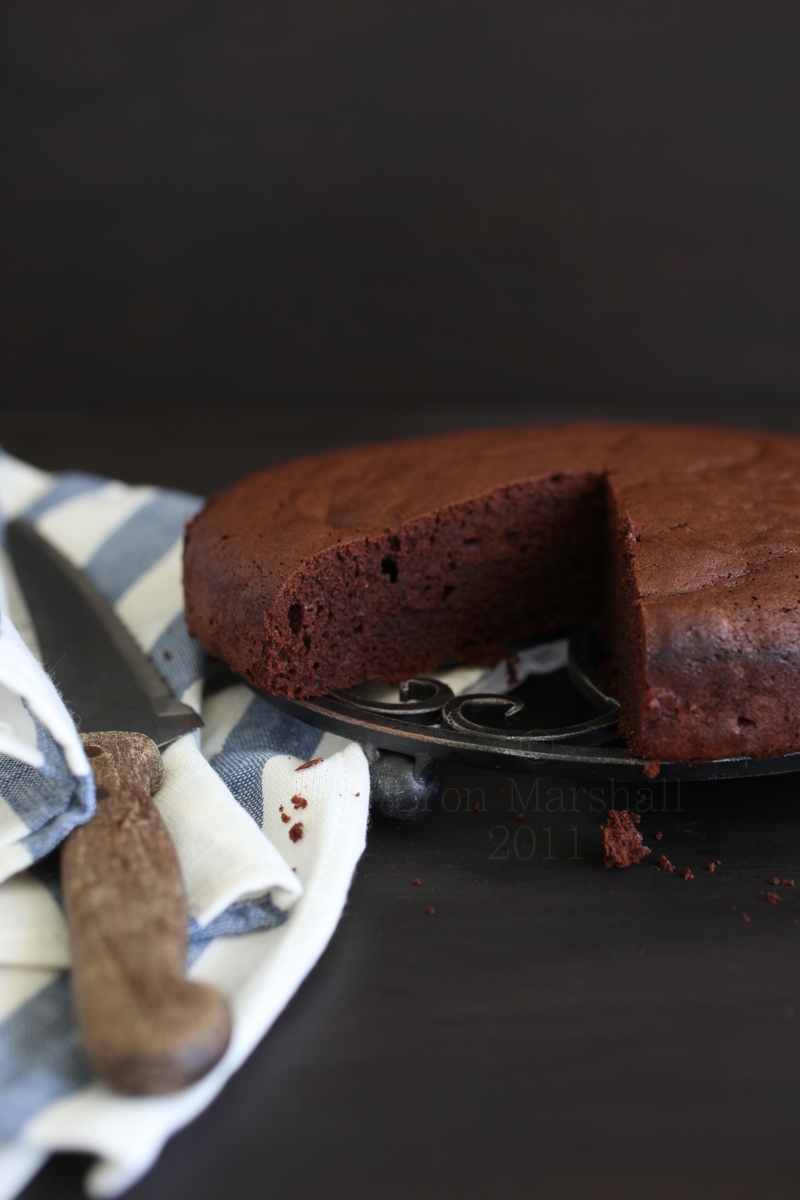 I'm sitting here in my studio having completed the photo resizing and processing tasks for this post and there is this extremely tempting aroma emanating from behind me.

The fairies and I indulged earlier with a small slice each, there's more than three quarters remaining.




It's too dark for the fairy Dad's tastes. I'll fix him something else he'll prefer soon.

Perhaps you can almost smell it too?
It's rich and dark, bitter but sweet, warm, inviting and every so slightly spicy.



A couple of notes:

although the cake is moist when cooked through, slightly undercooking, i.e taking it out of the oven while still wobbly on top, makes a truly divine dessert. A gooey soft centre, perfect warm with ice cream.

We served it baked through with softly whipped sweetened cream today. It's Gluten Free, it's ever so dark and decadent, not overly sweet mind and well I apologise, truly I'm sorry... but please excuse me... I simply cannot bear it any longer - I'm off to have another piece!

Dark Bittersweet and Slightly Spicy Chocolate Cake
125 grams of butter, cubed
200 grams of dark chocolate, chopped - I used Whittakers Dark Ghana 72%
4 egg yolks
¼ cup of caster sugar
½ cup of brown rice flour
3 teaspoons of ground ginger
1 teaspoon of mixed spice
½ teaspoon of ground cinnamon
1 teaspoon of baking powder
4 egg whites
1 tablespoon of caster sugar

Preheat your oven to 180°C (360°F)
Grease and line a 20cm round spring-form tin with baking parchment.
In a medium sized saucepan over a low heat gently melt the butter.
Remove the melted butter from the heat and add the chopped chocolate, stir until smooth.
In a large bowl or the bowl of your stand mixer add the egg yolks.
Beat together gradually adding the ¼ cup of caster sugar until thick and fluffy, approximately 6 minutes.
Sift the brown rice flour, ginger, mixed spice, cinnamon and baking powder together.
Fold the cooled chocolate mixture and sifted dry ingredients into the beaten egg yolks.
In another large clean bowl beat the egg whites to soft peaks, gradually add 1 tablespoon of caster sugar, beating until combined.
Fold one third of the beaten egg whites into the chocolate to loosen the batter, then continue with the remaining egg whites, folding very gently but continue until thoroughly combined.
Pour the mixture into the previously lined cake tin and bake for 20 (for gooey centre) to 30 minutes until a skewer inserted into the middle comes out clean.
Let the cake cool in the tin before serving with softly whipped cream or ice cream as desired.
Blog Recipes · Cake Recipes · Chocolate Recipes · Dessert Recipes · Gluten Free Recipes · Sweet Recipes
Home · About Bron · Portfolio · Recipe Index · Unit Converter
RSS Feed · Atom Feed · Twitter · Facebook · Flickr · Bron's Amazon Store