Sunday 29th March 2009
Toasted Walnut and Charred Red Capsicum Pasta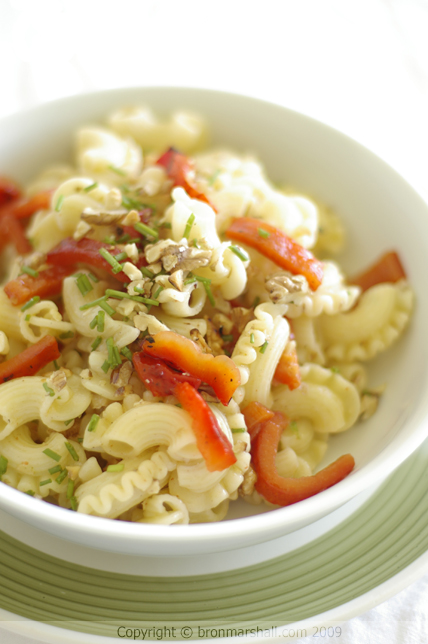 Toasted Walnut and Charred Red Capsicum Pasta

I think this combination of Toasted Walnuts and Charred Sweet Red Capsicum is rather moreish, actually I may well be addicted to it. Which isn't such a bad thing, since we have loads of Walnuts and Capsicum from our garden, especially so at the moment with plenty of fresh Walnuts falling. As an added bonus Walnuts are fairly good for you being an excellent source of omega-3 fatty acids and helpful in lowering cholesterol. Cooked and softened Capsicums don't do you any harm either.

We enjoy the combination minced together as a pesto like paste with crudités and crusty breads, or tossed through hot vegetables, broccoli, baby potatoes and the like. Also as a chunkier salsa type mixture together with an assortment of other fresh salads, perhaps served with some cold meats on a Sunday night. Or together they are also fantastic to top grilled chicken or a lamb chop off the barbecue.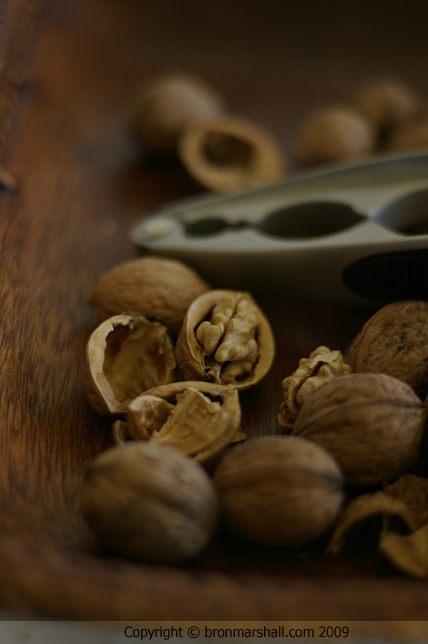 Today, quite obviously I've simply thrown it chunky style through pasta for Hay Hay it's Donna Day, this 26th round hosted by the lovely and talented Soma over at eCurry. I've enjoyed this served hot for a main course or side dish and equally as much cold the next day as salad.

The hardest part to this dish and in fact any of the ideas using this delightful duo is first conning the family into cracking the walnut shells for me!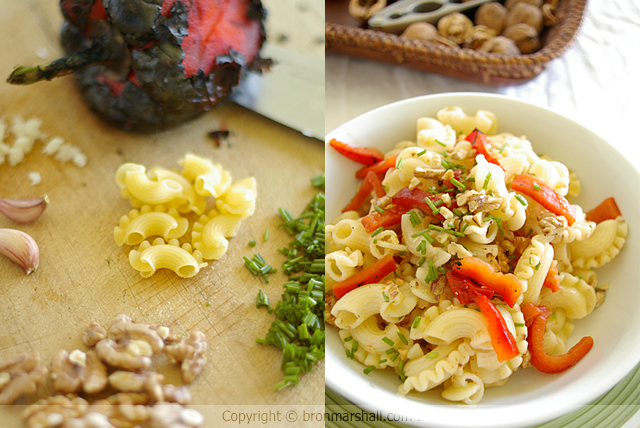 Toasted Walnut and Charred Red Capsicum Pasta
1 cup of shelled walnuts, toasted and roughly chopped
2 Red Capsicums, charred, peeled and chopped
400 grams of short pasta, such as macaroni, penne. (I used De Cecco -Galletti)
2 tablespoons of quality Olive Oil
1 to 2 small garlic cloves, finely chopped
2 tablespoons chopped chives, parsley or another fresh herb
Sea salt and freshly ground black pepper
Toast the walnuts either in a dry skillet or oven at 200°C (390°F) until golden and chop them roughly.
Again either in the oven at 200°C (390°F) or over a naked flame or grill and char the capsicums until completely black all over.
After charring the capsicum, place them into a bowl and cover with a plate. This allows the pepper to cool yet continue to soften and the trapped steam makes scraping the blackened skin off easier.
Meanwhile place a large pot of water on to boil.
Scrape the blackened skin off the capsicum, resisting the urge to rinse it under water as this will remove a lot of the delicious smokey flavour.
Discard the seeds and stalk, chop the flesh and set aside.
Cook the pasta in the large saucepan of salted boiling water for 10-12 minutes or until al denté.
Drain and return to the pan with the olive oil, finely chopped garlic, walnuts, capsicum, chives and or other herbs and toss well to combine.
Add sea salt and pepper to taste.
Serve immediately with a little grated Pecorino or Parmesan cheese if desired, serves 4.
Enjoy!


Autumn Recipes · Autumn 09 Recipes · Blog Recipes · Food Blog Events Recipes · Fruit & Veges Recipes · Hay Hay It's Donna Day Recipes · Nuts Recipes · Pasta Recipes · Salads Recipes · Vegetables Recipes
Home · About Bron · Portfolio · Recipe Index · Unit Converter
RSS Feed · Atom Feed · Twitter · Facebook · Flickr · Bron's Amazon Store