Friday 17th July 2009
My Tarte au Citron was Attacked with a Blow Torch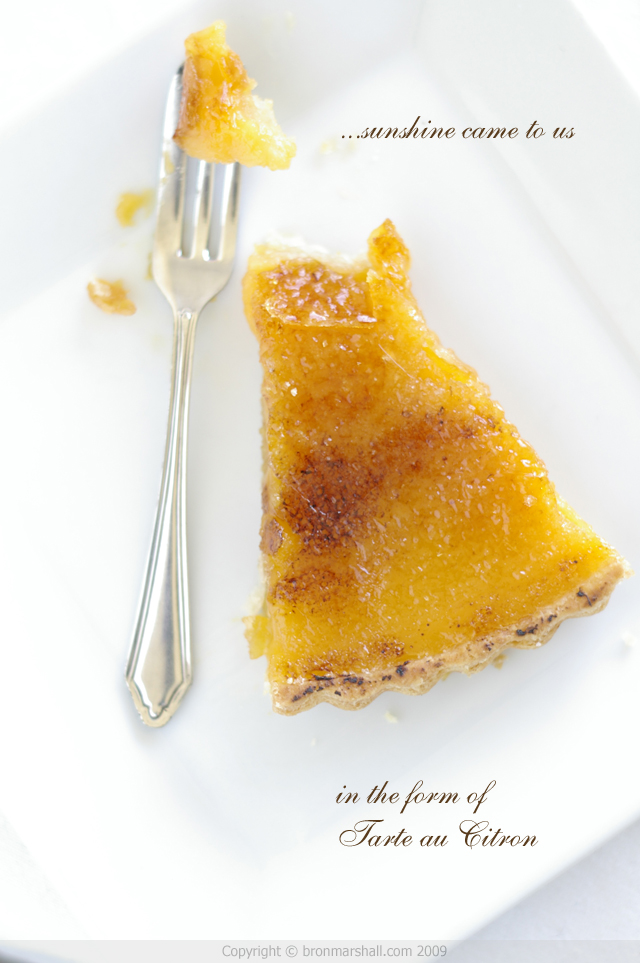 Driving home last week from a disappointing trip out for dessert, (They wouldn't seat us! Sniff!)
I recalled the last time we went out for just desserts, J had ordered the lemon tart, a fatal mistake was offering me some, as quickly my preference shifted from my plate to his.
Ever since, nearing 12 months I guess; I've been meaning to make a lemon tart at home, but with one thing and another I hadn't got around to it. Naturally I've made plenty of desserts since, plenty with lemons, even a few tarts, although not so many sadly. Can I admit to being a tad lazy when it comes to baking blind?

Yet, last Thursday I simply could not get this tart out of my mind and I knew I wouldn't be able to sleep until I had made one. I'm not sure, do you also have your thoughts controlled and taken over by desserts? Where you are helpless to their powers and must submit to their demands? Or does that just happen to me? Is it my madness?

After arriving home, organising a hot cuppa and getting the fairies to bed, I explained my predicament to J, thankfully he understands. By now he is used to my midnight crazies, when desserts and baking take control and there is no rest until the desired required fare is produced and cooling on racks. J didn't hesitate in staying up late with me, he rarely seems to mind staying up late when I'm baking, I'm not sure, but I believe he may just be as crazy about Tarte au Citron as me!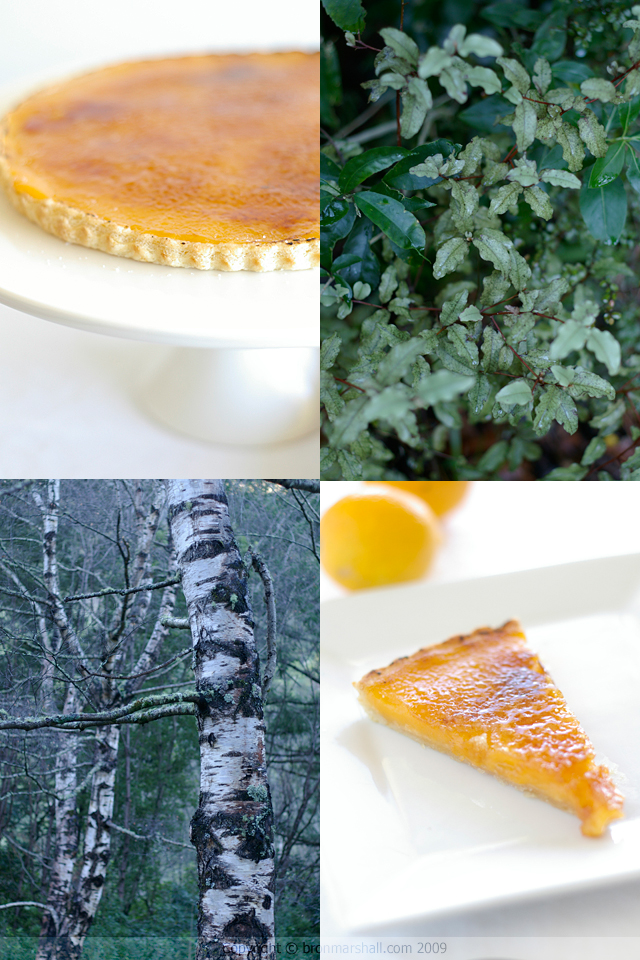 For our tart's pastry I made a favourite recipe which produces a flaky like pastry within minutes, it's a cheats version avoiding the folding and laminating of p'te feuilletée, but if you have time or some spare leftover by all means use that. You may prefer a more solid crust, your own favourite pastry and in truth almost any short, sweet, French pastry or a pre-baked pie pastry crust will work. I personally prefer a pastry without added sweetness contrasting the sweet tart filling and J has a soft spot for flaky puff pastries.

For the filling, I chose to adapt David Lebovitz - Tarte au Citron, using a little less butter. As David suggests you can easy make double the recipe for more lemon filling if you prefer. Keeping any extra filling, which is basically a lemon curd/lemon butter for spreading on your toast, bagels or scones.

A finished Tarte au Citron is often seen dusted with icing / confectioners sugar or with the word "Citron" piped across the middle in dark chocolate, I cheated and used photoshop on the night I made and first photographed mine.

After it was complete and having both nibbled on leftover baked pastry scraps and the lemon filling while I cleaned up the kitchen, I simply covered the tart with a mesh fly screen on the kitchen bench to cool and went to bed. Our house, the kitchen especially being so cold overnight in Winter by the morning sadly my beloved tart had formed droplets of sweat, which ruined the smooth appearance. Although I was sure no one would mind and it would still be eaten promptly without compliant. I really wanted to share some more photos with my twitter friends and I didn't want them seeing it like that!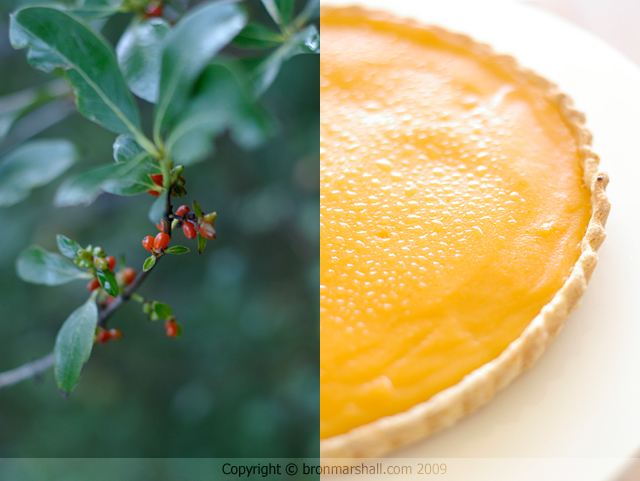 That's when the idea came to sprinkle the top with caster sugar and attack it with my blow torch, giving it a shattering caramel Brûlée effect. There after and having photographed the tart some more, morning tea could not come fast enough.

Sure enough the taste was as I had imagined; sublime. We all, the fairies included, ate two slices in the one sitting. The Brûlée top makes it that much more exciting to slice, shattering like a paine of glass across the surface, just like Amelie I find this moment of tapping into the brûlée, any brûlée, truly magical. It's hardly surprising therefore I really can't wait to make it again. I'm also craving a passion fruit version, then there are gorgeous Clementines, mandarins and grapefruit all in season... oh no, too many dessert thoughts, I fear I'm going to be staying up *very* late again tonight.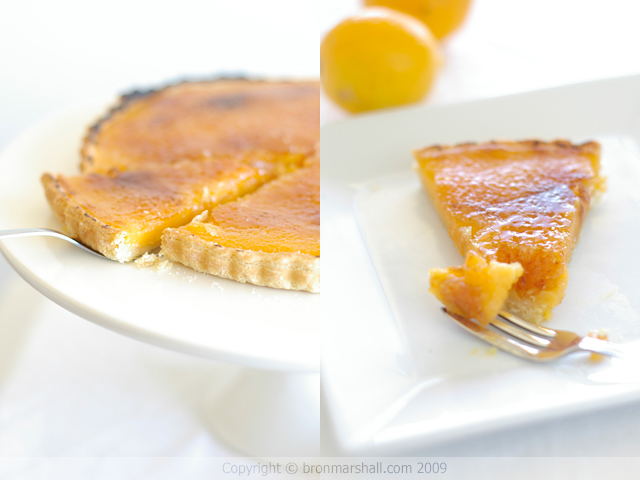 Tarte au Citron Brûlée
For a quick flaky like pastry crust:
1¼ cups (200 grams / 7 oz) of plain all purpose flour
1 teaspoon of baking powder
1 pinch of salt
125 grams (4¼ oz) of cold butter, cut into small cubes
125 ml (4¼ fl oz) of cold milk
1 teaspoon of white wine vinegar
For the lemon filling (adapted from David Lebovitz):
The finely grated zest of 1 lemon, preferably organic, not waxed, not sprayed!
½ cup (125 ml / 4¼ fl oz) of fresh lemon juice, approximately 3 lemons
½ cup (100 grams / 3½ oz) of caster sugar
80 grams (2¾ oz) of butter, cut into cubes
2 large free range eggs
2 large free range egg yolks
For an optional Brûlée top:⅓ cup of caster sugar
Preheat the oven to 180°C (360°F).
For the pastry:
Sift the flour, baking powder and salt into a large bowl or food processor.
Cut the butter into small cubes and rub into the flour either with your hands or using the food processor, until it resembles coarse breadcrumbs.
Combine the milk and vinegar together, it will turn and go gobby not unlike buttermilk.
Add the milk to the flour mixture to make a soft moist dough dotted with butter.
On a lightly floured bench or board bring the mixture just until it forms a ball.
Handle as little as possible to prevent the pastry from becoming hard when baked.
Cover with plastic wrap and refrigerate for 20 minutes.
Roll out the pastry until it's approximately 5 mm (1/8 inch) thick.
Place a 23cm (9 inch) loose bottom tart tin on a baking sheet/ try and line with the pastry, docking the bottom several time with a fork and trimming away the excess pastry.
Line the pastry with parchment paper and blind baking beans (I simply keep a jar of rice and dried beans for this) and bake for 15 to 20 minutes until the tart is lightly golden.
Remove the beans and paper ready for the filling.
For the Lemon curd filling:
In a medium sized non-reactive saucepan, gently heat the lemon juice, grated zest, sugar and butter until it has melted and the sugar dissolved.
In a small bowl whisk together the eggs and the yolks to combine.
Pour a little of the warm lemon mixture into the eggs, stirring constantly, to warm them gently - this way they don't get to big of a shock and are less likely to scramble.
Pour and scrape out the warmed eggs back into the saucepan with the remaining lemon mixture and cook over low heat, stirring constantly, until the mixture thickens and almost begins to gently bubble around the edges.
Strain the lemon curd filling though a mesh sieve directly into the pre-baked tart shell, removing the zest.
Press through with a rubber spatula to be sure to get all the flavour.
Smooth the curd filling and pop it into the oven for five minutes, you simply want to set the curd.
Remove from the oven and let cool.
For the Brûlée top:
Just before serving sprinkle a good layer of castor sugar over the top of the curd filling.
Using either a blow torch (or you could use your oven's grill setting at a pinch!) caramelise the top of the tart, do try to get some good colour without really burning the sugar as the darker the caramel the more bitter the taste will be.
Leave to cool and set briefly before slicing and serving.
Enjoy!


Blog Recipes · Desserts Recipes · Eggs Recipes · Fruit Recipes · Sunday Afternoon Teas Recipes · Tarts Recipes · Winter Recipes · Winter 09 Recipes
Home · About Bron · Portfolio · Recipe Index · Unit Converter
RSS Feed · Atom Feed · Twitter · Facebook · Flickr · Bron's Amazon Store