Friday 15th May 2009
Meringue Crumbed Cardamon Lemon Panna Cotta with Mixed Berries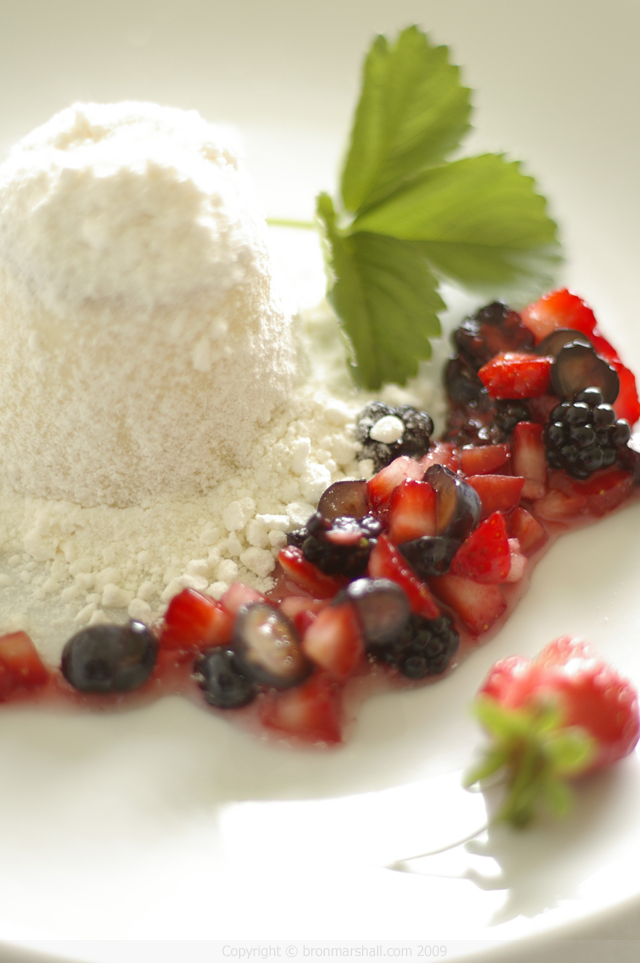 Meringue Crumbed, Cardamon Infused, Lemon Panna Cotta with Mixed Berry Compote

I made this a while back when we still had plenty of colourful and delicious fresh berries from the garden. According to Twitpic it was exactly 74 days ago. So you may recall having seen it if you're following me on Twitter.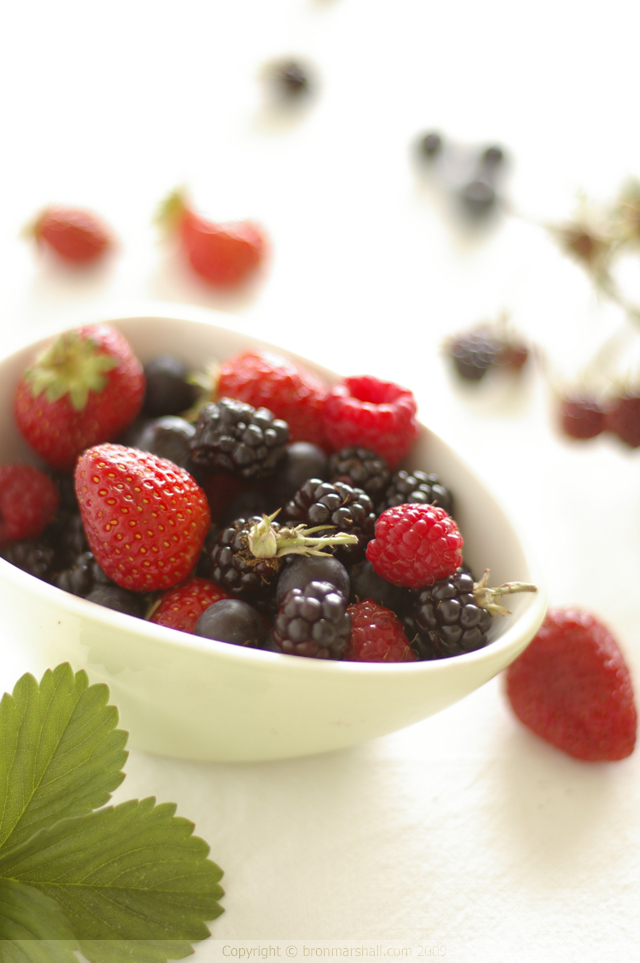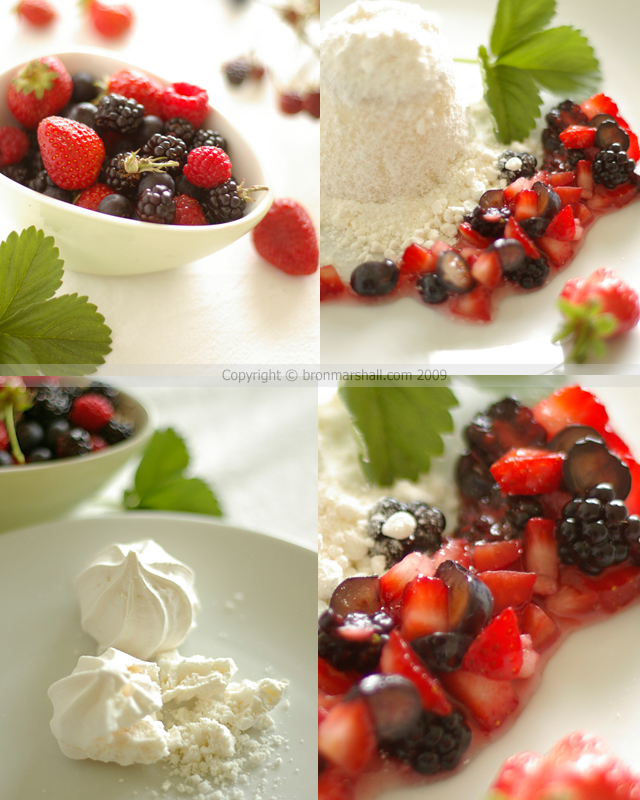 Panna cotta as you will well know is a perfectly luxurious dessert, paired with sweet tart berries and a hint of spice it's a gorgeous way to finish any meal. But hey, who am I kidding? I'd happily even start one this way!

It is smooth and soft and yet colourful with my beloved berries and favourite scents of cardamon and lemon.
The added meringue crumbs giving it an interesting textural burst of crunch. Even though the presentation didn't go exactly according to my plan; I had hoped more crumbs would stick more to the sides. I was delighted with the flavours and mouth feel of this dessert. And actually I'm warming to how the final result looked as it now reminds me of snow capped mountains and the dreamy beauty of the our Southern Alps in Winter.
I hope you enjoy it too!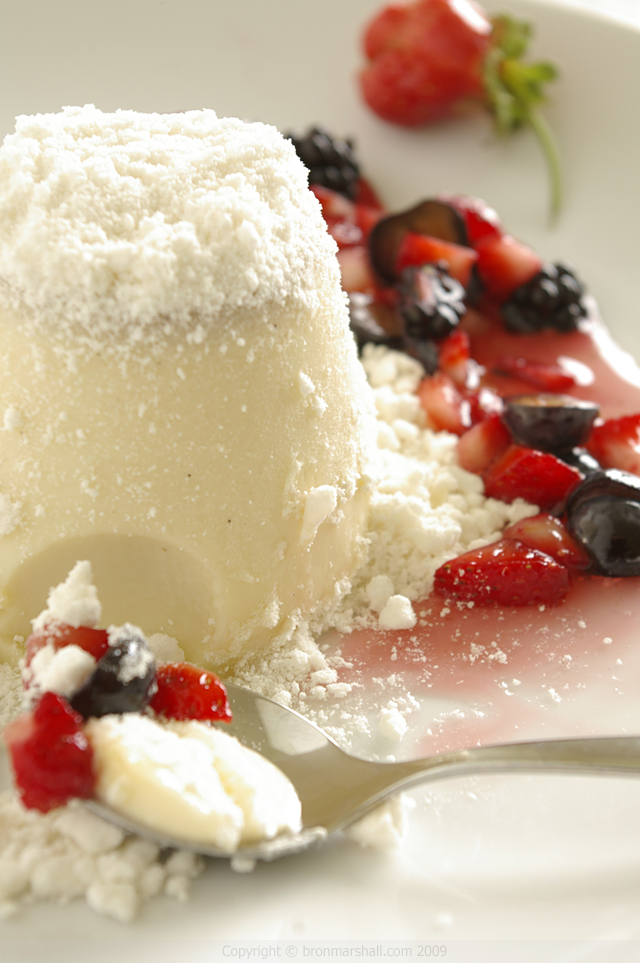 Meringue Crumbed, Cardamon Infused, Lemon Panna Cotta with Mixed Berry Compote
185ml / 6 floz of whole milk
250ml / 8 floz of whole (double) cream
100 grams / 3 oz of caster (superfine) sugar
1 vanilla pod, split in half
1 lemon, finely grated zest
4 cardamon pods, slightly crushed
A pinch of freshly ground cloves
A pinch of freshly ground nutmeg
3 sheets of leaf gelatine, hydrated (or 1 teaspoon of powdered gelatine hydrated in 1 tablespoon of water)
6 petite meringues, finely crumbled
For the Mixed Berry Compote:
300 grams / 10oz of mixed berries, I used raspberries, strawberries, blackberries and blueberries
80 grams / 2oz of caster (superfine) sugar
70ml / 1½ floz of water
1 lemon, finely grated zest
A pinch of freshly ground cardamon
A pinch of freshly ground cloves
A pinch of freshly grated nutmeg
Place the milk and cream in a saucepan. Add the sugar, lemon peel, spices and split vanilla pod.
Place over a gentle heat and stirring with a wooden spoon, bring to a simmer. Remove from the heat and set aside for 15 minutes to infuse.
In the meantime immerse the gelatine sheets in cold water and leave to soften (if using the powdered gelatine, sprinkle it over a little water until it's completely absorbed).
Return the infused cream to a low heat, squeeze the water out of the gelatine and add them to the hot cream.
Stir to dissolve and pass through a sieve to remove the cardamon, vanilla pods etc. into a jug for ease in pouring.
Pour into four individual greased dariole moulds and allow to cool completely before chilling in the refrigerator for 2 to 3 hours.
For the Mixed Berry Compote:
Finely dice and mix the berries.
In a small saucepan place the spices, sugar and water, cook over a medium heat until the sugar has disolved.
Bring to the boil and simmer for five minutes or so until a rich syrup is reached.
Transfer into a bowl and allow to cool completely before coating the berries, set aside in the refrigerator until ready to serve.
To serve:
Dip the base of each mould into warm water to loosen, if need be slip a sharp paring knife down the edge to let the air in and help release them and turn them out upside onto a plate.
Generously top them with the crushed and crumbled meringues.
Spoon the cool mixed berry spice compote around the side.
Serves 4
Some extra notes:
Please please do use gelatin leaves if at all possible! They make a word of difference in this style of dessert, with taste and setting, simply put there is a reason the professionals use them.
My pinches are good pinches, but not so much as an ⅛ of a teaspoon, sorry it's hard to give you an accurate measure. The Panna cotta is meant to have a hint of spice, but by all means if you like more spice add more.
I believe if I had lightly moistened the sides of the Panna cotta I could have got the meringue crumbs to stick better
I preferred to chop my berries for a finer more petite compote, of course you could also leave them whole
If you interested in an alternative I believe coconut cream / milk would also be a gorgeous match for this dessert.
Enjoy!


Berries Recipes · Blog Recipes · Desserts Recipes · Fruit Recipes
Home · About Bron · Portfolio · Recipe Index · Unit Converter
RSS Feed · Atom Feed · Twitter · Facebook · Flickr · Bron's Amazon Store