Wednesday 4th March 2009
Boysenberry and Manuka Honey Semifreddo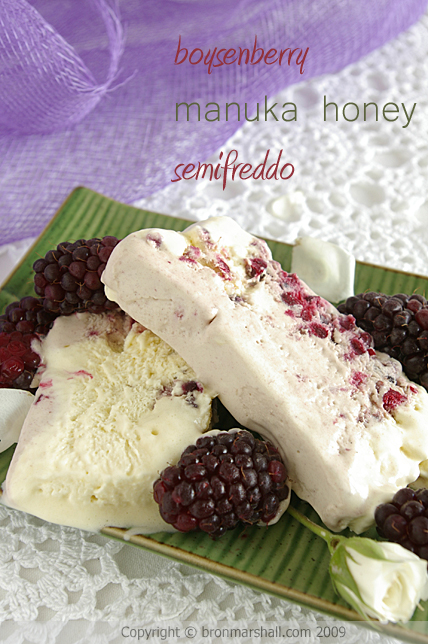 Growing up I became renowned for my love of Boysenberry Ice cream. Friends whom I made on frequent camps and tramping trips all knew me as "Bouncy Bronnie who loves Boysenberry Ice cream"
It all started with one of those darn awful "icebreaker" games we were often humiliated with at the beginning of the weekend. There was this one in particular where you repeated each member's name and then their like, naturally enough with the type of friends I made these "likes" were all about food... "this is Penny and she likes Pavlova, that's Rory and he likes Deep-fried Mars bars, 'til finally... my name is Bron and I love Boysenberry ice cream."

On the way home from camp we normally would stop and disembark the van, popping into a corner dairy for refreshments. Naturally I couldn't resist the temptation of you guessed it... Boysenberry Ice cream and ever since it has stuck, except thankfully that "Bronnie" part! Which has been replaced by the more mature Bron!
(N:B Anyone who values any sort of relationship with me won't dare call me "Bronnie" - I'm sure you'd understand if you also had a nickname that created unhappy feelings, as "Bronnie" does for me!)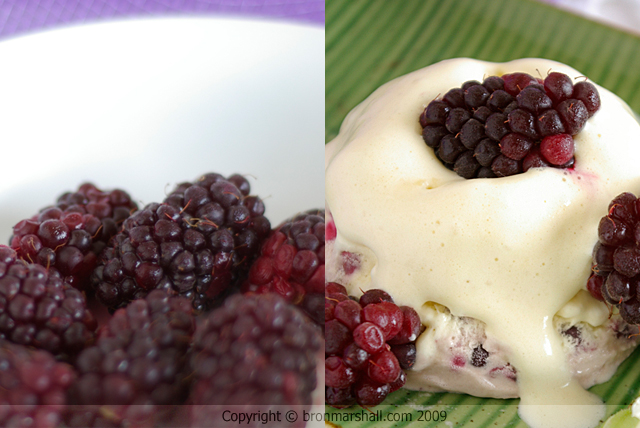 So "Bronnie" has gone, but those Boysenberries certainly have not! Besides I'm not the only one who loves Boysenberries, in actual fact "Boysenberry" is New Zealand's number #1 fruit flavoured ice cream. They are often utilised in many different dairy products here, including yoghurts and smoothies, however they are equally good in jelly, jams, pies and in fact all kinds of desserts. They have quite an unique flavour, colour and size for berries, being a cross between a loganberry and blackberry and approximately 8 grams each in weight.

All Berries are naturally full of vitamins and minerals, Boysenberries are also packed full of antioxidants and dietary fibre. New Zealand is now the leading producer and World exporter of boysenberries. They grow here through Summer from Mid December - February.

It's probably not surprising then, given my love, that I have a super simple recipe for a creamy frozen Boysenberry treat. Here I've combined Boysenberries with something else that is uniquely Kiwi. Manuka honey! Again this honey has a quite unique and different flavour, it can be a teensy bit bitter on it's own so I've added a little sugar too, to help balance the palate. As the boysenberries are so large I also suggest slicing them into thirds before you fold them through the Semifreddo. One last thing and yet another bonus of this recipe is that you don't need a ice cream maker, simply a strong arm or an electric beater.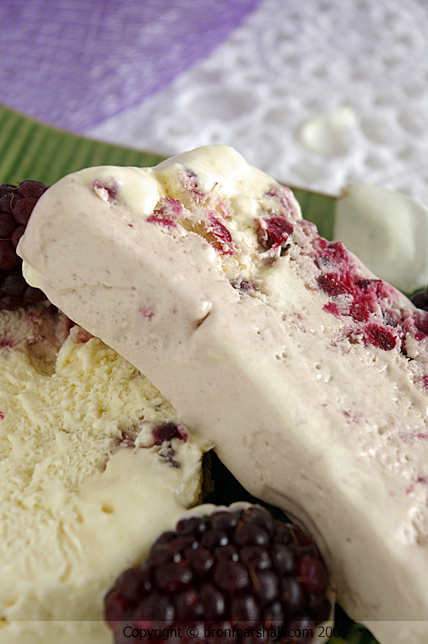 Boysenberry and Manuka Honey Semifreddo
5 large free range eggs, yolks only
¼ cup of Manuka honey
250 mls / 8½floz or 1 cup of cream, lighly whipped
4 tablespoons of caster /superfine sugar
1 teaspoon of vanilla essence/extract
1 cup of sliced boysenberries
Extra boysenberries to serve
Line a regular sized loaf tin with two layers of plastic wrap; I actually use cleaned & recycled shopping bags for this!
Separate the eggs and put aside the whites for another use.
In a large bowl with an electric beater or your stand mixer whip the egg yolks and Manuka honey until they are very thick and pale, approximately 8 minutes.
In another bowl whip the cream along with the caster sugar and vanilla.Gently fold both mixtures through together.
Pour the combined mixture into your previously lined loaf tin and wrap the sides over, freeze for 1 to 2 hours
Uncover and fold through the sliced boysenberries, smooth the top, recover and freeze for a further 3 to 4 hours.
To serve; remove the semifreddo from the loaf tin, peel off the plastic and cut thick slices.
Serve 2-3 slices with a handful of extra berries.
Serves 4
Enjoy!


Blog Recipes · Desserts Recipes · Eggs Recipes · Fruit Recipes · Fruit & Veges Recipes · Summer Recipes · Summer 09 Recipes
Home · About Bron · Portfolio · Recipe Index · Unit Converter
RSS Feed · Atom Feed · Twitter · Facebook · Flickr · Bron's Amazon Store