Friday 1st May 2009
Chilli Roasted Cauliflower and Feta Salad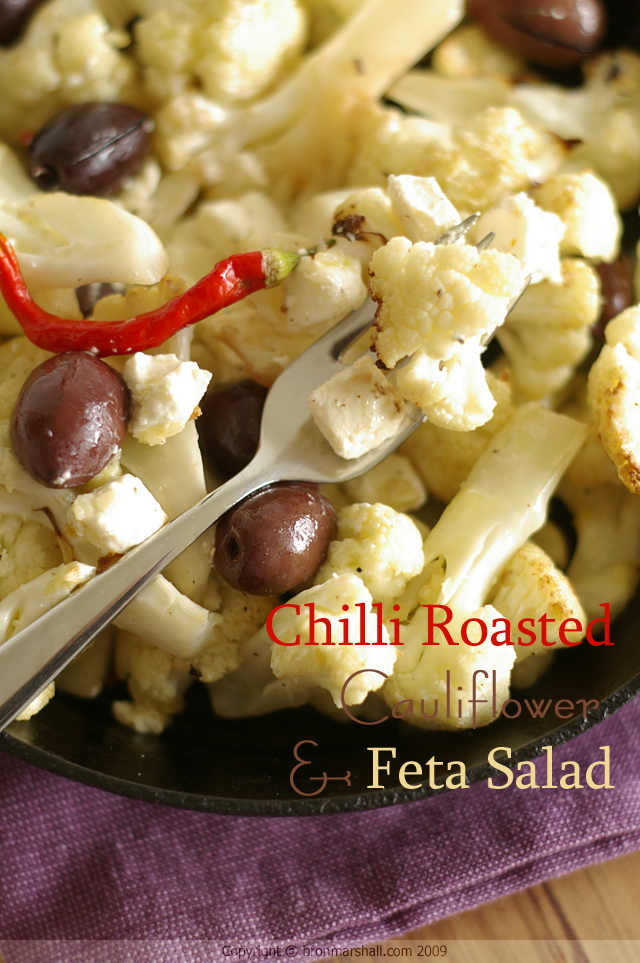 I love cauliflower, I always have. My mother would pretty much always serve it with a parsley Béchamel or cheesy sauce and it was something I really looked forward to, as most other vegetables were boiled and plainly served with no added interest at all.

I've since concluded with age, that the vegetables we now enjoy as adults are ones we generally didn't have as kids, or those few and far between ones which mother didn't murder in a pot of boiling water for hours on end. I can't stand boiled silverbeet (swiss chard) nor brusselsprouts for that very reason, yet my favourite green vegetable of all is broccoli, simply because we rarely had it when I was growing up. My parents certainly didn't grow it, maybe it wasn't commonly available in New Zealand back then? I'm not sure. I like my vegetables to have a bit of crunch left in them too, or if they're going to be served mushy, then I'm at least sure to mash and purée them properly, smooth with no lumps or stringy fibre bits left.

I sometimes wonder what vegetables my children will reject (if any?) when they are older and making their own choices. At the moment my eldest adores all her vegetables (bless her!) and the other... (hmm!) well she certainly loves her fruit at least.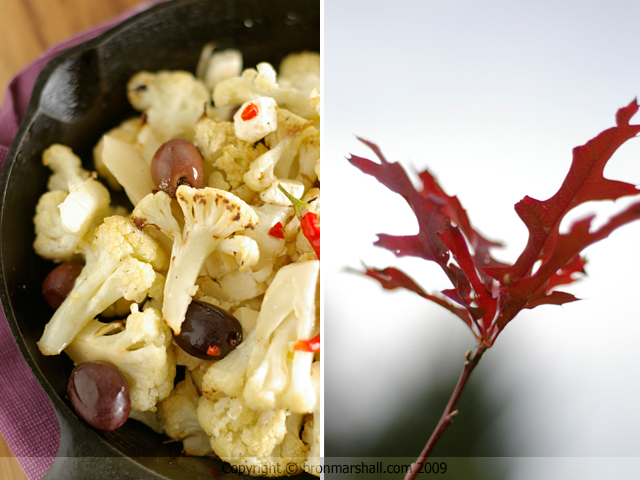 Since I've discovered Roasted Cauliflower, I love it all the more. What's not to love about any roasted or baked vegetable?!

In this form they're often quick to prepare, retain more of their natural goodness and many vegetables, especially root vegetables can be baked in their skins, which is super being where most of the valuable nutrients and fibre is found. The skins also crisp up nicely (with & without added oil or fats!) which is the bit I personally enjoy.

Roasted Cauliflower makes a great addition or topping for soups, a healthier, lower carbohydrate, lower GI alternative to bread, dumplings, croutons or rice when served with curries, dahl and stews.

Funnily I also love it just like the hot salad I've pictured her; Pepped up with some Spicy Chilli, Olives and Salty Feta...Mmm!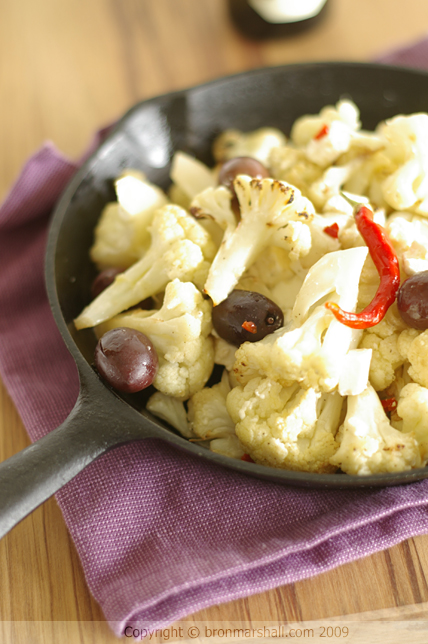 Chilli Roasted Cauliflower and Feta Salad
1 medium to large cauliflower, florets broken into bite sized pieces
1 to 2 red fresh chillies, I used our own cayenne but choose whatever heat you prefer, finely chopped
1 to 2 cloves of garlic, finely chopped
2 to 3 tablespoons of olive oil
handful of marinated black olives, I used Kalamata
150 grams of Feta, diced
Sea salt and freshly ground black pepper
Preheat your oven to 180°C (360°F)
Place the bite sized cauliflower pieces in a single layer of an oven-proof roasting pan or baking dish and toss through 2 tablespoons of the olive oil.
Bake the cauliflower for 10 to 15 minutes until the florets are starting to colour and almost fork tender.
Stir through the finely chopped chillies, garlic, olives, feta cubes and continue to cook for a further 5 minutes.
Before serving drizzle with a little more olive oil and season with plenty of salt and pepper to taste.
I prefer to serve the salad hot or at least to room temperature either on it's own, with crusty bread or as side dish with grilled meats.
Serves 4
Enjoy!


Autumn Recipes · Autumn 09 Recipes · Blog Recipes · Fruit & Veges Recipes · Salads Recipes · Vegetables Recipes
Home · About Bron · Portfolio · Recipe Index · Unit Converter
RSS Feed · Atom Feed · Twitter · Facebook · Flickr · Bron's Amazon Store