Tuesday 21st April 2009
Cherry Tomato Onion Tart with Parmesan Crust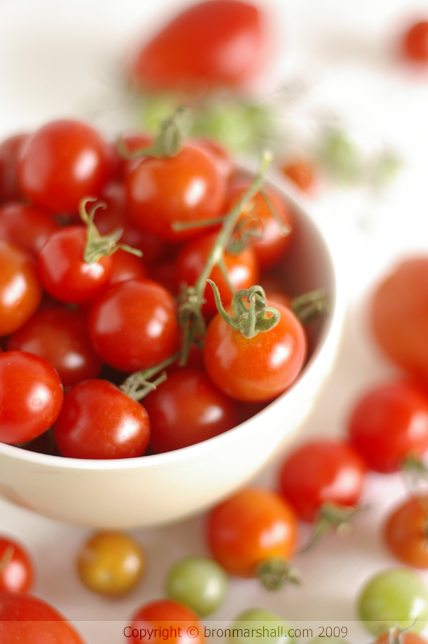 If your lounge is anything like mine, you'll have roasting trays of green, yellow and increasing numbers of red tomatoes next to the sunniest window.

To my surprise we have very successfully grown a large number of tomatoes outside this year, Roma, Black Krim, Beefsteak, Super Toms and these darling little cherries, which my girls eat almost like candy throughout the day. Having endured a couple of frosts however, it was time to bring them all indoors, ready or not, the weather would no longer be kind to them.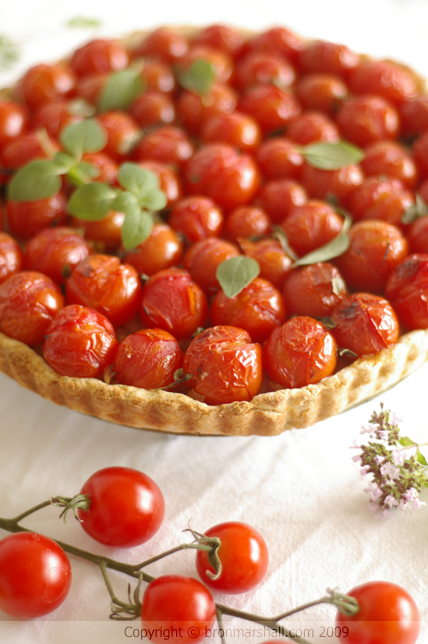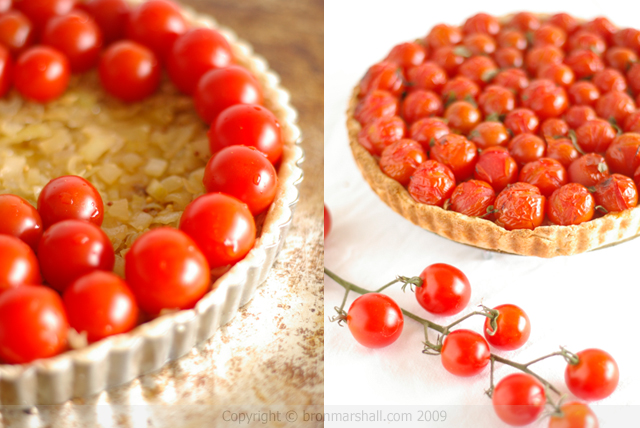 On Easter weekend, searching for more ways to enjoy them, I explored the idea of this tart to satisfy our cravings for more savoury foods after possibly a little too much chocolate. Together with some sweetly softened home grown onions and a tasty Parmesan crust, it was a hit. Delicious reheated for brunch the next day too!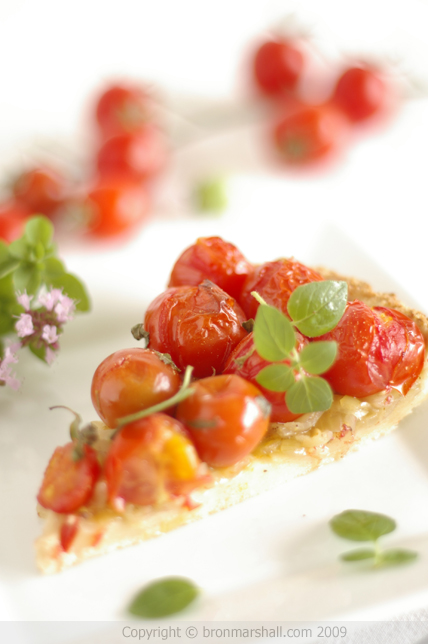 Cherry Tomato Onion Tart with Parmesan Crust
For the pastry:
250 grams of plain all purpose flour
1½ teaspoons of baking powder (preferably aluminium free)
40 grams of softened butter
50 grams of Parmesan, freshly grated
½ cup (125ml) of milk, approximately
For the filling:
2 tablespoons of olive oil
2 large onions, finely chopped
1 teaspoon of raw sugar
2 teaspoons of whole grain mustard
500 grams of cherry tomatoes, pierced with a knife
Ground sea salt & black pepper
fresh oregano leaves, roughly chopped
For the Parmesan Crust:
Sift the flour and baking powder into a large bowl or food processor.
Add the butter and grated Parmesan and mix until well incorporated.
Add enough milk to the mixture to make a soft dough.
On a lightly floured bench or board roll out the dough to fit a 24cm shallow tart tin.
Be mindful to handle as little as possible to prevent the pastry from becoming hard when baked.
Cover the party lined tart tin with plastic wrap and refrigerate for 20 minutes.
For the Filling:
In a medium sized frying pan gently sauté the onions, olive oil and raw sugar until very soft and golden, approximately 30 minutes, stirring frequently to prevent sticking to the bottom.
Mix through the whole grain mustard and leave aside to cool.
To Assemble:
Preheat your oven to 200°C (390°F)
Spread the onion filling over the pastry lined tart tin and neatly arrange the cherry tomatoes, previously pierced with the point of a sharp knife on top.
Sprinkle over sea salt, black pepper and the roughly chopped oregano.
Bake for 40 to 45 minutes or until the Parmesan pastry crust is well golden brown.
Serve slices warm, to prevent cherry tomato sized explosions of burning heat!
Serves 4 to 6
Enjoy!


Autumn Recipes · Autumn 09 Recipes · Blog Recipes · Breakfast Recipes · Fruit & Veges Recipes · Picnics Recipes · Tarts Recipes
Home · About Bron · Portfolio · Recipe Index · Unit Converter
RSS Feed · Atom Feed · Twitter · Facebook · Flickr · Bron's Amazon Store