Wednesday 30th December 2009
Champagne and Strawberries an Ideal Way to Welcome the New Year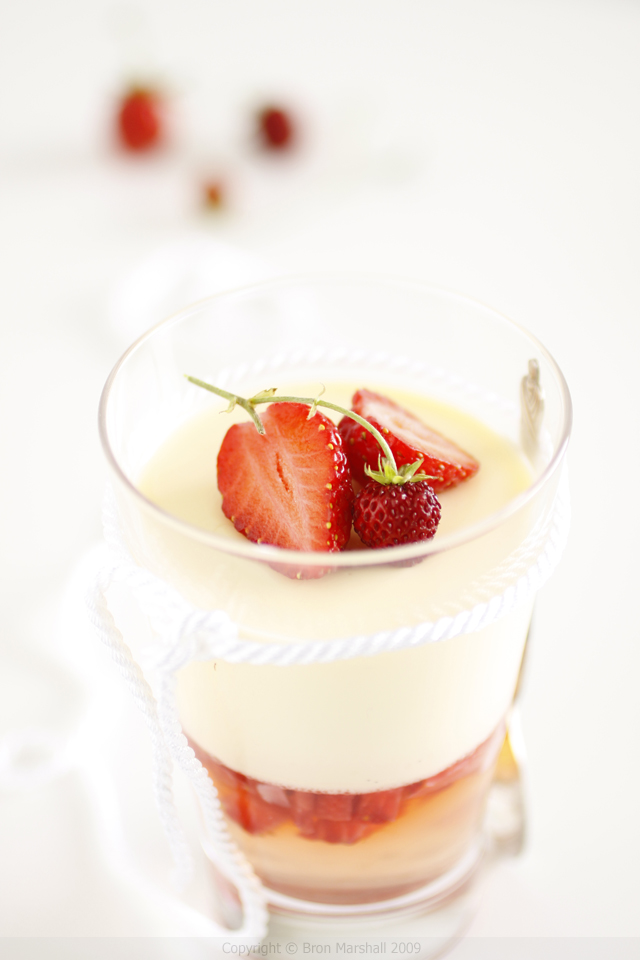 Strawberry Champagne Gelée with French Vanilla Crème Bavaroise

How have you been enjoying your holidays?

We Marshall's have been having a complete blast, we didn't do the whole Christmas thing, as regular readers will know we celebrate during our Winter Downunder in July. Instead of presents, cooking and the added stress and pressures of extended family on the 25th, we woke early and made our way to the beach before most of New Zealand. It was a perfect 30°C (90°F) day here in Canterbury and we couldn't have asked for better!

Since then the weather has been up and down (well O.K it's mostly been down and rather disappointing) and we haven't made as many trips to the beach as I would have liked. I'm not too upset as truthfully the thing I like most about holidays, no matter what time of year or what the weather is like is having my man, the lover of my life and father to our fairies home. Not only to gorgeously hand model a collection of our home grown strawberries, help with the lawns as I suffer from the pollen, the more frequent giggling he induces from the fairies, or the gift of long lie ins and coffees in bed.

No, truthfully it's the demolition and progress we've made of our home renovations which has me thankful for more hours together!

The dream of actually having a home, dining room and kitchen suitable for guests and entertaining. Oh yes, J knows that's the way to light my fire! And a fireplace is exactly what I shall have before this holiday is through, can you tell I'm just a little excited?!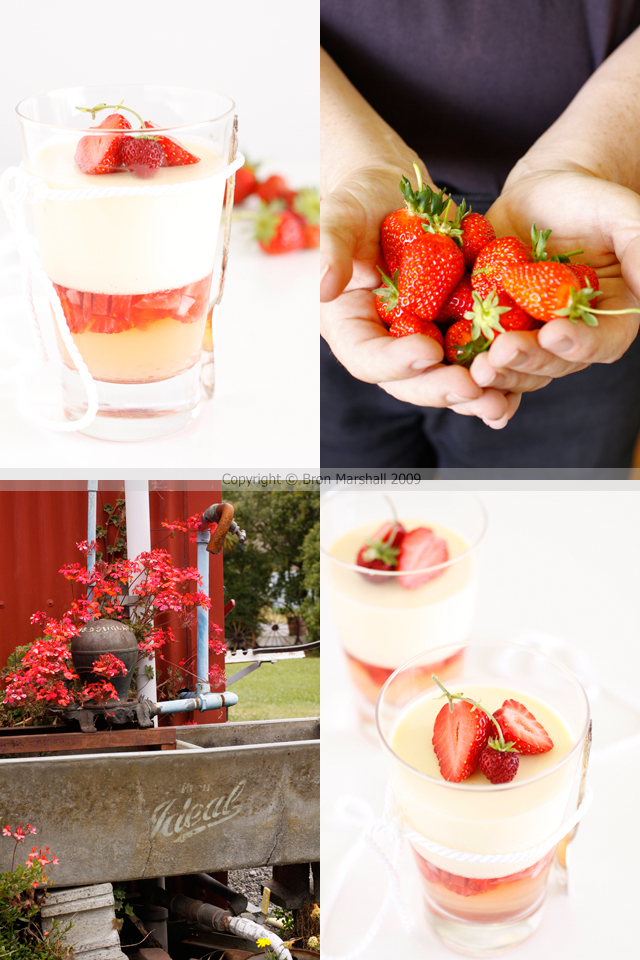 I think my fireplace is definitely worth celebrating, however I understand you may not share my enthusiasm. So I have another idea, not a very original one it must be said, but how about celebrating bringing in 2010 together?! Yes? This may well have a lot more going for it. I sure know it's going to be a great year for many of us and I for one can't wait to get started.

To get the party started I'm offering what I believe are a tasty glass of fun and an ideal way to welcome in the New Year. A classic combination of Strawberries and Champagne with a smooth and creamy beginning, just how I hope yours, mine and everyones New Year will be.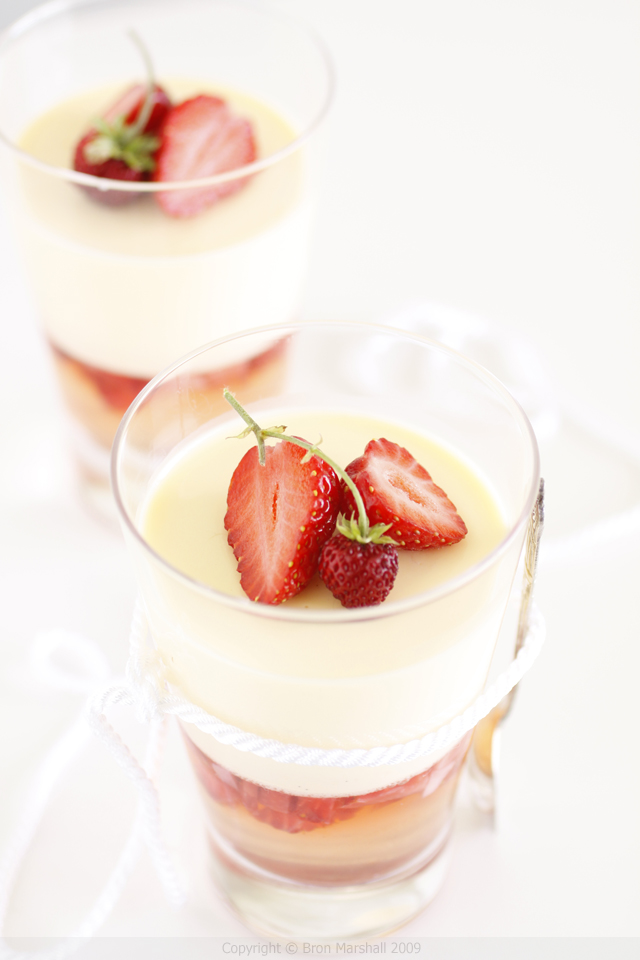 Strawberry Champagne Gelée with French Vanilla Crème Bavaroise
For the Strawberry Champagne Gelée:12 to 16 fresh strawberries, depending on their size
150 mls of flat lemonade (soda) + 1 tablespoon of caster sugar
100 mls of Champagne or Sparkling Wine (I used a dry Brut style)
1 leaf of gelatin = 7 grams powdered
For the French Vanilla Crème Bavaroise:
1 cup of whole milk
2 free range organic egg yolks
50 grams of caster sugar
1 Vanilla bean, split with seeds scraped
2 leaves of gelatin = 14 grams powdered
1 cup of (single whipping) cream
Clean and finely dice the strawberries, saving the prettiest ones to garnish.
Soak the gelatin leaf in a little cold water to just soften it.
Warm the lemonade together with the sugar until dissolved.
Add the softened gelatin to the warm lemonade until thoroughly combined.
Finally add champagne, mix well and set aside to cool slightly.
Evenly divide the chopped strawberries between 4 glasses, about 2 tablespoons each.
Top the chopped strawberries with the cooled champagne gelée mixture, cover with plastic wrap and refrigerate until set.
Meanwhile start on the French Vanilla Crème Bavaroise:
Warm the milk in a medium sized saucepan together with the vanilla bean and scraped seeds.
In a separate bowl whisk together the egg yolks and sugar.
Once the milk is warm, slowly pour it into the egg mixture whisking quickly and continuously to prevent the egg scrambling.
Return the custard back into the saucepan and gently stir with a wooden spoon until it thickens to coat the back of the spoon.
Soak the other two gelatin leaves in a little cold water to again just soften them.
Remove the bavarois custard from the heat and add the softened gelatin mixing until thoroughly combined.
Mix in the cold cream, strain to remove the vanilla bean and set aside to cool.
Once the custard is very cool, but not yet set, remove the gelée from the fridge and top each evenly with the Crème Bavaroise mixture.
Cover again and return them to the refrigerator to set.
Before serving finish each glass with a few of the saved pretty strawberries.
Makes 4
Enjoy!


Berries Recipes · Blog Recipes · Desserts Recipes · Fruit Recipes · Fruit & Veges Recipes · Summer Recipes · Summer 09 Recipes
Home · About Bron · Portfolio · Recipe Index · Unit Converter
RSS Feed · Atom Feed · Twitter · Facebook · Flickr · Bron's Amazon Store